The 2019 PCS season is upon us! There will be many new military servicemembers and their families moving to Hawaii for the very first time. Their excitement is palpable. Their stress is understandable. Their questions are ready to be answered by our team at Hawaii's longest-running VA loan specialized lender, Hawaii VA Loans.
If you're reading this and are among the servicemembers and/or military spouses who are moving to the islands, you're at the right place!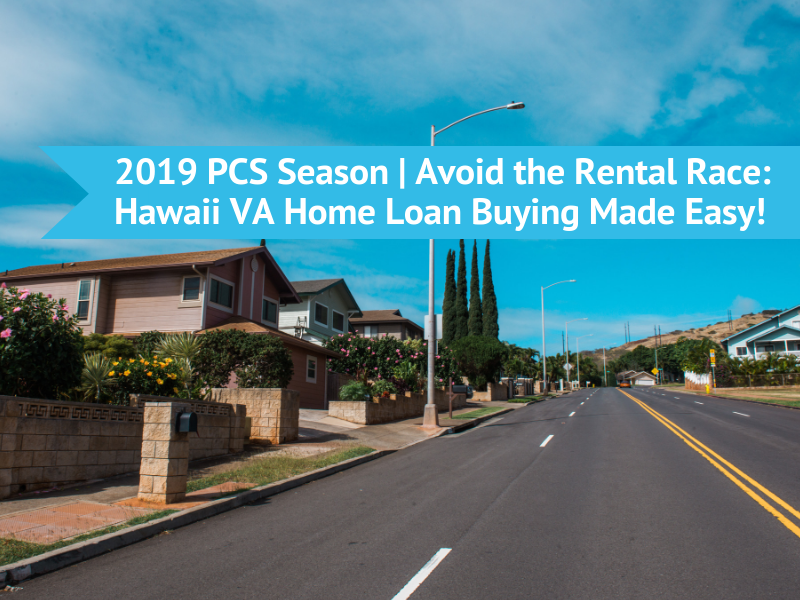 Get to Know Oahu Island
Since we've been doing VA loans and helping military families transition to Hawaii for over a decade, we went ahead and covered many of the curiosities they've had in our Oahu PCS Guides. They detail the areas surrounding three main Oahu bases: Marine Corps Base Hawaii, Joint Base Pearl Harbor-Hickam, and Schofield Barracks. You'll find recommendations for food and fun, as well as housing market info for surrounding neighborhoods, and much more. Plus, they're completely free! Download all three and get to know the areas of Oahu where you'll work and surely visit.
Avoid the Rental Race: Hawaii VA Loan Home Buying Made Easy
Whether you've already considered it or not, buying a home in Hawaii is easier than you may think! The 2019 VA loan limit with no down payment for all Hawaiian islands is $726,525. Interest rates have lowered so much since the beginning of the year that we've had to create new BAH Matrices to reflect the lower rates.
In fact, April 2019's Honolulu Board of Realtors Market Report, tells us that the 2019 PCS season is a great opportunity to buy in Hawaii! Jenny L. Brady, President of the Honolulu Board of REALTORS® said this about the current market: "Low mortgage interest rates, coupled with more inventory on the market compared to last year, presented better opportunities for potential homebuyers and spurred more of them to buy."
For April 2019, the median sales price on Oahu for a single family home was $766,750. The median sales price for a condo was $418,950. Keep in mind that for qualified VA buyers, the VA loan limit with no down payment is $726,525. Therefore, if you purchase a single family home over this limit, a relatively small down payment is required with a VA Jumbo Loan.
Our Team of VA Loan Experts
There's one vital component that makes VA home buying in Hawaii simple and smooth – our team! Our seasoned VA Loan Specialists are masters of the VA loan process. Even more, they live and breathe the islands – as many of them have been born and raised here. We also have veterans and military spouses on our team who lend their expertise and knowledge of your military lifestyle.
Take a look at just a few (out of hundreds) of active duty servicemembers who have purchased a home in Hawaii with the help of Hawaii VA Loans:
Avoid the rental race and paying someone else's mortgage by utilizing the VA home loan program for the benefit of your financial future!
Take the First Step in the VA Loan Process
Now that you know about the incredible opportunity available to you by using your VA home loan benefit to become a Hawaii homeowner, what's next? You'll want to quickly get pre-qualified and then pre-approved with the help of our VA Loan Specialists. Call us at 808-792-4251 to get started or fill out our secure loan application online. We'll be ready to assist you from start to finish!