This just in! The VA office in Honolulu has issued an update regarding the relationship between the submission of condominium documents and the completion of VA appraisals:
"The condominium documents (Budget, Meeting Minutes, Financial Statement) are no longer required for VA appraisal assignments for condominium units. If the appraisers are not supplied the condominium documents, they will complete the assignment within their timeliness requirements, lack of condominium documents will no longer delay completion of appraisal assignments." (Joseph Lorinc, Real Estate Appraiser at U.S. Department of Veterans Affairs)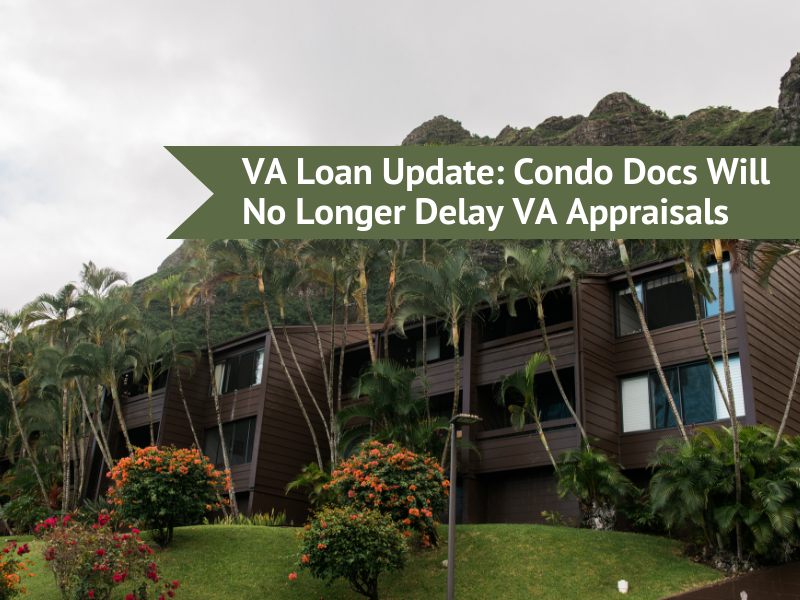 However, condo docs MUST always be submitted for a condominium project to receive approval from the VA for VA loan lending.
Hawaii VA Loans – Kailua Branch Manager, Jim Owens, had this to say about the update:
"Technically, the VA buyers should get all of this documentation, so we should have [condo docs to submit]. The buyers should review the docs with their agent to make sure there is nothing concerning within them, but that burden no longer appears to rest on the appraiser."
What's the upside to this VA appraisal process update?
Perhaps quicker appraisals for condos and thus, speedier VA home loan transactions! By making the step of needing condo docs for the VA appraisal more flexible, the VA loan process will no longer be stalled if for some reason the condo docs are not submitted.
Review: What is an appraisal?
Appraisals are a major step in the process of buying a home in which a third party (the appraiser) comes in to assure that the veteran or servicemember is not purchasing a home that could potentially become a money pit. The home must meet the VA's minimum property requirements (MPRs). We've written extensively on VA appraisals. Take a look at some of our posts here:
Are you interested in becoming a Hawaii homeowner using your VA home loan benefits? Contact us! Simply feel free to ask us questions about your benefits or if you're ready, fill out our secure online loan application, and a VA Loan Specialist will get in touch with you directly.