Aloha, Listing Agents! When you're accepting a VA loan offer, there are five important items to consider with regard to the property you're representing and the VA home buyer. Read what they are below! Then, head on over to get our free VA Loan Checklist for Listing Agents guide. We provide even more helpful details about these five items and the VA loan process. Mahalo and happy selling!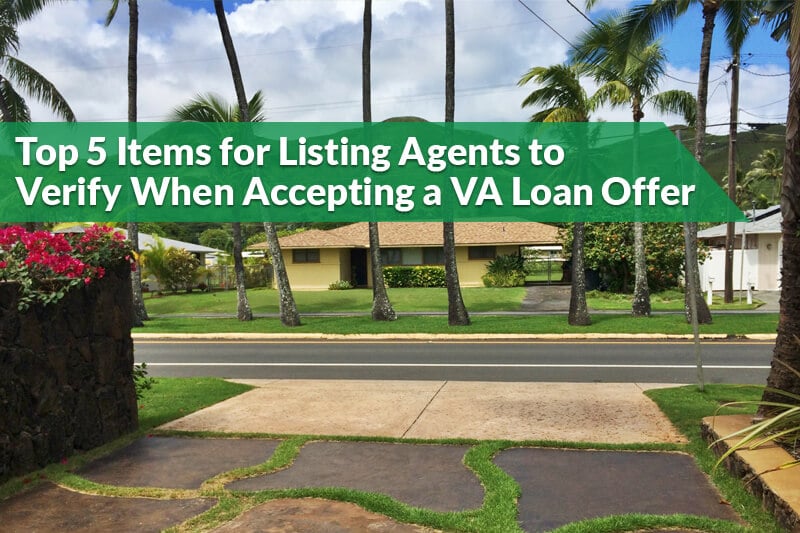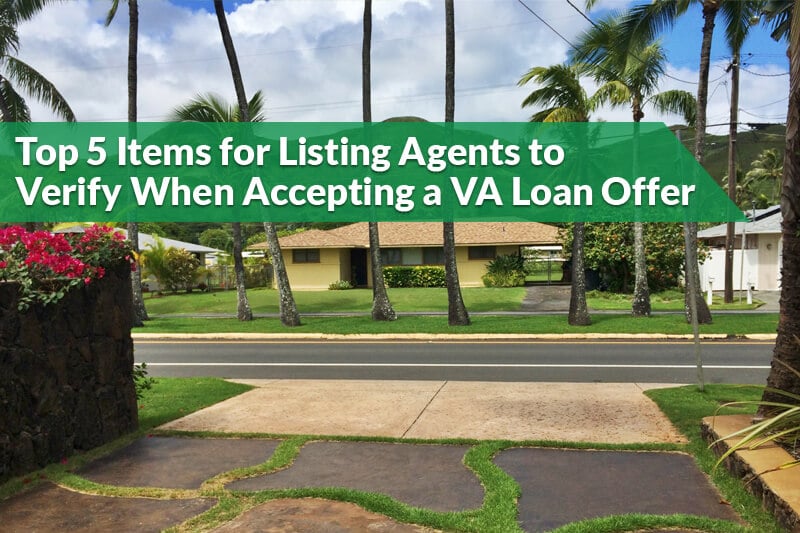 1. Is the Property Fully Permitted?
A home that currently has a non-permitted improvement/addition will not receive VA financing until it is resolved to the satisfaction of the VA. The VA appraiser will verify whether the property's improvements are permitted or not. Of course, as the listing agent, you will know whether there are any non-permitted additions in advance and be able to offer solutions before obtaining a VA offer.
The three most common solutions for dealing with non-permitted additions are:
obtaining a retroactive permit (permits obtained after a structure is complete)
tearing down/removing the addition
obtaining a VA waiver.
Check out our blog post where we go in depth on the process of obtaining retroactive permits or removing additions: http://hawaiivaloans.com/nonpermitted/.
On the topic of how we successfully obtained a VA waiver for a property, read this post: http://bit.ly/obtainingVAwaiver.
There are many the documents that must be collected for a VA waiver are:
the veteran and lender's request for the exemption in writing,
acknowledgement from the veteran that the unpermitted areas are the veteran's responsibility to cure before refinance/sale of the property,
and an official letter from the current licensed contractor, electrician, plumber, or engineer that the work was completed in compliance with City and/or County building codes, etc.
2. Condominiums – Is the Condo VA Approved?
The good news is that about 75% of condos on Oahu are approved by the VA. To be certain that the condo you're listing is approved for VA financing, use our condo check tool: http://hawaiivaloans.com/condo-check/.
If you find that the condominium is not approved, there is a 4-6 week process for getting the VA's approval. This also includes "site condo" or CPR approval.
More details about buying a condo with a VA loan (including information on site condos) can be found here: http://hawaiivaloans.com/buying-a-condo/.
We also recently wrote a blog about our experience with obtaining VA approval for a new construction CPR property: http://hawaiivaloans.com/newconstruction/.
3. Is the Property in Good Shape?
Before VA financing can be approved, a home/property must meet the VA's Minimum Property Requirements (MPRs). These requirements protect the veteran from entering into the purchase of a property that could be a detriment to their pocketbooks.
Therefore, if the MPR's are not satisfied due to any number of factors (including but not limited to defective craftsmanship, leakage, termites, etc.) then the necessary repairs need to be made. For the seller and listing agent, it may save time in the long run when obtaining a VA offer if known repairs are done in advance.
To get an idea of what red flags may pop up during a VA Appraisal check out these two blog posts which describe the VA's MPRs with images and solutions:
4. Are VA Non-Allowables Covered?
The VA Loan program has rules in place that keep the upfront costs low for their Veteran home buyer.
If an Origination Fee of 1.00% is charged by the lender, the following fees are not allowed to be charged to the veteran on a VA loan:
Termite report
Processing fee
Tax Service fee
Documentation preparation
Admin fee
Escrow fee
Underwriting fee
Attorney fee
Notary fee
Typically, any one of the following parties cover the cost of the VA Non-Allowables:

Lender or Mortgage Broker
Seller's Agent
Seller
Buyer's Agent
You will find that a combination of two or more of the above parties will work to cover the cost.
5. Is the Borrower Approved by a Local Lender?
As a local lender, we have the resources, knowledge, and flexibility to make closing easier and possible when others may not.
We also take pride in:
our familiarity with Hawaii's properties,
our ability to network and utilize our local contacts,
our market savviness,
our ability to make face-to-face, personal connections with buyers and agents,
and our personal reputation for closing loans that are challenging
We hope you consider choosing local!
To get all of the information in this blog post in the format of a handy guide, download our VA Checklist for Listing Agents guide HERE.
For any questions regarding the VA loan process, give us a call at 808-792-4251.