Here in Hawaii, condos are far more prevalent than in most of the other 49 states. If you are planning on buying a home using your VA loan, the most crucial rule is that the condo must be VA approved.  The good news (by our best guess-timate) is that about 75% of condos on Oahu are approved by the VA.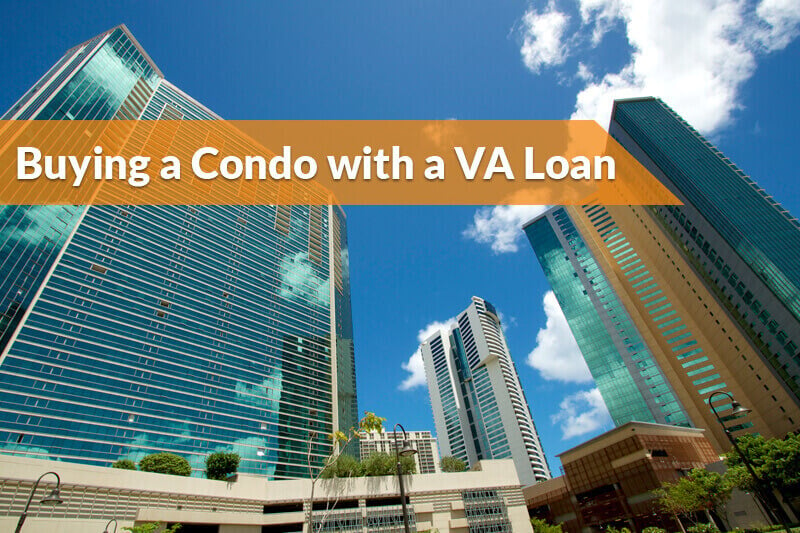 1) How Can I Find Out if a Condo is Approved?
The VA does have an online tool to do this, but it can be a little tricky to navigate. It's our mission to ensure that the VA loan process is as simple and easy to understand as possible.
To help, we have built a "Condo Check" tool that is user-friendly and updated weekly. All you need is the name of the condo complex and you're ready to check if it's approved right here: http://hawaiivaloans.com/condo-check/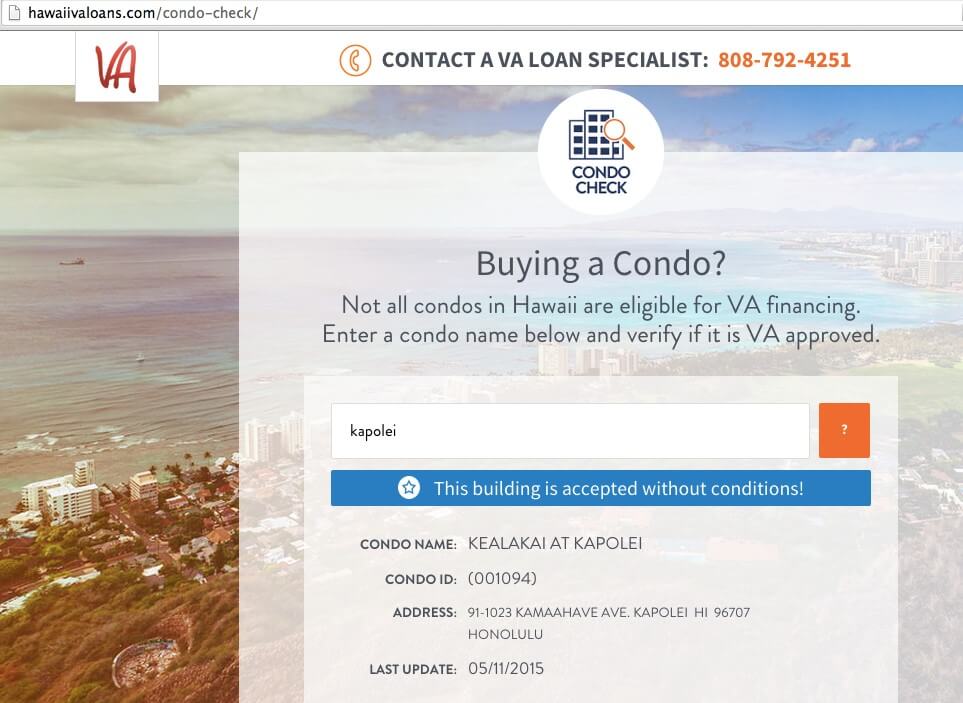 However, if the name of the condo isn't on the MLS listing or known to you and your real estate agent, give us a call at 808-792-4251 and one of our friendly VA loan specialists will help find it for you!
2) Rules with VA and Condos
Condos are common in Hawaii partly because they are often the most affordable option. They come in all shapes and sizes. Believe it or not, sight alone is not always the best way to determine if a property is a condo.
Here on Oahu, converting a plot of land into a condo can be much easier than subdividing it. That leads to many single family dwellings being built on land that is actually partitioned using condominium rules.  These are often referred to as "site condos."
Regardless of whether the home you plan to buy looks like a high rise, townhouse, or detached single family home, if the land is owned under CPR or condo rules, the project requires approval from the VA department.
3) How Can I Tell if the Home I Want to Buy is a Condo?
Great question. There is one sure-fire method. The property's tax ID (often referred to as a "TMK" or Tax Map Key) is formatted differently for condos than single family homes.
Single Family Home TMKs end with the last 4 digits as "0000"
Condo TMKs end with the last 4 digits as anything "0001" or greater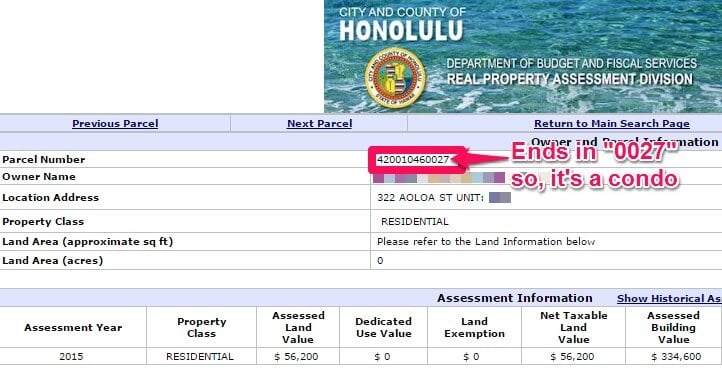 You can find the TMK on the City & County Property Tax Websites:
When you're shopping for a home, your real estate agent will probably send you some "MLS Fact Sheets" for a number of different properties. At the top left, the TMK will be listed, as seen below: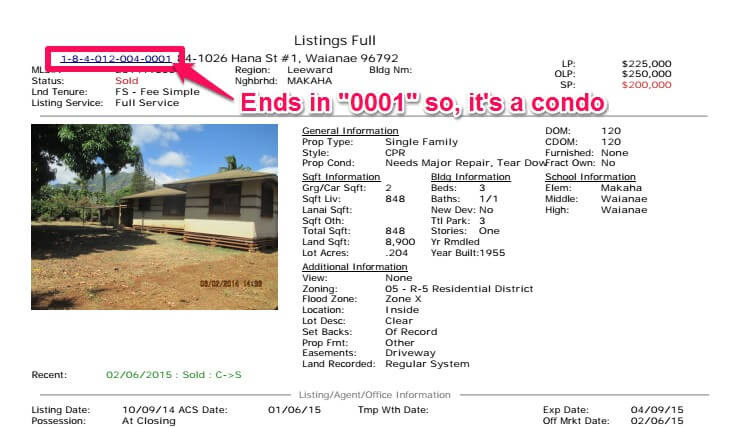 4) What if the Condo is Not Approved?
On rare occasions, a condo loses its eligibility. If a condo is not approved by the VA, it's most likely because it has never been submitted for approval. The process of submitting for approval, doesn't add much work for the buyer, but it does take time, money and effort on the part of the seller, lender and the seller's real estate agent.
In general, expect the approval process to take about 4-6 weeks before the normal 30-45 day loan process can begin. The most common challenge is that someone involved with the transaction does not have the time or desire to accommodate the process. The good news is that if all parties are willing, obtaining a VA condo approval can usually be achieved. Then, you're on your way to calling your VA approved condo "home sweet home."
For any further questions you may have about buying a condo with a VA loan or to inquire about your VA home loan benefits, contact us at 808-792-4251.