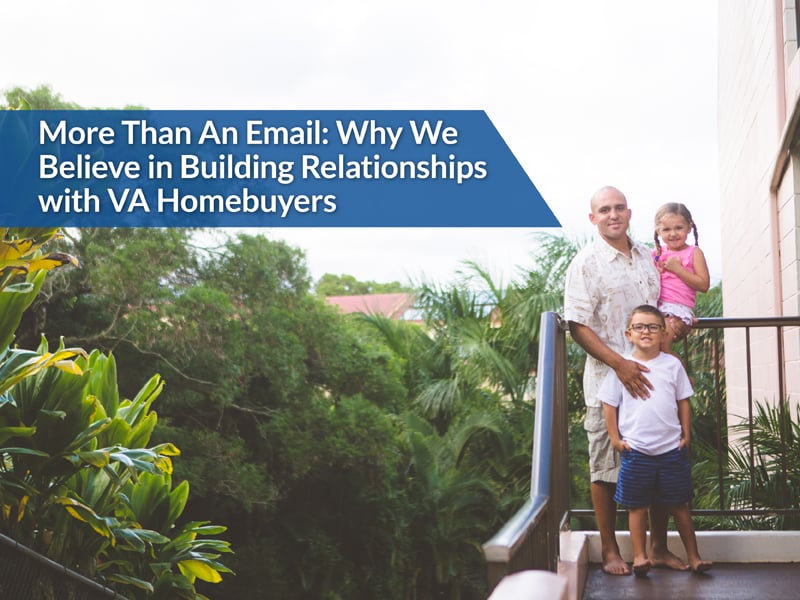 What's the value behind choosing a local VA loan lender? Local is more personal. It's about making direct connections. It's about building relationships.
By definition, the term "local" means belonging or relating to a particular area or neighborhood, typically exclusively so. When we think of a product being locally made, we imagine a small business using local materials and resources to create the product they're selling. It conveys a sense of warmth in manufacturing and transforms a purchase into an investment.
In Hawaii, we learn about the benefits of local produce. Farm fresh, sustainable foods, organic fruits and vegetables that are grown right here by island farmers. It elevates the wholesomeness, adds to the nutritional value of what we purchase, and puts a smile on our faces. Local feels (and tastes) good!
Perhaps Maslow's hierarchy of needs (which suggests that all humans have universal needs that must be met in order to reach their full potential) would be more collectively fulfilled if physiological needs (food, shelter, etc.) were achieved more through local means.
How so?
When you choose a trusted, neighborhood business with a history of quality and success, a company that values their work and their relationship with you, the needs for safety, security, belonging, connection and confidence are unanimously satisfied.
As a local VA loan lender in Hawaii, we truly believe in providing that security and connection by building relationships with VA loan homebuyers.
When we talk about building relationships, it means we value the spoken word, conversation, and as we call it here in Hawaii, talking story. Don't get us wrong, email and text are very useful (and we indeed utilize them), but we believe in taking the extra time to get to know what you need during the homebuying process. It is a philosophy that involves shaking hands, sitting down, and hearing your voice.
Here's how we get to know you as a VA homebuyer:
You can visit our neighborhood offices in Oahu.
Our first office opened in Downtown Honolulu in 2007.  Realizing most of our customers preferred not to drive to town to meet, in 2013 we decided to move our offices to Kapolei –  an accessible location for the Joint Base Pearl Harbor-Hickam and Schofield Barracks areas. We were excited to open our second office in Kailua in 2015 to increase our engagement with the Marine Corps Base Hawaii and Windward community. When you walk into one of our offices, you'll feel the aloha when you're greeted by a team member.
You can meet us at our monthly VA Homebuyer Seminars.
Every month, we host a VA homebuyer seminar at one of our two office locations. The seminar runs about an hour. We share with you all of our knowledge about qualifying for a VA loan, the VA homebuying process in Hawaii, what BAH can buy in today's market, how you can buy a home with no down payment, and more. You have the opportunity to ask any questions you have – in person.
You will have direct communication with your VA Loan Specialist.
The Hawaii VA Loans team is comprised of VA Loan Specialists and individuals who live and work in Hawaii. Many of our team members have been raised in Hawaii and went to high school and college here. Many of our team members are veterans or military spouses. Many have used their VA home loan benefits to buy a home in Hawaii. The connection you'll make with us is one that we cherish. All of our VA Specialists give you their personal phone numbers and email addresses to contact them directly.
We believe your service deserves our time and energy.
Let's be real. There's no greater commitment than the one you have made to the country. You deserve to be taken care of, not put on hold. We find that our strategies for making personal connections help to resolve your questions quicker, decrease the likelihood of miscommunication, and increase satisfaction.
We make a proactive call to every listing agent of a property you make an offer on.
It's another personal touch to generate connection and hopefully give our VA homebuyers that extra chance that their offer is accepted.
When you're ready to get started on using your VA loan to buy a home in Hawaii, give us a call at 808-792-4251, RSVP to an upcoming seminar or come by one of our offices.
Kapolei
338 Kamokila Blvd. #202
Kapolei, HI 96707
Kailua
111 Hekili St. #102
Kailua, HI 96734
See you soon!