At Hawaii VA Loans, we feel it's important to make sure our veteran clients know the facts about their VA Loan benefits. In 2008, we wrote a blog called the "Top 5 Myths Regarding VA Loans." Since myths don't easily go away, it's important to keep debunking them until they run scared out the front door of your Hawaiian dream home…or something like that! So here we go, let's recall those five myths (and add a sixth) to reassert what the truth is when it comes to VA loans.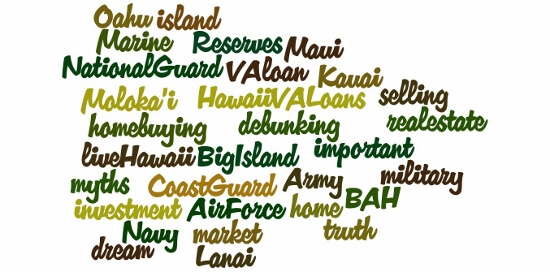 The 6 Myths
1. "I can only use my VA Loan eligibility once."
This is still the most common myth we hear – and it is still false. There is no limit on the number of times you can use a VA Loan. If you've had a VA loan previously, you will need to have your entitlement restored by paying off the mortgage. Therefore, you will need to pay off the balance, sell the property, or refinance into a conventional mortgage in order to get another VA Loan.
There is a possibility in which you could have more than one VA Loan outstanding at a time – but only if you didn't use your entire entitlement on the purchase of the first property. You do have to keep in mind that if you have used your VA Loan previously, the cost of the VA funding fee is increased from 2.15% to 3.3% (no down payment) for every subsequent use of a VA Loan.
Yet, if you've accumulated equity on the sale of your first home, and you can put a 5% down payment the next time, your funding fee can be reduced from 3.3% to 1.5%.
2. "Sellers won't accept my offer if they know I'm doing a VA Loan."
False. In the past, seller's had to pay extra funds to cover some of the VA non-allowable closing costs. However, now that it's a "Seller's Market" in which there are more home buyers than home sellers, we are seeing that more mortgage lenders are picking up the total cost of these VA non-allowables. This helps make their borrower's offers more attractive to sellers.
Additionally, there are an abundance of VA buyers searching for homes, making them a significant portion of today's home buying market. It would be completely nonsensical to disregard VA buyer offers.
3. "VA Loan amounts are not high enough to buy a property in Hawaii."
Not true. When I speak with military personnel who are new to the islands, many of them think that the VA Loan amount is $417,000. This was true for most of the continental 48 states, except Hawaii and Alaska where the maximum VA Loan amounts for 100% is actually $721,050 on Oahu ($713,000 on Kauai, 657,800 on Maui & $625,500 on Big Island).
Let's recap that again – a borrower eligible for a VA Loan can purchase a home and have a total loan amount up to $721,050 without having to put a down payment! 
We know that in Hawaii's market, $721,050 may still not be enough to purchase your ideal home. If that's the case, you can take advantage of the VA Jumbo Loan Program, in which a minimal down payment is required (25% of the difference between purchase price and $721,050).
4. "Those in the National Guard or Army Reserves are not eligible for a VA Loan."
This is false. Those who have served solely in the National Guard or Reserves may also qualify for a VA Loan if they have had at least six years of service. In some cases, if you were activated, you may be eligible for benefits without serving a full six year term.
5. "I cannot qualify for a VA Loan since I've declared bankruptcy in the past."
Again – false.  If you filed bankruptcy but have been discharged for at least two years – we can disregard the bankruptcy.  If you have been discharged for less than two years, there is a possibility to still get a VA Loan if:
the applicant or spouse has obtained consumer items on credit subsequent to the bankruptcy and has satisfactorily made the payments over a continued period, and
the bankruptcy was caused by circumstances beyond the control of the applicant or spouse such as unemployment, prolonged strikes, medical bills not covered by insurance, and so on, and the circumstances are verified.
If you filed for Chapter 13 – you may be eligible for a VA Loan if:
the applicant has finished making all payments satisfactorily.
the applicant has satisfactorily made at least 12 months' worth of the payments and the Trustee or the Bankruptcy Judge approves of the new credit.
6. "I can use my housing allowance from my Post 911 GI Bill to use for Qualifying on a home purchase."
Unfortunately, this is incorrect. Since the Post 911 GI Bill's Base Allowance for Housing (BAH) is temporary income (usually three years), we cannot use it for qualifying purposes.
Do you have a VA Loan question and wonder if it could be a myth? Your questions matter to us, so please feel free to contact our Hawaii VA Loan Specialists or fill out our online loan application to get qualified for a VA Loan.  We are happy to help!