Aloha, Hawaii service members! At Hawaii VA Loans, our goal is to be your go-to resource on buying a home in Hawaii with a VA loan. So we think it's important to break it down for you. Not in dance moves, but in data! BAH (Basic Allowance for Housing) Breakdown style. We'll leave the break dancing to you – for after you sign those closing papers.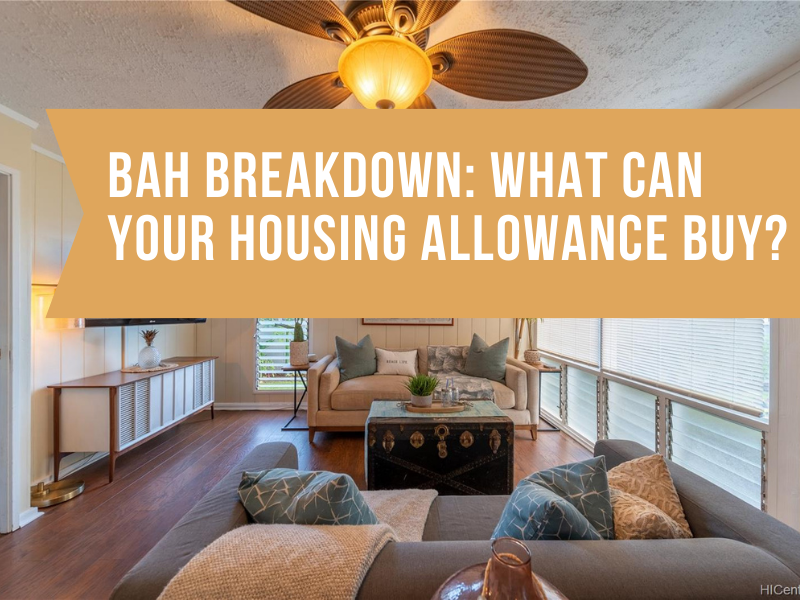 What Can Your BAH Buy?
Some words of advice for Hawaii military home buyers: consider purchasing a property that also provides potential rental income. A home with a separate ohana unit can be rented out long-term (helping you with the mortgage payment!). If renting part of your home isn't your thing, the unit can also benefit family members who stay for extended periods of time or an elderly parent.
This Ewa Beach single family home hits the mark on that opportunity with its extra "mother-in-law" suite. Even more, it's newly renovated, on a corner lot, and close to the beach with a plethora of fruit trees to enjoy. Let's tell you more about this home we've dubbed: The Ewa Extra.
How It Compares in the Current Oahu Real Estate Market
Recent numbers from the Honolulu Board of Realtors January 2021 Local Market Update indicate that the year-to-date median sales price for single family homes sold in the Ewa Plain of Oahu was $780,000. This home is currently listed at $689,000 which is nearly $100K under the median sales price! If you're pre-approved for a VA home loan in Oahu with full entitlement, you receive 100% financing with Hawaii VA Loans as there's no VA loan limit for down payment in 2021!
The Inside Scoop
Before we get into the estimated data breakdown for purchasing a home like The Ewa Extra, first check out its description:
"Newly renovated one level, detached single family home with a mother-in-law suite (or rental income potential) with its own wet bar and separate entrance….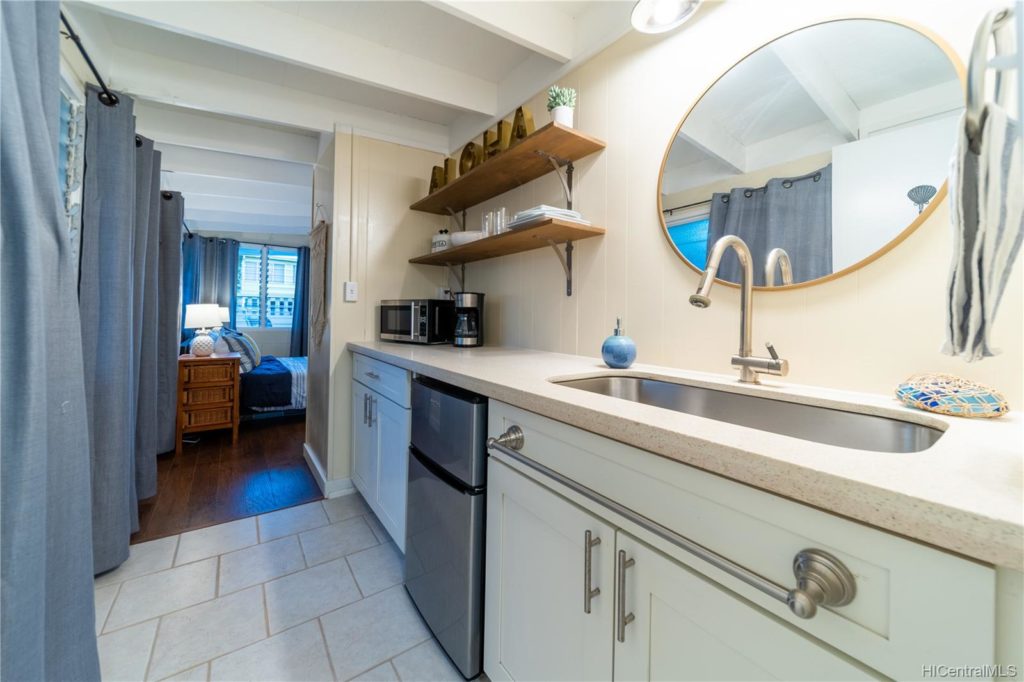 Updated kitchen with stainless steel appliances…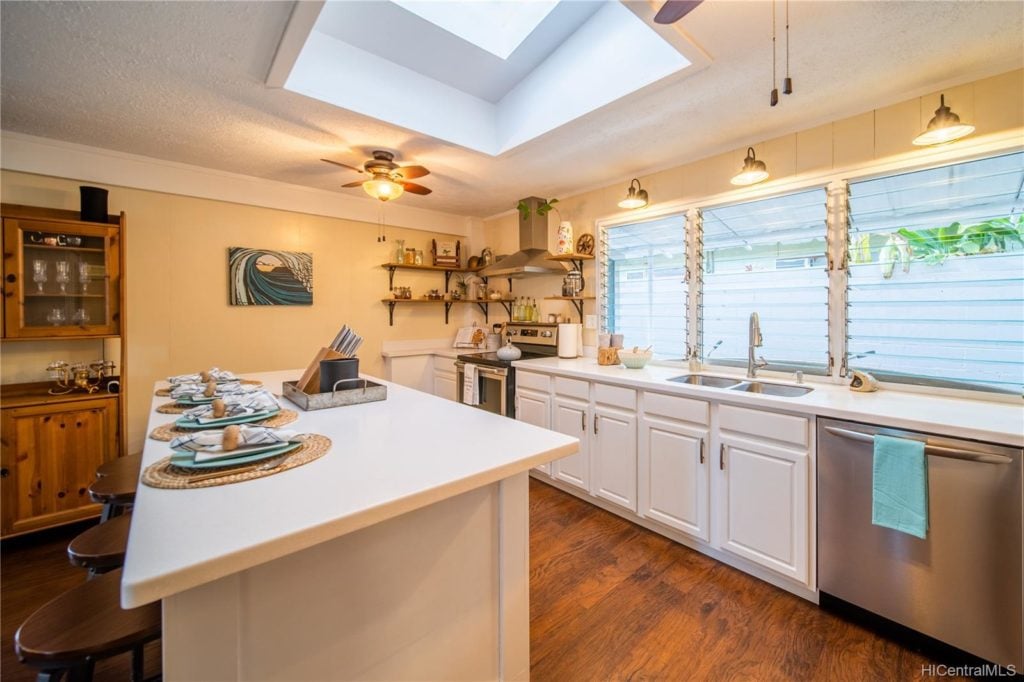 Master suite with walk in closet and lots of storage. Enjoy this fully fenced corner level lot with its landscaped yard and sprinkler system. Yard has fruit trees for you to enjoy such as calamansi, papaya, banana trees and more…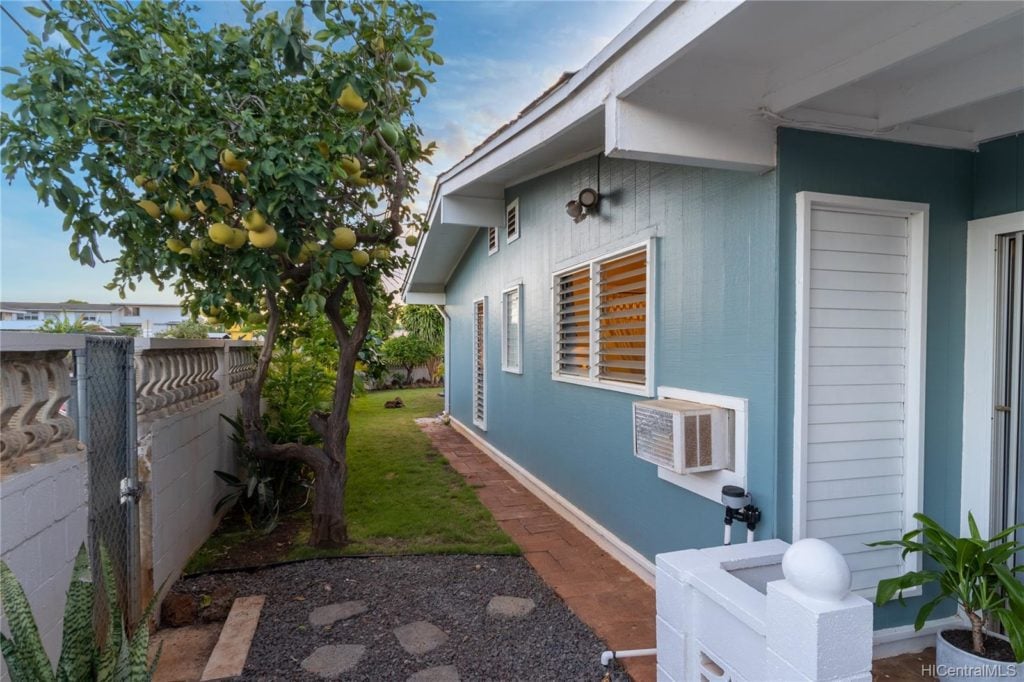 Two-car carport and large enough driveway to fit two additional vehicles. Close to the ocean and shopping."
The Location
This home's Ewa Beach location is close to the ocean (Pu'uloa Beach Park), golfing (Ewa Beach Golf Club), shopping, and walking distance to James B. Campbell High School. Furthermore, Coast Guard service members working at Barber's Point have about a 15 minute commute and service members assigned to Joint Base Pearl Harbor-Hickam have an estimated 25 minute commute.
The BAH Breakdown
Oahu military bases nearby: Barber's Point – 7.4 miles; Joint Base Pearl Harbor-Hickam – 16.7 miles; Tripler Hospital – 18 miles
Points of Interest: Waikiki – 24.3 miles; Kapolei – 7.1 miles; Airport – 17.7 miles
Property type: Detach Single Family
4 bed / 2.5 bath
Living Sq Ft: 1,324
Land Sq Ft: 5,009
Asking price: $689,000
Assuming the $689,000 purchase price with VA Funding Fee of 2.30%:
Interest Rate: 2.75%
APR: 2.96% – 3.01%
Estimated Monthly Payment (includes Principle & Interest ($2877) and taxes ($151) = $3,028.00
What BAH Rates Cover This Monthly Payment?
Service Members with Dependents
The 2021 Hawaii BAH rates support the ability for the following ranks with dependents to afford this property's $3,028 monthly payment with Honolulu County's BAH allowance:
E-7 to E-9
W-1 to W-5
O-1E to O-3E
O-3 and above
Note that many ranks fall just shy of meeting this payment, so factoring in monthly COLA (Cost of Living Allowance) and/or monthly income from an employed spouse helps with affordability.
Would you like to get pre-qualified and pre-approved for a VA loan? Fill out our online application or contact VA Loan Specialist Kristi Sardinha.
Listing courtesy of Robert Koncal, eXp Realty