The Veterans Health Care and Benefits Improvement Act of 2020 expands VA Home Loan eligibility for Army National Guard and Air National Guard service (VA Circular)!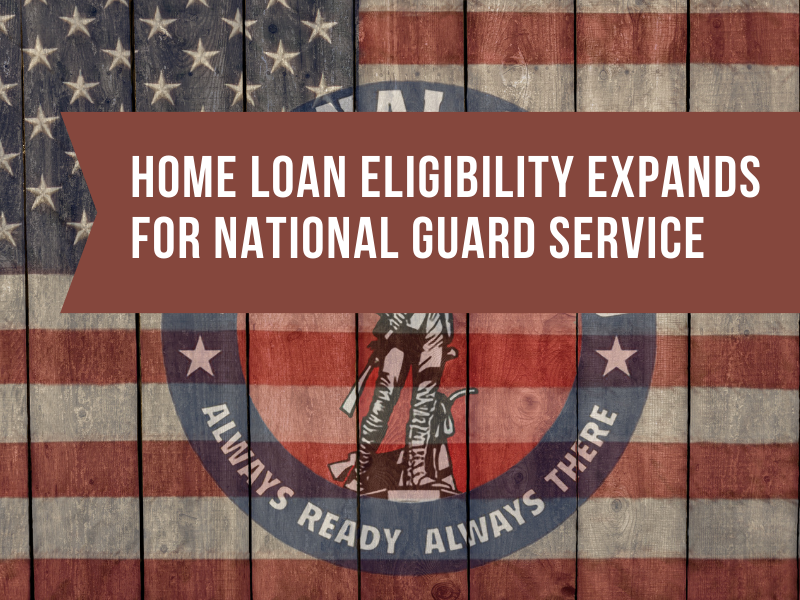 How has home loan eligibility expanded for National Guard service?
Now, service members may have not less than 90 cumulative days of full-time National Guard duty. In addition, at least 30 of those days must be consecutive to be eligible. In accordance with the change, VA home loan eligibility can be applied retroactively, regardless of service date.
What is full-time National Guard service?
Full-time National Guard duty includes training or other duty as a member of the National Guard.
Full-time National Guard duty does not include inactive duty, such as monthly drills. It also does not include basic or initial training.
I served in the National Guard and was previously denied VA home loan benefits, but I meet these requirements. Can I reapply?
The Circular applies to Certificate of Eligibility (COE) applications received by the VA on or after January 5, 2021. Also, applicants who were denied VA home loan benefits (and now meet the requirements for eligibility) are encouraged to reapply. Contact Hawaii VA Loans to obtain your Certificate of Eligibility and get pre-approved for a VA home loan!