Yes, it is definitely possible to buy a home in your twenties with a VA loan! In fact, we've helped many active duty and Veteran twenty-somethings purchase their own slice of paradise. For example, check out Michael's story and Brittany's home buyer story.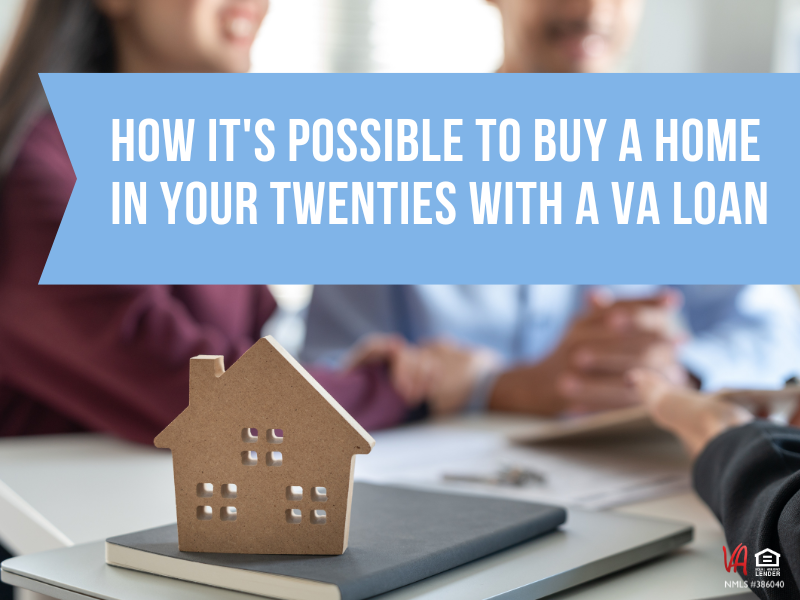 Here are several factors that influence buying a home at a relatively young age with a VA loan:
Financial Readiness:
Buying a home usually requires a down payment, closing costs, and ongoing expenses like property taxes, insurance, and maintenance. Yet, with the VA home loan program, many of the extra costs of a conventional loan program are eliminated. First, there is no down payment required with a VA loan. Next, private mortgage insurance (PMI) is eliminated. Finally, other VA non-allowables at closing make it more affordable for a younger demographic to purchase a home. That said, it's important to have a VA loan specialist assess your financial readiness for the financial responsibilities required of homeownership.
Credit History:
Your credit score and credit history play a significant role in getting approved for a mortgage loan and securing favorable interest rates. It's a good idea to review your credit report, address any issues, and work on improving your credit score if needed.
Stable Income:
Lenders typically prefer borrowers who have a stable source of income. Therefore, if you're an active duty service member or National Guard, then you have a great employment that meets that criteria. Thus, having a steady job or career makes it easier to qualify for a mortgage and manage the monthly payments.
Condo Buying:
Many young buyers have purchased Hawaii condos to get their foot in the door of homeownership, so-to-speak. Since condos are more affordable than single family homes in Hawaii, they are an attractive option for younger first-time VA buyers. Moreover, there are a lot of townhomes that are categorized as condos. Those often have the benefit of single-family homes, like a yard, parking near the unit, no stairs, pool, BBQ area, etc. – but at lower prices than single family homes.
Down Payment:
Again, while a 10-20% down payment is often needed for other loan programs, the VA loan program requires no down payment. However, saving money is always a good idea and you can make a down payment on a VA loan if you choose to do so.
Debt-to-Income Ratio:
Lenders consider your debt-to-income ratio (DTI) when evaluating your mortgage application. This ratio compares your monthly debt payments to your monthly income. A lower DTI ratio is generally favorable for loan approval. In fact, the biggest challenge to buying a home is a large debt load. Especially car loans with hefty monthly payments.
VA Homebuying Education:
Hawaii VA Loans provides VA home loan education about the VA home-buying process, including the steps involved, benefits, what to expect, and tips on a smooth purchasing process. These resources will help you make informed decisions and navigate the process more effectively.
Support and Advice:
Seek advice from professionals like us who can guide you through the process and help you make sound decisions.
If you buy a home in your twenties, it can be a great financial decision as long as you're prepared and have considered all the relevant factors. Furthermore, the VA home loan program makes it even easier to buy. Contact us for more information at 808-792-4251 or fill out our online loan application.