According to the American Psychological Association in 2022, approximately 40-50% of first marriages end in divorce. Furthermore, the military has the highest divorce rate of any career field according to the U.S. Census Bureau data. Therefore, it's quite common during VA home loan prequalification to have servicemembers and Veterans who are either receiving or paying child support. So, let's go over how child support payments factor into VA home loan prequalification as either a liability or as income.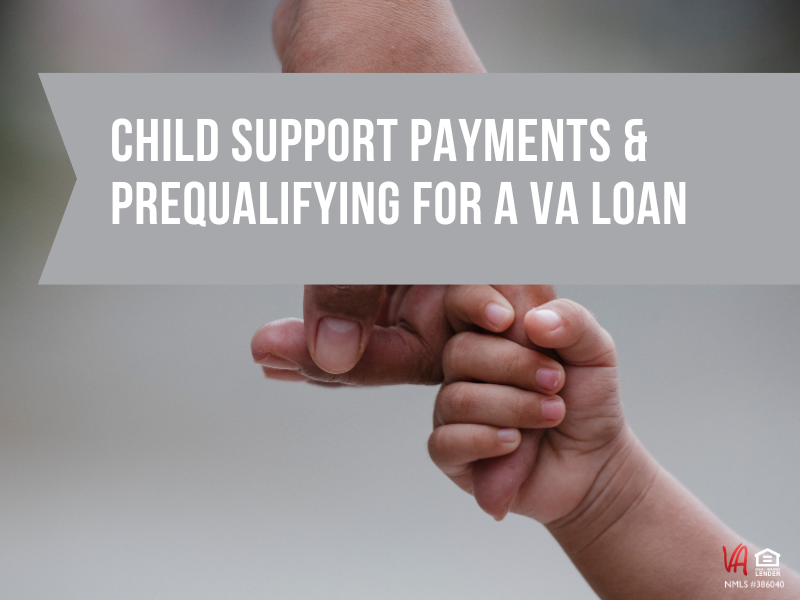 Child Support as Liability
During the first step of the VA loan process called Prequalification, a VA loan specialist verbally inquires if the borrower has any responsibility for child support. If so, this payment is a liability/outgoing debt and counts toward the borrower's debt-to-income ratio (DTI). To verify the monthly liability cost for child support payments, we require the submission of either the Divorce Decree or the Child Support Agreement.
True Story: Child Support Lien/Outstanding Balance
We recently encountered a file in which we entered the monthly amount due for child support based on the information provided in the Child Support Agreement. However, we soon discovered through the financing statement obtained from escrow that the borrower had a child support lien for an outstanding balance. As a result, the borrower had to pay the lien off at closing. This experience highlights the importance of the borrower being forthright with their child support liabilities. Additionally, the lender must be scrupulous with documentation in order to prevent future funding complications.
Child Support as Income
Child support income, if eligible, can be included in a borrower's overall income when calculating debt-to-income (DTI) ratio. A lower DTI ratio is generally more favorable for VA loan preapproval. However, there are two important factors to consider when verifying child support as income:
Consistency and Documentation
A consistent history of receiving child support payments will need to be proven through documentation such as court orders, legal agreements, and bank statements. Specifically, we ask for either three months of bank statements or three months of canceled checks.
Child support income needs to be expected to continue for at least three years from the date of the VA loan application. We want to ensure the stability of your income when assessing your ability to make mortgage payments. Therefore, we must obtain the Divorce Decree or Child Support Agreement plus possible other evidence depending on the situation.
If you're concerned about how child support will impact your ability to qualify for a VA home loan, reach out to us at 808-792-4251 and discuss your specific situation. Ready to get prequalified? Fill out our online loan application. We're excited to help you become a Hawaii homeowner.