The VA home loan program, officially known as the VA Loan Guaranty Program, was established to help Veterans and active-duty service members achieve the goal of homeownership. Indeed, the program has a rich history dating back to the 1940s. Here's a brief timeline of the history of the VA home loan program. *For even more detailed information, download our free VA Homebuyer's Guide.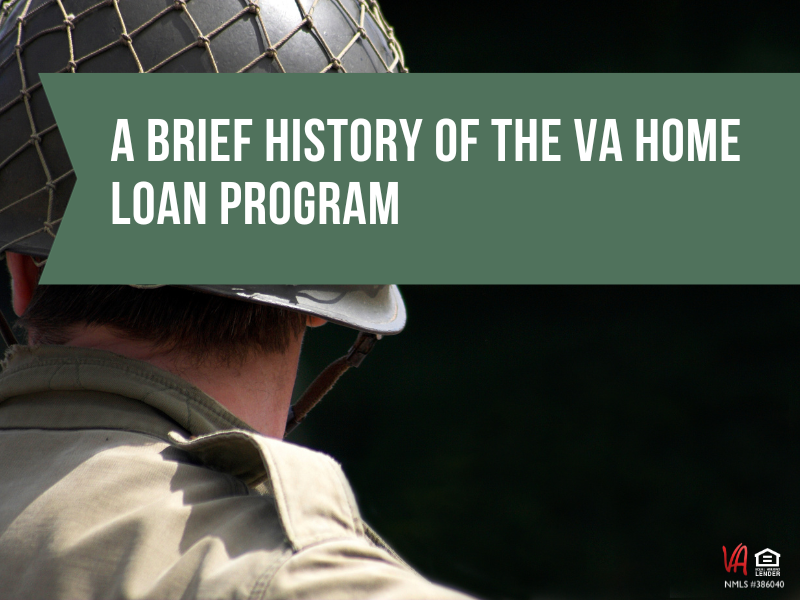 1944 | The Servicemen's Readjustment Act (GI Bill):
The VA home loan program was created through the Servicemen's Readjustment Act of 1944, commonly known as the GI Bill. This legislation aimed to provide a range of benefits to World War II Veterans, including education assistance, unemployment compensation, and home loan guarantees.
1944 | Formation of the Veterans Administration:
Alongside the GI Bill, the Veterans Administration (VA) was established to administer various benefits for veterans, including the home loan program. The VA would guarantee a portion of each loan made to eligible Veterans to encourage lenders to offer favorable terms and conditions.
1944 | First VA Home Loans:
The VA started providing home loan guarantees to Veterans in 1944. The program allowed Veterans to purchase homes without a down payment, making homeownership more accessible to those who had served in the military.
Post-World War II | Expansion and Popularity:
In the post-World War II era, the VA home loan program gained popularity as it provided a way for Veterans to transition to civilian life by becoming homeowners. The program's benefits were extended to Korean War and Vietnam War veterans.
1970s | Expansion of Eligibility:
The eligibility criteria for the VA home loan program were expanded to include National Guard and Reserve members, as well as certain categories of military spouses.
1992 | Native American Veterans:
The Native American Veteran Direct Loan (NADL) program began in 1992. Eligible Native American Veterans can use the program to finance the construction, purchase or improvement of a home on Federal trust land.
21st Century | Modernization and Adaptation:
The VA continued to evolve the program to meet the changing needs of Veterans. Modernizations included updates to loan limits, increased flexibility in terms, and efforts to streamline the application and approval process.
2008 | Housing and Economic Recovery Act (HERA):
The HERA temporarily increased the VA loan limits to provide additional support to Veterans during the housing market downturn and economic recession.
2021 | Expanded Veteran Eligibility
In 2021, new changes passed by Congress expanded access to the VA's home loan program. First, it broadened the timeframe of Veterans qualifying for the Vietnam War era and has been revised to include those who served from November 1, 1955. The previous date was February 28, 1961.
Next, it authorizes benefit access for those servicemembers and Veterans mobilized to perform full-time National Guard duty for not less than 90 cumulative days, including at least 30 days consecutive.
Recent Years | Growth and Enhancements:
The VA home loan program has seen consistent growth, with an increasing number of Veterans utilizing the benefits. In fact, in June of 2023 the VA guaranteed it's 28 millionth loan. Furthermore, over 3.7 million Veterans have active home loans guaranteed by the VA. Efforts have been made to improve the program, including updates to regulations, increased loan limits, and ongoing support for Veterans facing housing challenges.
Today | Major Benefits of the VA Home Loan Program:
VA requires no down payment 
Limited closing costs
No need for Private Mortgage Insurance (PMI)
Default Assistance
The VA home loan is a lifetime benefit (you can use the guaranty multiple times)
The VA home loan program has played a significant role in promoting homeownership and providing financial assistance to Veterans, helping them achieve the American dream of owning a home. Hawaii VA Loans helps Hawaii Veterans and service members become Hawaii homeowners! Contact us today at 808-792-4251 or fill out our online loan application.