Welcome, e komo mai! If it's your first PCS to Hawaii, you'll love our free Oahu PCS Guides. Get to know the area you'll be living in! Each guide is a great tool for military families. Jump start living your best Hawaii life! We also offer a free VA Homebuyer's Guide that details how to utilize your VA home loan. We'll share more about that in this post too. After you go download them, come back here and let's talk a little story about Hawaii living and home buying!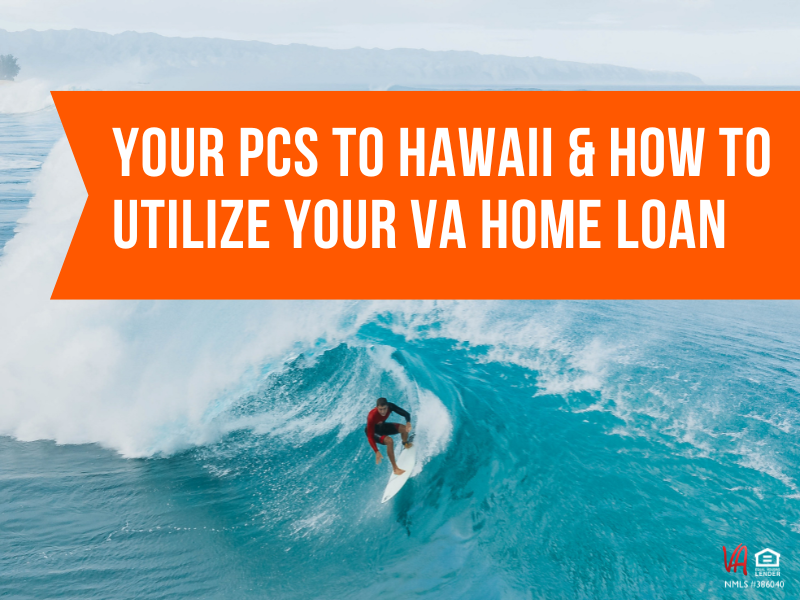 Back when I was a child living here in the early eighties, my dad was in the Army and stationed at Fort Shafter. It was a wonderful time full of blue ocean memories at Hickam Beach, Bellows, and in Honolulu. There were lots of barbecues, friendships, perfect weather, and sand – lots of sand!
Now, my children are experiencing a similar childhood on the Windward side of Oahu near Marine Corps Base Hawaii. Thanks to my husband's Navy career, we are in our 10th year of calling Oahu home. He has taken unaccompanied hard-fills so this could be made possible! Purchasing our home with our VA loan in 2012 has given us a solid home-base while my husband continues to serve.
VA Home Loan Info Now vs. Then
Often, I think how fortunate we are to live in a time when information is so easily accessible. Especially, when it comes to the mortgage industry and real estate. I remember my parents telling me about their PCS to Hawaii nearly forty years ago. When they arrived, there was no on-base housing available at Fort Shafter. So, they went looking for an off-base home to rent. However, their BAH then was way under the local rental market. They recall that there was nothing they could afford for a family of four! They were worried about what they were going to do for housing. In the nick of time, an on-base housing unit opened up for them, and they didn't have to search any longer.
Reflecting back, both of my parents wished they had more insight on the housing market. Perhaps they could have utilized their VA home loan benefit somewhere around the island? We still wonder what type of real estate investment they could have made at that time!
Luckily, a lot has changed when it comes to VA home loan education. As the longest-running VA lender in Hawaii, Hawaii VA Loans has your PCS to Hawaii covered with what your BAH can buy, how to get Pre-Approved for a VA loan, and the steps to VA home buying. So let's get to it.
What Can Your BAH Buy?
Each year, we update the Honolulu Basic Allowance for Housing (BAH) rates in our BAH to Purchase Price Conversion Matrices. You learn two important things:
How much your BAH can afford to buy you with a VA loan for both a condo or a single-family dwelling.
How much money you could be wasting using your BAH to rent.
Note that the BAH matrices do not factor in additional income for an employed spouse and are based on BAH alone.
How to Get Pre-Approved for a VA Loan
Before you start searching for your new home, it is ALWAYS recommended to get pre-qualified and then pre-approved (read about the difference) first. Contact a VA Loan Specialist at 808-792-4251 or fill out the initial VA Purchase Application and we will contact you directly.
Here's a checklist of items you'll need for formal pre-approval:
Completed Certificate of Eligibility (COE) form (VA Form 26-1880). If you are no longer in the military, you will also be required to submit your discharge papers (DD Form 214).
Most recent LES or pay stubs (one month)
Last two years W2 statements and tax returns (if self-employed)
Last two months bank statements (all pages)
Once you have this paperwork ready, your VA Loan Specialist will pre-approve you for a purchase loan amount!
The Next Steps to Hawaii VA Home Buying
Get Pre-Approved (we covered that above!)
Contact a Real Estate Agent
If you are already working with a real estate agent, great! We'll make sure your agent knows the loan amount you're pre-approved for. If you don't have a real estate agent, we can refer you to a number of qualified agents here in Hawaii.
Narrow Down Your of Properties
Your real estate agent will email you a list of properties that fit your criteria. You'll need to narrow down the selection so your agent can schedule a showing with the seller's agent. Keep in mind that not all condos are eligible for VA financing. Use the Condo Check Tool on our website to see if it's approved.
View Properties
Now it's time to see the properties for yourself. This is where you'll really decide which home will be the best fit.
Submit an Offer
Once you've decided which home you would like to purchase, your real estate agent will draft up an offer that will be accompanied by a pre-approval letter from your VA Loan Specialist.
Leave the Rest to You VA Home Buying Team
Now, sit back and relax. Your VA Loan Specialist, real estate agent, and escrow officer handle the nuances of your purchase transaction. After your offer is accepted, the process typically takes 30-45 days. You will come in and sign the final loan documents. Then, you will receive your keys and officially become a Hawaii homeowner. It really is that simple!
Quick Links:
Certificate of Eligibility (COE) Request Form
Start Pre-Qualification -> Pre-Approval
We hope we've provided you enough info for your PCS to Hawaii and how to utilize your VA home loan. As always, contact us with any questions you have at 808-792-4251. Aloha!