Currently, the Honolulu Board of Realtors Market Report reveals that overall inventory/number of Oahu listings saw a 20% decrease in the month of August compared to the same time last year and single-family homes were selling at a 44.4% faster rate. These single-family homes are spending only about 15 days on the market! Condo inventory is also down 19% year–over-year and spending approximately 23 short days on the market.
The HBR Market Report also states that 43% of sellers are receiving full asking price or higher compared to 35% of sellers last year at the same time. This data tells us that this current period of real estate is a seller's market.
"A lack of inventory coupled with high demand from buyers looking to capitalize on historically low interest rates is driving a very competitive market for single-family homes on O'ahu," said Tricia Nekota, president, Honolulu Board of REALTORS®. "This is an opportune time for sellers to list their properties as housing values continue to rise, and buyers are on the hunt for their forever homes."
How can a VA buyer best compete in a seller's market? Here at Hawaii's longest-running VA loan specialized lender – Hawaii VA Loans – we have three tips to share that may put VA home buyers at even more of an advantage when it comes to having their offers accepted.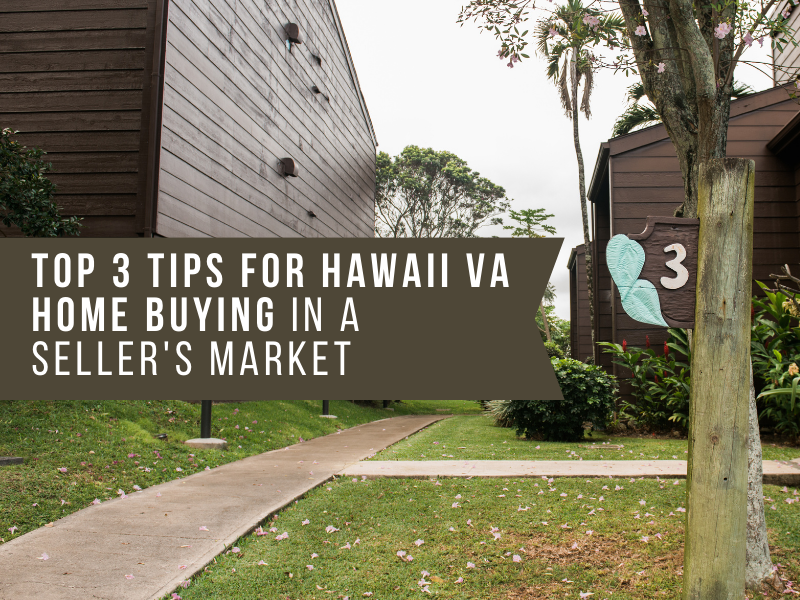 Tip #1: Get Pre-Approved First
Pre-approval gives VA eligible buyers an elevated status and standing with sellers.
Essentially, pre-approval means that a buyer is making a strong, solid offer backed by a lender who's ready to move forward with financing quickly.
Many buyers may THINK they can afford a certain amount and make an offer only to find out that they CAN'T actually get approved for the accepted purchase price. That can be frustrating for a seller who may feel that they missed out on other credible offers.
VA home buyers won't have that problem if they choose to get pre-approved first. They'll know their buying power and be able to make an offer to a seller with complete confidence.
Tip #2: Make Your Best Offer
A VA home loan gives veterans the opportunity to buy a home with no down payment. That means a VA buyer will receive 100% financing for a home at or below their pre-approval amount. In a seller's market, agents may advise making an offer at the seller's list price or higher.
A big advantage for VA home buyers making offers is the Hawaii VA Loans' Kokua Credits program.
VA buyers are given the opportunity to have their closing costs paid for via real estate agent and lender credit. If you're a veteran who's pre-approved for the Kokua Credits program, any extra money you may have been saving to cover closing costs could potentially be used to make a bigger offer in a competitive market.
Remember to make your best offer first, especially if the home is one that you love!
Tip #3: Film a Video or Write a Letter
It's safe to say that the year 2020 has been a challenging one. Social-distancing, remote working, stay-at-home orders, and mask wearing due to the coronavirus has eliminated the daily connections we would normally make within our community and neighbors.
It's hard to know if someone is smiling under their mask, right?!
Many people are missing those connections tremendously, so when it comes to home buying, why not attempt to make it more personal? VA buyers may consider reaching out to sellers via video-making or letter writing to share their backstories, thoughts, and desires when it comes to purchasing the seller's home. Now more than ever, this home buying strategy may be just what the doctor ordered (along with hand sanitizer)!
We hope you find these three tips useful during your home search in a seller's market. Your Hawaii real estate agent will likely have many more strategies and tips to share, so trust in their expertise as well. Are you interested in being pre-approved for a VA home loan? Contact Hawaii VA Loans to get started or fill out our secure, online loan application.
Let's get you that Hawaii home you've always wanted!