They say that "life begins outside of your comfort zone" or "step out of your comfort zone," but not when it comes to your personal finances! When you're purchasing a home, you must make sure that your monthly mortgage payment is within your payment comfort level. Let's talk about what happens when your maximum loan Pre-Approval amount is above that level.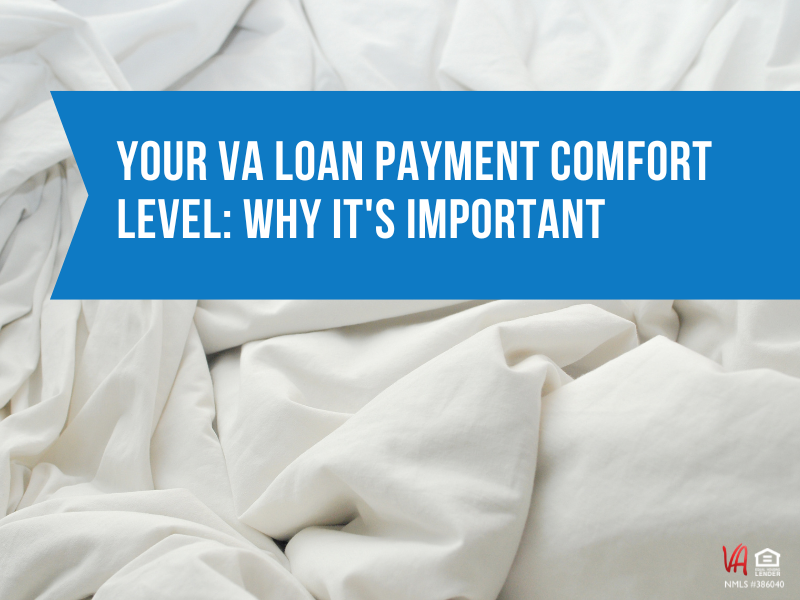 First, Pre-Approval is one of the most exciting steps in the VA loan process. Your VA Loan Specialist will let you know the maximum loan amount you qualify for! The amount is based on a complete review of documentation provided by the following sources.
Most recent LES or pay stub (total of one month).
Most recent 2 years of Federal Tax Returns (including all schedules & W2s).
Most recent 2 months of bank statements showing assets that will be used for closing.
Finding your payment comfort level
It is not uncommon for buyers to be Pre-Approved for a loan amount that is higher than they may have expected. Thus, when the loan amount translates to a monthly mortgage payment, you should assess whether it meets your payment comfort level. Therefore, your VA Loan Specialist will talk with you about what your monthly mortgage payment comfort level is.
Based on your response, your VA Loan Specialist will Pre-Approve you for either:
The maximum loan amount or
Convert your monthly comfort level mortgage payment into the lower loan amount.
Why is it important for you to determine what your mortgage payment comfort level is? Because only you know the plans you have for the foreseeable future! Yes, it's great to get Pre-Approved for a maximum loan amount. However, take into consideration some reasons to assess how a loan amount will affect your bank account each month.
Five reasons to assess your payment comfort level:
Do you travel a lot? Frequent round trip costs can be high from Hawaii to anywhere on the mainland.
Are your plans to put your children into Hawaii private schools in the near future or pay for college-bound children? Hawaii private schools can have high monthly tuition costs.
How about retirement or changing jobs that may reduce annual income in the future?
Will you need to purchase a new vehicle in the near future? A monthly car payment may be high.
Perhaps you prefer to save more money monthly rather than putting more of your income into a higher mortgage payment?
Helping you make the best home buying decision
In all the excitement of Hawaii home buying, it is incredibly important to be mindful of your payment comfort level. The VA home loan program seeks to protect our Veterans and servicemembers from entering into a financial decision that may be a detriment in the long run. That's why home inspections and VA appraisals are so important. When an appraisal is given, it's a way to protect the VA buyer from overpaying for a home.
Again, your VA Loan Specialist will check in and make sure that your Pre-Approval loan amount is a comfortable financial undertaking. After your decision is made, you'll be well on your way to finding the perfect home for you!
Contact us for more information or start the Pre-Approval process here.