Aloha, Hawaii servicemembers! Here at Hawaii's longest-running VA loan specialized lender, Hawaii VA Loans, one of our goals is to be your go-to resource for information on home buying and the VA loan process. In order for us to achieve that, we think it is important to break it down for you. Not in dance moves, but in data! BAH style. We'll leave the break dancing to you – for after you sign those closing papers.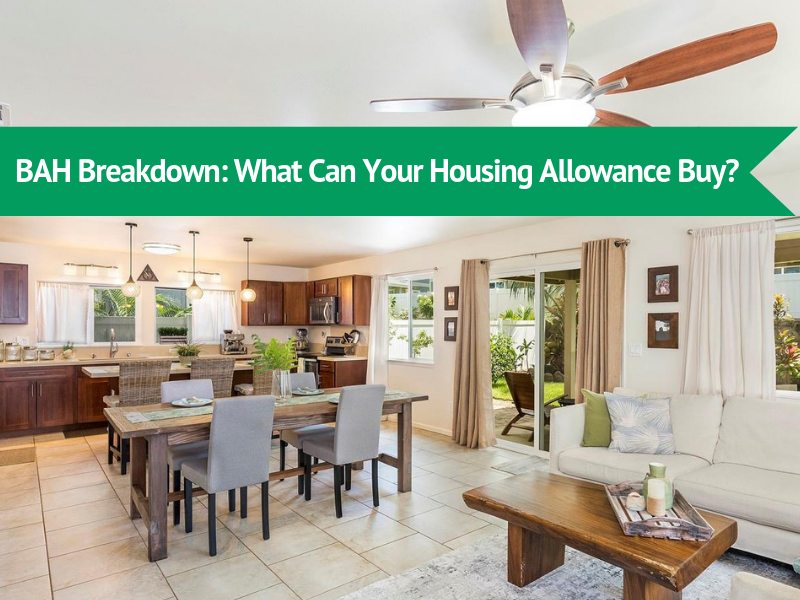 What can your BAH buy?
When it comes to Oahu's Leeward Coast, VA buyers will find some of the most attractive prices for homes in top condition with ample square footage, and this Makaha Oceanview Estates property we're about to break down for you is no exception!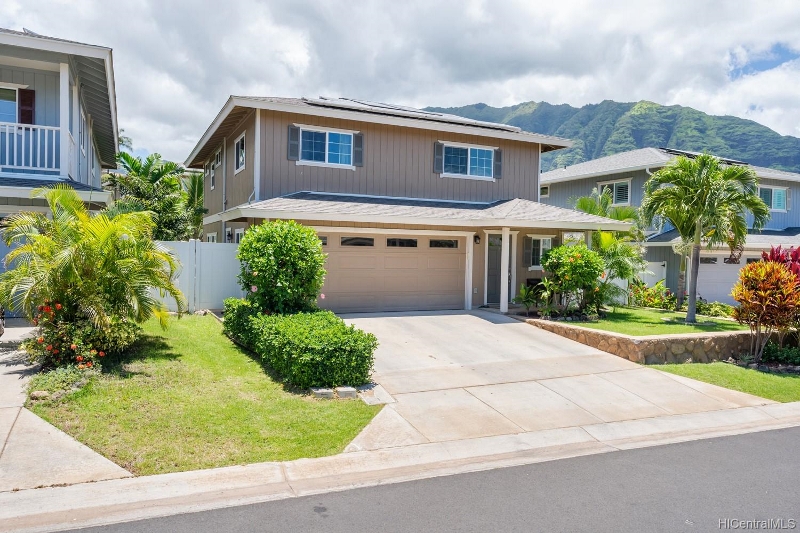 First, let's talk recent numbers. The median sales price for single family homes in the Makaha – Nanakuli neighborhood was $505,000 according to the Honolulu Board of Realtor's June 2019 Market Report. That's $257,525 less than the 2019 Hawaii VA Loan Limit with no down payment of $726,525!
As a matter of fact, not too long ago, we went out to Makaha to visit with Hawaii VA Loans home buyers Jesus and Rikki. Soon after receiving PCS orders to Hawaii, Jesus knew that he wanted to use his BAH towards an investment. So he did! He received his pre-approval with Hawaii VA Loans and was able to purchase their updated West Oahu home quickly and smoothly as to not be stuck living in a hotel for months after they arrived on island! Read more about their VA home buying story here.
Now, onto the current BAH Breakdown!
This three bedroom/ two and a half bath listing we chose has a beautifully appealing description:
"Paradise is found in the lush tropical setting of this private gated community. Starlit skies, ocean and mountain cross breezes, and the dream island lifestyle await you at the Makaha Oceanview Estates."
Sighhh. Say no more. Take us there!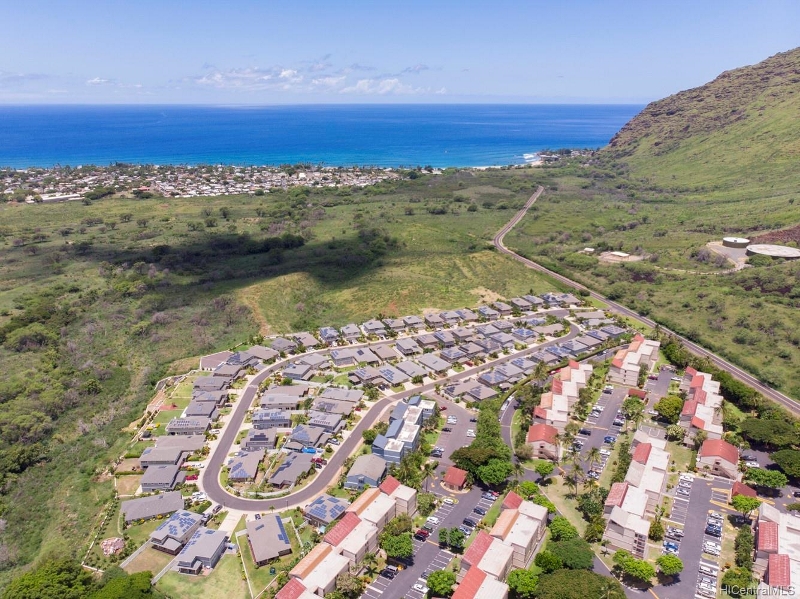 A brief internet search of "Makaha Oceanview Estates" will tell you at least three things:
The family-friendly CPR community was newly built in 2014.
The neighborhood is surrounded by ocean and mountain views.
Makaha Beach Park is literally a  two minute drive away – a sacred beach that is home to Hawaiian surfing and watermen legends.
If you choose to purchase a home on the far west side, you'll be looking at a longer commute time to Oahu's military bases. That could be a downside to you, or you could look at living in Makaha as your sweet escape that's worth the drive (especially if you love being close to the ocean).
Here at Hawaii VA Loans, we think 84-575 Kili Drive 50 Waianae HI 96792 is an exciting option for active duty military home buyers to consider!
Take a Closer Look
What the Hawaii VA Loans team loves about this home: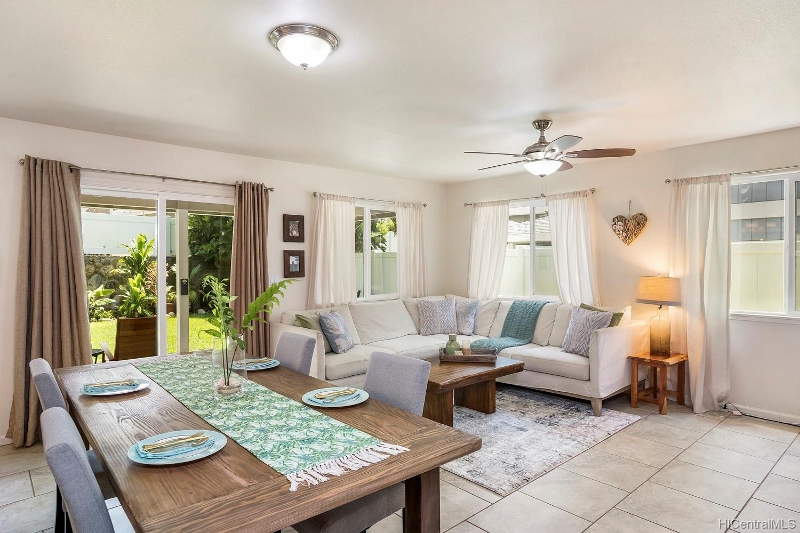 The spacious kitchen with quartz countertops…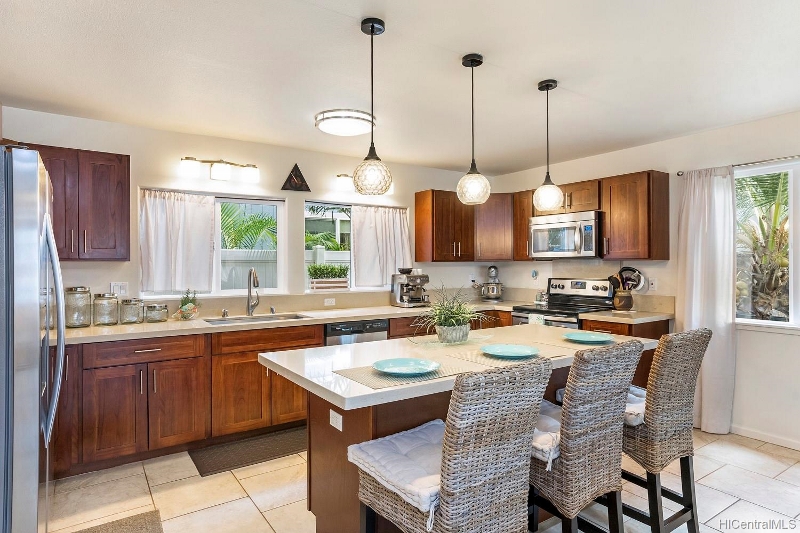 The ceramic tile and wood laminate flooring…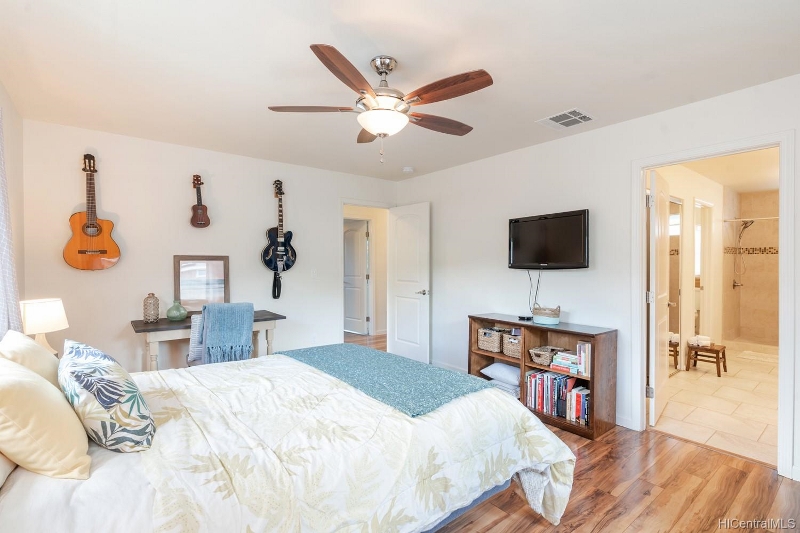 The large master bathroom…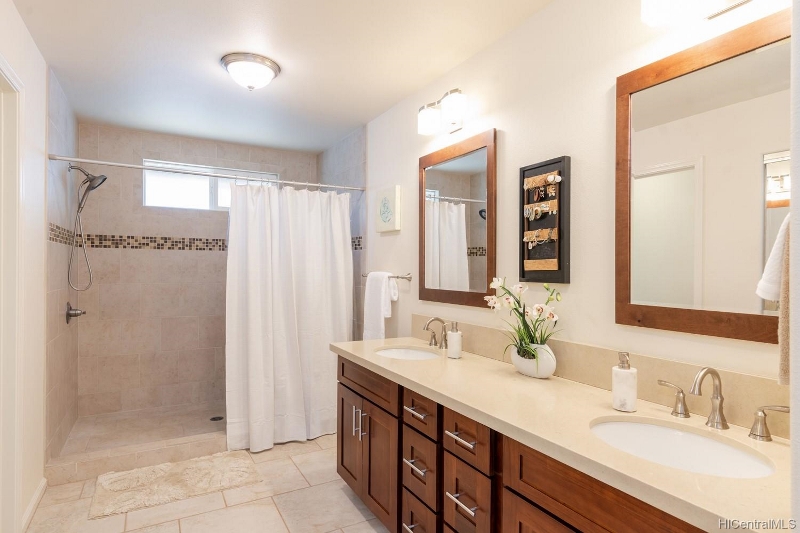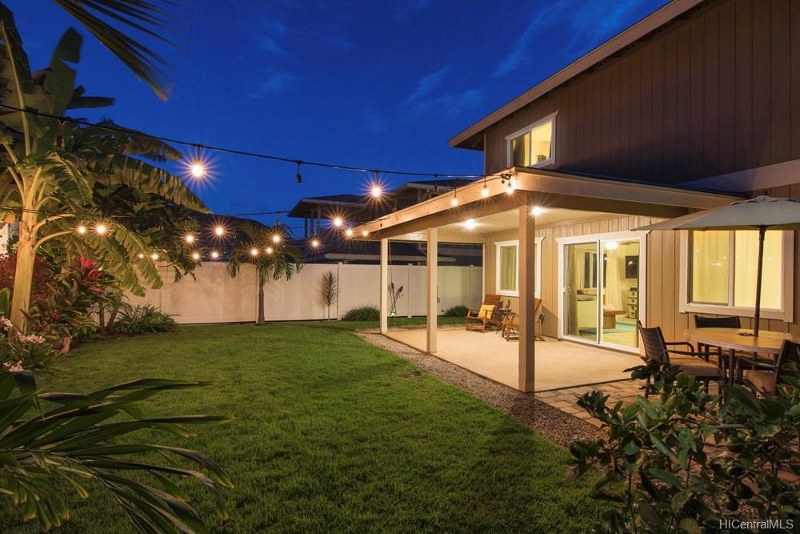 Its huge garage…
Its peek-a-boo ocean views…
It's under the VA loan limit!
Inside Scoop
3 bed / 2.5 bath
Central AC
Living square footage: 1,840
Upstairs laundry room
More Details
Lawn sprinkler system
Solar hot water
Lot: 4,423 sq ft
The BAH Breakdown
Assuming the $659,000 purchase price with VA Funding Fee of 2.15%:
Interest Rate: 3.99%
APR: 4.199%
Total Monthly Payment (includes principle, interest, taxes, insurance and any maintenance fees): $3,607.93
What BAH Rates Cover This Monthly Payment?
Service Members with Dependents
The 2019 BAH rates support the ability for ranks E-9, W-4 thru W-5, O-3E, and O-4 and above with dependents to afford this property's monthly payment solely with BAH. The ranks of W-3, O-2E, and O-3 with dependents monthly BAH allowance for Hawaii fall just short of this total monthly payment. Note that factoring in monthly COLA (Cost of Living Allowance) into the mortgage payment and monthly income from an employed spouse may also help in covering this estimated monthly payment.
Would you like to get pre-qualified for a VA loan? Fill out our online application or contact VA Loan Specialist Brenda Carr at bcarr@hawaiivaloans.com.
To find out more about this listing, contact listing agents Leslie-Ann Wills of Coldwell Banker Pacific Properties.
Follow us for more BAH Breakdowns as we post them!