Aloha, service members! Here at your local VA mortgage lender, Hawaii VA Loans, one of our goals is to be your go-to, trustworthy resource for information on home buying and the Hawaii VA loan process. In order for us to achieve that, we think it is important to break it down for you. Not in dance moves, but in data, BAH style. We'll leave the break dancing to you – for after you sign those closing papers.
What can your BAH buy?
Ko Olina. If you haven't heard of this resort community on the leeward coast of Oahu, then allow us fill you in on this community's attractiveness! Alison Wisnom, RA, Hawaii Life Real Estate writes about the FIVE REASONS Ko Olina is particularly appealing to military buyers. They include:
All residential areas of Ko Olina are VA loan approved
Newer and better construction
Retirement investment
A more flexible Ko Olina housing market
Deployment amenities and peace of mind
Check out Alison's blog for more details about Ko Olina. As an Army veteran herself, Alison provides key insights into buying a home in Hawaii with a VA loan.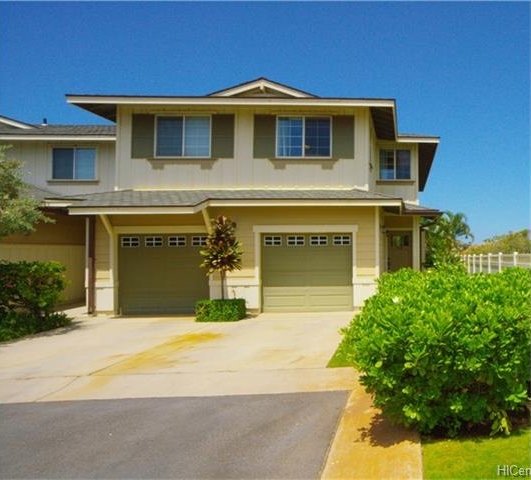 We're big fans of this Ko Olina 3 bedroom, 2 bath corner-end villa for one key reason: it's simply EASY to begin island living in this no-headache home.
Maintenance-free and in excellent condition with all of the amenities of Ko Olina resort living, it's understandable why an active duty family would invest their BAH in a townhouse like this one.
For military families PCSing to Oahu, there's always an adjustment period that involves waiting for and receiving household goods while trying to learn and get familiar with life on an island. A property like this one, in impeccable condition, opens the door for service members to take advantage of Hawaii's many gifts sooner rather than later.
Ko Olina is an approximate 14 minute commute to Barbers Point, 27 minutes to Pearl Harbor, and 30 minutes to Schofield Barracks and Camp Smith. The commute to Honolulu International Airport is about 26 minutes.
Inside Scoop
three bed / two bath (1,173 sq ft)
Granite countertops
Stainless steel appliances
Central AC
Enclosed back lanai
Amenities
Exercise room
Pool/Recreation room
Restaurant
Walking/jogging paths
Security guard
Storage
Resident Manager
The BAH Breakdown
Oahu military bases nearby: Schofield Barracks – 17.1 miles; Pearl Harbor – 19.7 miles; Tripler Army Medical Center – 20 miles
Points of Interest: Airport – 19.8 miles; Downtown Honolulu – 17.4 miles
Property type: Townhouse
Asking price: $565,000
Bedrooms: 3
Bathrooms: 2
Land: 1,173 square feet
Lanai: 141 square feet
Rates
Interest Rate: 3.375%
APR: 3.569%
P&I: $2551.55
Taxes: $146
Insurance: $125
HOA: $629
Total Estimated Monthly Payment = $3,451.55
What BAH Rates Cover This Monthly Payment?
Service Members with Dependents
The 2016 Hawaii BAH Rates support the ability for ranks E-9, W-4, W-5, O-3E, and O-4 and above with dependents to afford this single family home if purchased at its asking price. For ranks E-8, W-3, O2-E, and O-3, BAH falls only slightly below the estimated monthly payment and can still be affordable with supplemental income from a spouse.
Would you like to find out if you qualify for a purchase price like the properties above? Fill out this online application or contact a VA Loan Specialist or give us a call at 808-792-4251.
Follow us for more BAH Breakdowns as we post them!