Aloha, Hawaii service members! Here at Hawaii's longest-running VA loan specialized lender, Hawaii VA Loans, our goal is to be your go-to resource for information on VA loans in Oahu and all of the Hawaiian islands. In order for us to achieve that, we think it is important to break it down for you. Not in dance moves, but in data! BAH (Basic Allowance for Housing) style. Find out what 2020 BAH rates cover this property's estimated monthly mortgage payment if purchased at its asking price. We'll leave the break dancing to you – for after you sign those closing papers.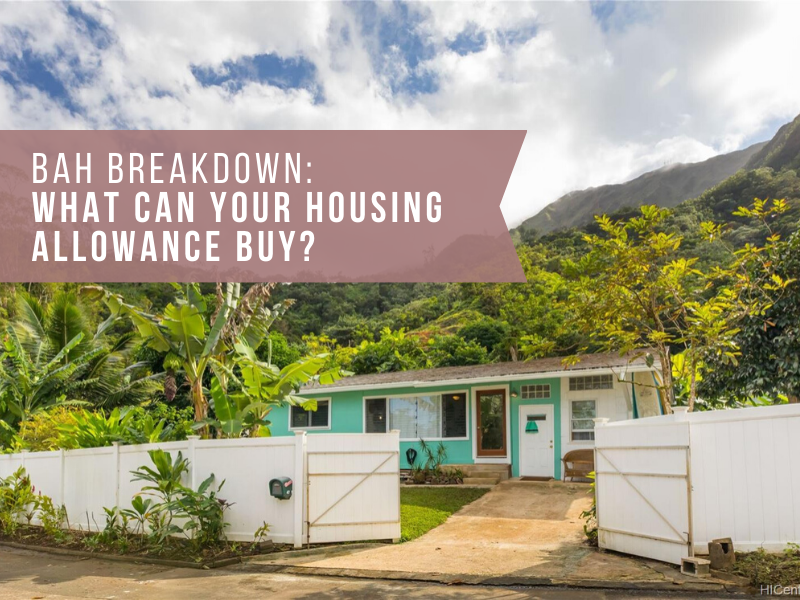 What can your BAH buy?
Service members who are intrigued with becoming a Hawaii homeowner using their VA loan benefits are often times looking for a home that truly captures "island living." Many of the VA home buyers we've worked with comment on the lush landscape surrounding their properties and the immediate sense of relaxation they feel when they arrive home. This Kaneohe, Oahu listing's charm speaks directly to those island vibe desires. Hawaii living is fresh, it's unique, and it's to be treasured! Without further ado, let's tell you more about the home we've dubbed: Kaneohe Charm.
For starters, recent numbers from the Honolulu Board of Realtors December 2019 Local Market Update indicate that the median sales price for single family homes sold in Kaneohe, Oahu was $1,087,500. You'll be happy to know that this home is currently listed at $650,000. It's also in-line with the comparable sale prices for the Temple Valley neighborhood! Also, if you're pre-approved for a VA loan in Oahu with your full entitlement, you won't need to make a down payment at all, receiving 100% financing with Hawaii VA Loans.
Before we get into the estimated data breakdown for purchasing a home like Kaneohe Charm, check out its description by Locations Hawaii:
"If you've just entered the Oahu real estate market, you may have very well just stumbled onto the most charming Kaneohe home that 2020 will offer. The unmatched character of the home's interior contends only with the surreal setting of the lush Ko'olau's in the backdrop, and a thoughtfully designed yard with covered deck that promotes outdoor living as much as indoor. Enjoy very recent and tastefully upgraded bamboo floors, kitchen, bath, and roofing and be assured an opportunity to LIVE from day one in what is arguably the epitome of an 'Island Home.' Corner lot orientation, Mature fruit trees and tropical plants abound, surrounded by a gated white vinyl fence for premier privacy."
The Temple Valley neighborhood is a distinctive area of Kaneohe with many homes situated at the foot of the majestic Ko'olau mountains (as mentioned in the listing's description). A significant landmark in the area is the Byodo-In Temple, "a non-practicing Buddhist temple which welcomes people of all faiths to worship, meditate or simply appreciate its beauty." In 2019, National Geographic chose the temple for its feature of "20 of the world's most beautiful Buddhist temples." It's a sure bet that, in many ways, living in a Temple Valley will feel like a scenic dream.
Take a Closer Look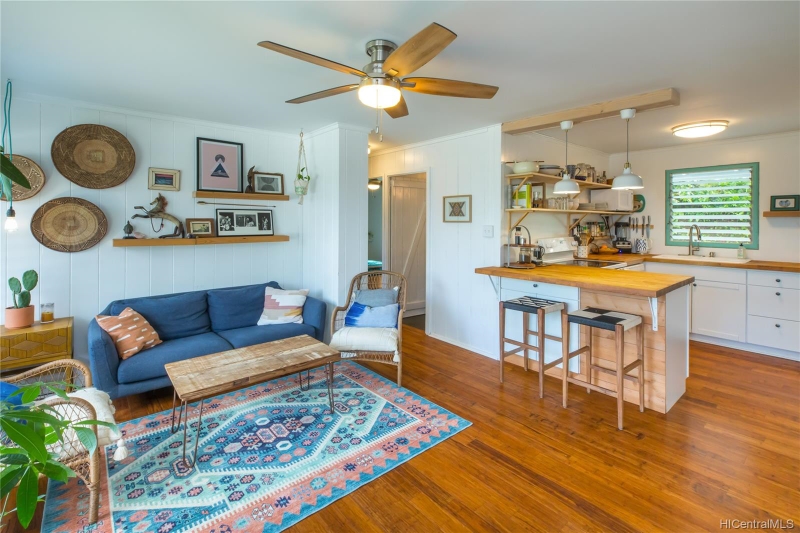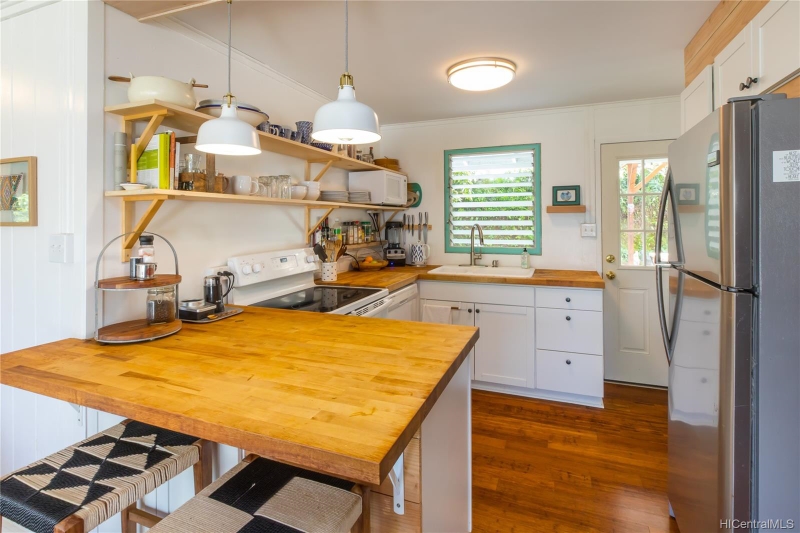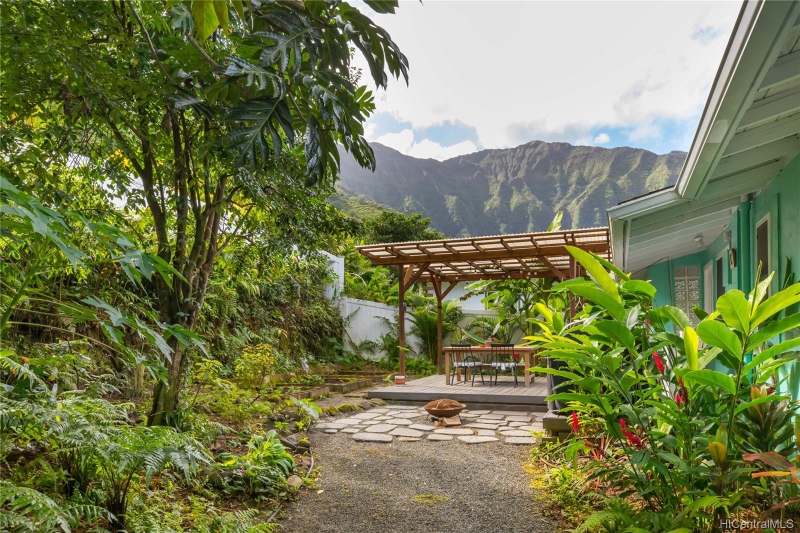 The corner lot with privacy fence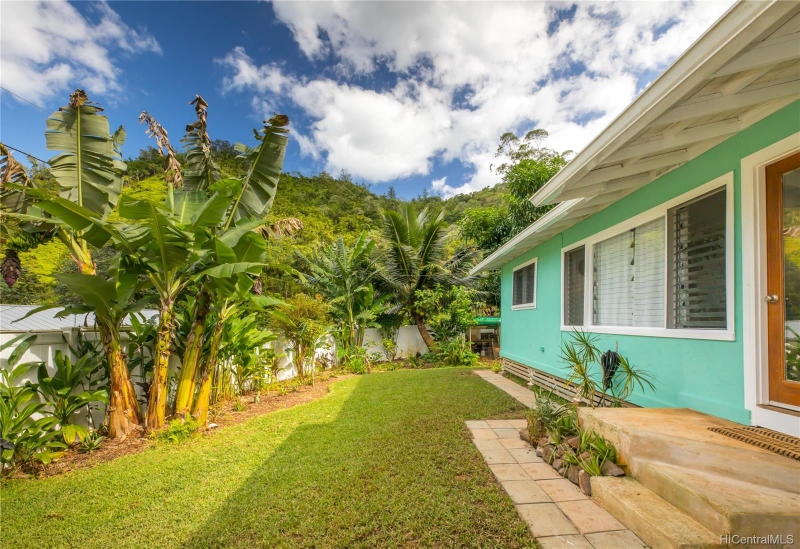 The beautiful surroundings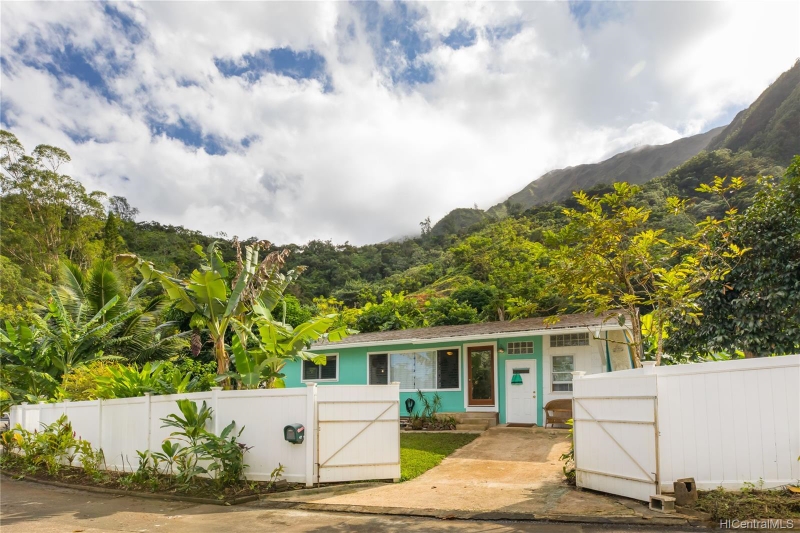 Inside Scoop
2 bed / 1 bath
Living Sq Ft: 880
Land Sq Ft: 5,000
One story
The BAH Breakdown
Oahu military bases nearby: Marine Corps Base Hawaii – 11.2 miles; Camp Smith – 16 miles; Pearl Harbor – 18.2 miles; Tripler Hospital – 17.9 miles
Points of Interest: Kailua Town – 11.5 miles; North Shore – 34.8 miles; Airport – 18.5 miles
Property type: CPR Detach Single Family
Asking price: $650,000
Assuming the $650,000 purchase price with VA Funding Fee of 2.30%:
Interest Rate: 3.75%
APR: 4.085%
Estimated Total Monthly Payment (includes principle & interest ($3,010), taxes ($150), HOA fees ($135), and insurance ($150) = $3,445.00
What BAH Rates Cover This Monthly Payment?
Service Members with Dependents
The 2020 Hawaii BAH rates support the ability for ranks E-9, W-3 to W-5, O-3E, and O-3 and above with dependents to afford this property's monthly payment with Honolulu County's BAH allowance.
Note that factoring in monthly COLA (Cost of Living Allowance) into the mortgage payment and/or monthly income from an employed spouse will help with affordability for the monthly military housing allowance rates that fall under the estimated payment amount.
Would you like to get pre-qualified and pre-approved for a VA loan? Fill out our online application or contact VA Loan Specialist Sandra Lynn Martinez at smartinez@hawaiivaloans.com.
To find out more about this charming Kaneohe home for sale, contact Realtor Michael Garcia at Locations Hawaii.
Follow us for more BAH Breakdowns as we post them!