No Money Down, Set, Hike! Wondering what's happening in the game of VA home buying in Hawaii so far for fiscal year 2020? We've got the first quarter score (aka total numbers) for you.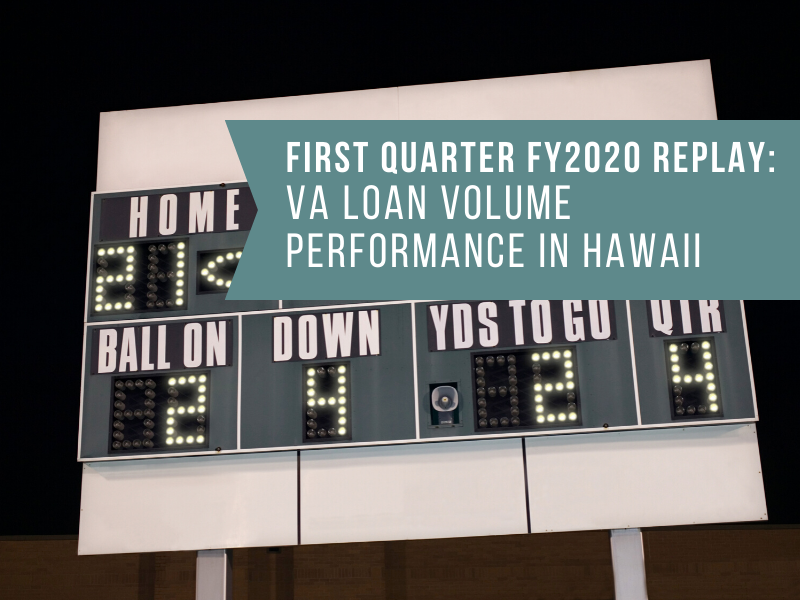 Reminder: The federal government uses the fiscal year for their budgets. The budget's fiscal year always starts on October 1 and ends on September 30 of the following year.
Here's the 1st Quarter of FY2020 (October 1, 2019 through December 30, 2019) Replay for Hawaii:
Team: VA Purchase Loans
Definition: VA Purchase Loans offer U.S. veterans and military servicemembers the opportunity to become Hawaii homeowners using their VA home loan benefits with no down payment required, no mortgage insurance required, reduced closing costs, and flexible qualifying guidelines. The VA loan limit for Oahu and all of the Hawaiian islands for 2020 is NO LIMIT for VA buyers with full entitlement. That means there is no loan size restriction or limits on the VA loan amount. Therefore, if you can get pre-approved for a million dollar home, then you can buy one with no money down using your VA loan.
Total Purchase Loans: 646
Loan Amount Avg – Purchase: $575,401
Total Loan Amount – Purchase: $371,708,792
Team: VA Interest Rate Reduction & Refinance Loans
Definition: VA Interest Rate Reduction Refinance Loan (IRRRL – you can pronounce it "Earl") allows VA mortgage holders to seize upon current low interest rates and refinance their existing home loans.
Total IRRRL Loans: 1,190

Loan Amount Avg – IRRRL: $562,229
Total Loan Amount – $669,052,239
Team: VA Cash-Out Refinance Loans
Definition: A VA Cash-Out Refinance (also called VA Equity Cash-Out) gives borrowers an opportunity to take cash out of their home equity or refinance a non-VA loan into a VA-backed loan. Taking cash out of your home equity may help to pay off debt, pay for school, make home improvements, or take care of other needs.
Total Cash-Out Loans: 281

Loan Amount Avg: $564,729
Total Loan Amount – Cash-Out: $158,688,980
The Final Score
Total Loans (Purchase, IRRRL, VA Cash-Out Refinance): 2,117

Loan Amount Avg: $566,580
Total Loan Amount Sum (All Loans): $1,199,450,011
That's the score report for the first quarter of FY2020! Are you ready to join one of the teams?: Purchase Loans, VA IRRRL, or VA Cash-Out Refinance? Hawaii VA Loans is holding open try-outs (aka getting you pre-qualified & pre-approved with a VA Loan Specialist)! Fill out the secure, online loan application for quick, easy, and simplified VA loan process or contact us at 808-792-4251. We're ready to take you into the end zone!