Hawaii Veterans & Servicemembers, have we got news for YOU!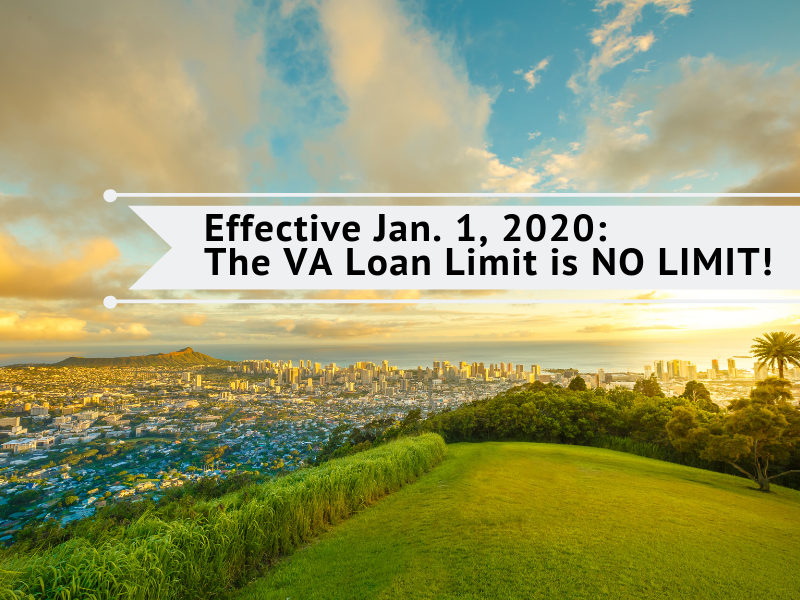 The Veterans Administration officially announced the new VA Loan Limit set to take effect January 1, 2020. This time it's very different. There will be NO LIMIT for veterans with full entitlement. Yes, that means if you can afford the payment (and get pre-approved) for a $2.5 million dollar home, then you can buy one using your VA home loan with $0 down payment! That's right, ZERO down payment.
____________________________________
UPDATE:
Starting January 1, 2021
there will continue to be no VA loan limit in 2021 for VA borrowers with full entitlement. VA borrowers with remaining entitlement will have a
new conforming loan limit
in 2021.
_____________________________________
How Did This Major Change of No VA Loan Limit Come Around?
The change was implemented as part of the Blue Water Navy Vietnam Veterans Act of 2019, passed by Congress to support health care needs of a specific set of Vietnam veterans who served offshore of the Republic of Vietnam between Jan. 9, 1962, and May 7, 1975 and had contact with Agent Orange. In order to fund the program, Congress needs a revenue source, so the additional revenue from increased VA funding fees will go to support the costs.
Read the details of the "No Limit" announcement here:
https://www.benefits.va.gov/homeloans/documents/circulars/26_19_23.pdf
Are There Any Restrictions?
This zero down option is restricted to veterans that have their full entitlement available.  If a veteran has only a portion of their entitlement available, then the "remaining entitlement" calculation must be used and based on the FHFA standard conforming loan limit (essentially, maintaining the rules of the VA Jumbo Loan).
More About the New VA Funding Fees
First, what is the "funding fee?" The VA Funding Fee is a payment made at loan closing by a veteran or servicemember who uses their VA benefits to finance their home purchase. The fee can be paid by cash OR it can be financed (rolled into the loan).
Take a look at the new VA Funding Fee Table:

The VA has increased the VA funding fee by .15% (previously 2.15%) for all purchase and cash-out refinance transactions.
The old 0.25% increased funding fee for veterans who earned their eligibility through National Guard/Reserves service has been eliminated. The fee will be the same regardless of how the entitlement was earned.
There is a new funding fee exemption for active duty service members who have received a Purple Heart.
Big Reminder:
Here at Hawaii VA Loans, a division of Land Home Financial Services, Inc., we do not have a loan size limit for VA loans (many lenders do).
How Does the "No Loan Limit" Effect Buyers House Hunting Prior to Jan. 1, 2020?
If a buyer enters a contract with a closing date in 2020, this new "No Loan Limit" can apply to them.
Therefore, contracts entered in November 2019 – or earlier – can use this new rule if the close date is next year!
Our team of VA Loan Specialists are excited for the opportunities that the "No Loan Limit" change will bring VA buyers here in Hawaii. We look forward to working with many veteran and military home buyers who will not have to make a down payment on any home amount as long as they get pre-approved for its purchase price!
If you're interested in becoming a Hawaii homeowner, we encourage you to begin our smooth and secure application process. As always, don't hesitate to contact us with any questions at 808-792-4251. Aloha and happy VA home buying!