Have you heard the news that the 2020 VA loan limit in Hawaii will be NO limit for veterans and servicemembers with full entitlement?! Surprise if this is your first time finding out! That means that there will be no VA loan maximum limit for zero down payment.
___________________________________________
UPDATE:
Starting January 1, 2021
there will continue to be no VA loan limit in 2021 for VA borrowers with full entitlement. VA borrowers with remaining entitlement will have a
new conforming loan limit
in 2021.
____________________________________________
Translation: If a veteran or servicemember with full entitlement is pre-approved to buy a home for, say $2 million dollars, or ANY number above or below, he or she can purchase that home with their VA loan in Hawaii and make no down payment as long as they don't have any other VA loan outstanding.
It's a cause for celebration to have no loan size restriction. It may also motivate military and veteran home buyers to achieve their short and long-term financial goals towards getting pre-approved for the highest purchase price amount they can afford.
As the Hawaii VA Loans team readies for this change of how we do VA loans in Oahu and across all the Hawaiian islands, it's essential to revisit the topic of VA loan remaining entitlement.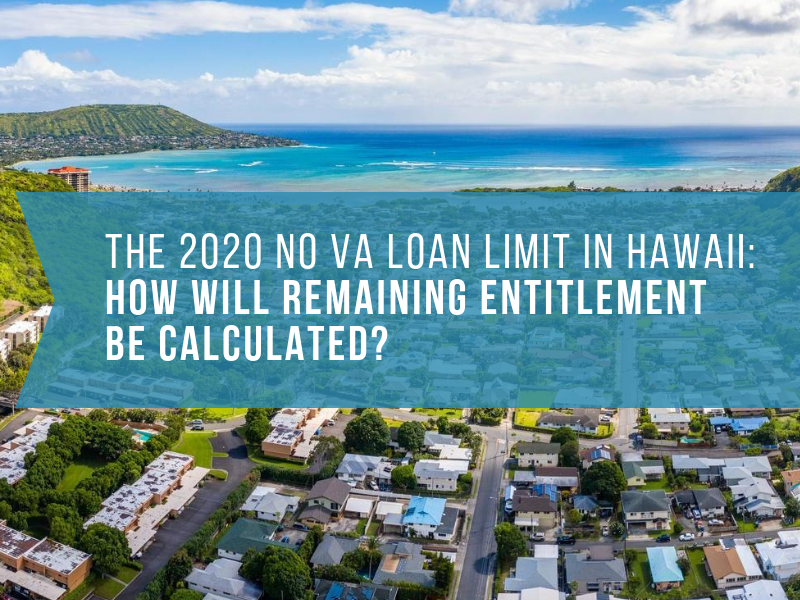 The first question is: Can a veteran or servicemember have more than one VA loan? The answer is YES, but with "No VA Loan Limit" in 2020, the second question becomes…
If there is no VA loan limit in Hawaii (or anywhere in the country), is there a "max available" for VA home buyers with remaining entitlement? 
The answer, again, is YES. There will still be a maximum available amount for a veteran or servicemember who is already a VA mortgage holder, but has remaining entitlement. The max available will be defined by the "conforming loan limit" set by the Federal Housing Finance Agency (FHFA) each year. In Hawaii, the 2020 Conforming Loan Limit is $765,600. On the mainland, it's 2/3 of that (HI and AK get a limit that is 150% of the contiguous 48). This will be the loan amount used to calculate remaining entitlement for a VA mortgage holder.
Capt. Smith's Remaining Entitlement Scenario
Let's use the 2020 Hawaii conforming loan limit of $765,600 in our example scenario of using remaining entitlement, and keep the calculations simple.
Capt. Smith and his spouse are currently paying the mortgage on a $200,000 home  bought on the mainland with his VA loan. Upon being reassigned to Hawaii, they rented out their mainland home and desire to use Capt. Smith's remaining entitlement for a VA home loan in Honolulu. His remaining entitlement would be $565,600 ($765,600 minus $200,000).
Capt. Smith makes sure to check his Hawaii Basic Allowance for Housing and sees that the estimated condo purchase price for an O-3 with dependents using his or her BAH toward a mortgage payment in 2020 is $617,603. He gets pre-approved with Hawaii VA Loans and finds a nice condo on the market to purchase for $606,525. Since he has his remaining entitlement, he can still buy the condo in Honolulu by putting down 25% of the difference between the purchase price ($606,525) and his remaining entitlement ($565,600). That difference is $40,925 in this scenario, so he would have to put $10,231.25 down.
Therefore, using your VA home loan benefits more than once with remaining VA loan entitlement works just like the VA Jumbo Loan, but at conforming loan balances set by the FHFA.
We Can Help You Become a Hawaii Homeowner!
As your local VA loan lender financing military home loans on the island of Oahu and all Hawaiian islands since 2007, we help veterans and servicemembers with many different types of financial scenarios become homeowners! Talk with a VA Loan Specialist at 808-792-4251 or get started online with our secure loan application.