Aloha, VA mortgage holders! Congratulations on taking the steps to refinance your existing home loan. You're well on your way to catching hold of current low interest rates and saving money through the VA IRRRL (Interest Rate Reduction Refinance Loan) program!
Your VA Loan Specialist has likely communicated to you that you must provide the "NOTE" from your existing loan in order to do the refinance. What's the "NOTE" and why? Hawaii VA Loans prioritizes simplifying the VA refinance process by giving you the information you need. Find out exactly what our need for the "NOTE" entails below!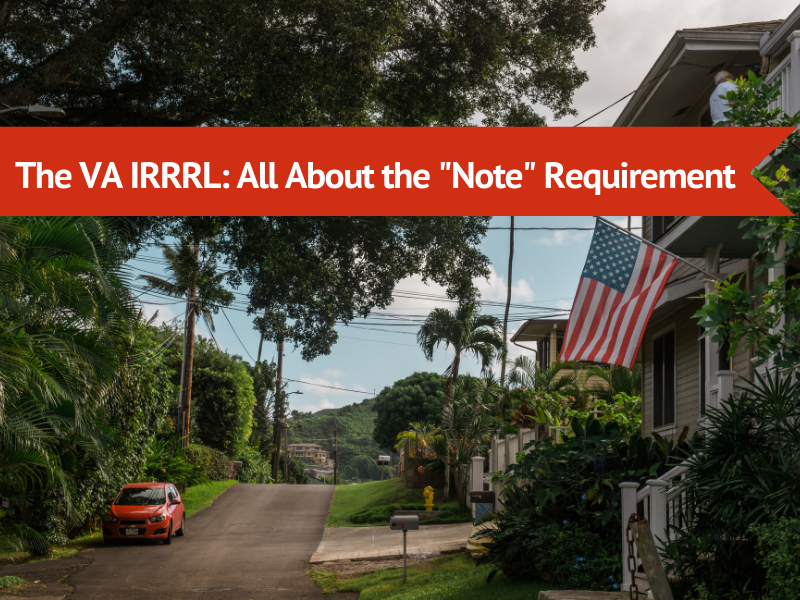 First, the VA has a relatively new rule that says VA IRRRLs must have:
at least six months of payments made and
210 days have passed since the first payment
Thus, a copy of your existing loan's "NOTE" may be required.
Two Pieces of Information We Need to Help You Refinance
In order to ensure that 210 days have passed since the first payment has been made on a loan, lenders need:
The date that your first payment was received and credited by the lender/servicer (we can obtain that with a "credit supplement").
The date that the first payment was actually due. The only official document that contains this information is the "NOTE." Therefore, a copy of it from your existing loan is required.
Are There Exceptions to the "NOTE" Requirement?
Yes! Here are the exceptions:
If you closed your loan with us, then we already have a copy of your "NOTE," so you don't have to go searching for it.
If you closed with another lender, and that closing took place more than a full year ago, you will also not need to produce the "NOTE."
What Does the "NOTE" Look Like?
Here's a sample of a typical VA Mortgage Note: HERE
We hope this information clarifies the need for the "NOTE" requirement! Please don't hesitate to reach out to your VA Loan Specialist with any more questions regarding this topic or your VA IRRRL. Mahalo!
Hawaii VA Loans Helps Veterans & Servicemembers Become Homeowners! | We are Hawaii's longest-running VA loan specialized lender | Contact us: 808-792-4251