According to the VA Department, there are roughly 25 million Veterans living in the US today – and yet only 2.1 million VA Loans are currently being insured by the VA Department. It's obvious that most VA eligible borrowers are not taking advantage of the unique benefits allowed to them through the VA Home Loan program.  Why?  Probably due to the lack of information explaining the true benefits of a VA Loan as well as being intimidated by the home buying process.
From day one, our goal with HawaiiVALoans.com was to provide our current military personnel as well as Veterans with as much information regarding their VA Home Loan benefits as possible.  And to continue our vision, I'm proud to announce that we have just released our 21-page eBook:
VA Homebuyers' Guide
Understanding Your VA Loan Benefits & The Home Buying Process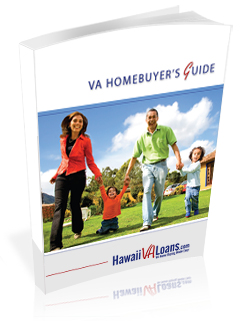 This 21-page ebook will cover everything from:
VA Eligibility Requirements
Your Entitlement
How to Get Your Certificate of Eligibility
Benefits of Homeownership
VA Loan Benefits
Occupancy Requirements
The VA Funding Fee
VA Closing Costs
Condo Eligibility
The VA Home Buying Process
And Much More…
We feel that this 21-page eBook is a must have (we're bias of course) for anyone who is interested in buying a home (either now or in the future) and is (or think they are) eligible for a VA Loan.  Download your copy today and we'd love to hear any feedback you have!