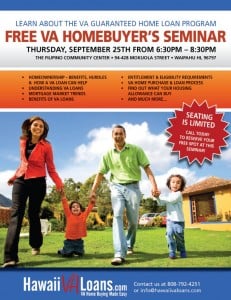 When we started HawaiiVALoans.com – our vision was to make it as easy as possible for those who may be eligible for a VA Loan to learn the basics of the VA Loan program; who's eligible, the benefits of a VA Loan & how the home buying process works.
Step one was to create our site, HawaiiVALoans.com & the VA Loan Blog that has a wealth of information, tips and tools.  Step two was to create our 21-page eBook – "VA Homebuyers' Guide – Understanding Your VA Loan Benefits & the Home Buying Process" and so far, we've received great feedback on how informative this guide has been.  Finally, we are at step three.  In an effort to continually provide more FREE information to those who would like to learn more about the VA Guaranteed Home Loan program, we will be doing a free VA Homebuyer Seminar, which we plan on holding every month.
Topics We Will Cover
Homeownership – Benefits, Hurdles & how a VA Loan can help
Understanding VA Loans
Mortgage Market Trends – & How it's affecting you as a home buyer
Benefits of VA Loans (vs. a Conventional Mortgage)
Entitlement & Eligibility Requirements
VA Home Purchase & Loan Process
VA Condo Eligibility
The VA Funding Fee
Find out what your housing allowance can buy in this real estate market
And much more…..
When:
Thursday, September 25th from 6:30pm – 8:30pm
Where:
Filipino Community Center – 94-428 Mokuola Street, Waipahu 96797
What to bring:
Just yourselves! We will be providing all materials as well food & drinks (learning is tough on an empty stomach).
How to RSVP:
Seating is limited, so if you would like to attend – please call 808-792-4251 or contact us here to reserve your spot at this seminar.