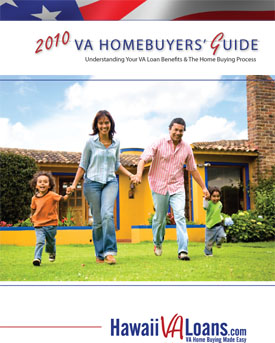 We're excited to announce our new 2010 edition of our VA Homebuyers' Guide. This updated guide is an expanded version of our original guide that includes information regarding the new VA loan loan limits for all four Hawaii Counties for 2010. In addition, we've included a list of the "Top 5 Mistakes a Veteran Should Avoid When Doing a VA Loan". This write-up is a compiliation of our experiences closing VA Loan transactions in the past & critical information to help Veterans avoid some possible pitfalls when doing a VA Loan.
Here's the table of contents:
Introduction
Understanding VA Loans
Benefits of Homeownership
VA Loan Benefits
Entitlement
Eligibility
Certificate of Eligibility
Occupancy Requirements
The Funding Fee
Condo Eligibility
5 Mistakes a Veteran Should Avoid
The Home Buying Process
Conclusion
About the Authors
We're a little bias, but we think that this guide is a must read for anyone interested in utilizing their VA loan benefits to purchase a home in the future. Feel free to download your free copy here.