Aloha! We're Hawaii VA Loans, the longest-running VA loan specialized lender in Hawaii. Basically, that means we're a top local mortgage company that does VA loans in Oahu and all of the Hawaiian islands for veterans and servicemembers.
We work with a lot of numbers and financial information every day, and we talk a lot of loan jargon about VA loan eligibility, VA loan limits in Hawaii, VA funding fees, VA cash-out refinances, etc. We love the work we do, but when the time comes to show you the happy faces and stories of the VA loan home buyers we've helped, there's a unique level of excitement in the air!
We believe the real inspiration for becoming a Hawaii homeowner comes from the VA home buyers who have done it.
So without further ado, we bring you our Fall 2019 Hawaii VA Loans Home Buyers: Robert & Pilar!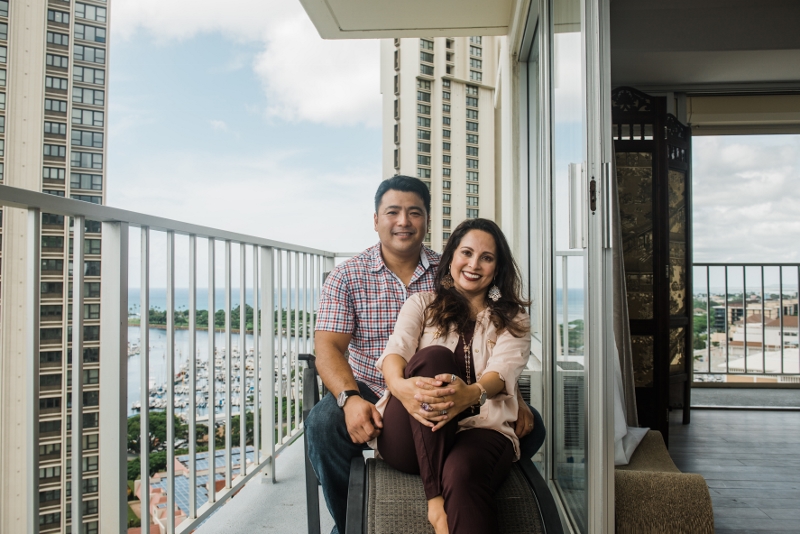 On a somewhat hazy (but appropriate for October) morning, we cross the street in front of Ala Moana Center and call Robert to tell him we're approaching his Honolulu condo. It's almost time to meet him and his wife, Pilar, for our much anticipated home buyer photo shoot! He replies, "I think I see you walking. I'll meet you at the elevator." We look up to the tower in front of us in an effort to spot them on one of the many balconies (to no avail). What a great view to have if you're a people watcher.
That gets me thinking even more about living environments. We all have our differences in what we desire in a home, right? Some prefer to be in the mix of everything that a larger city has to offer: culture, variety, walkability. Others wish to be in a more suburban setting. Some desire land or they crave getting "away from it all." Yet, there are elements of each environment to appreciate. Not to mention, our location preferences can change through life's many stages!
Robert greets us as the elevator doors open. A warm and welcoming smile stretches across his face and we exchange enthusiasm for being there to capture their home buying achievement. As we enter through the doorway of the condo, an immediate sense of what drew Robert and Pilar to buy it delights our eyes. A bright, picturesque ocean view of boats docked at Waikiki Yacht Club can be seen through the floor-to-ceiling sliding glass doors.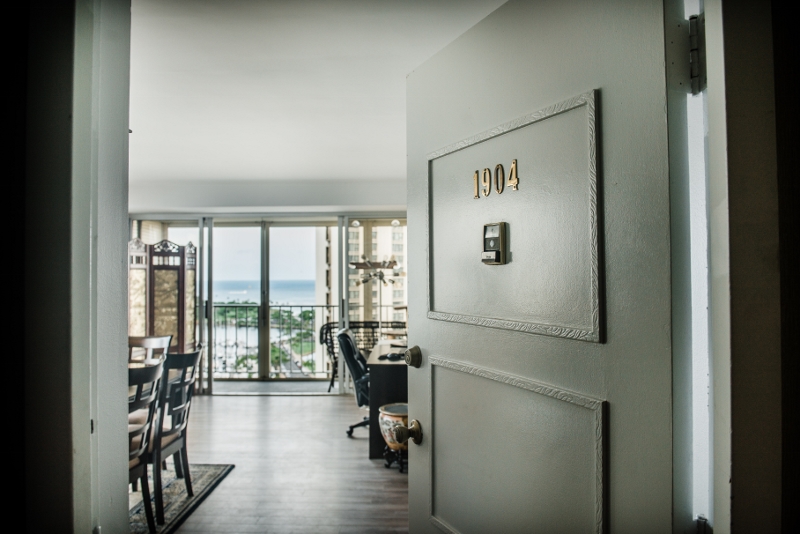 "It's a short walk to Magic Island," Pilar points out as we gaze toward the peninsula. Magic Island is known for its serene lagoon, water access, sunsets, as well as the jogging/walking path of adjacent Ala Moana Beach Park. From where we stand, the juxtaposition of the buildings and the ocean ensures that in Honolulu, you can have the best of both worlds: the bustle of town life and the serenity of the kai (sea).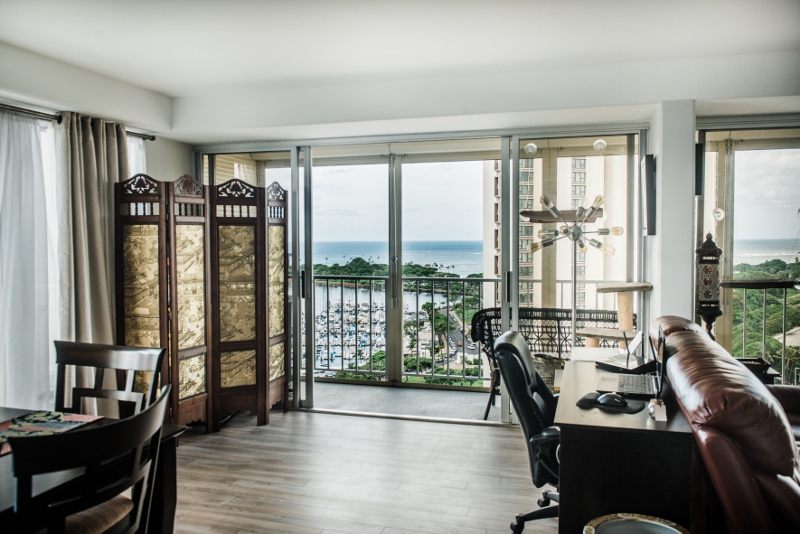 As we talk, we learn that Robert's return to Hawaii as an Army officer is a coming home of sorts. He attended grade school and high school in Camp Zama, Japan. However, his father is from the islands and lives close by, as well as his sisters. When it came time for college, Robert chose the University of Hawaii at Manoa. He graduated, received his commission, and entered the military from there.
Eleven duty stations, seven countries, and twenty-one years later, the Army asked if he wanted an assignment to Camp Smith. Robert took it as a bit of a sign that the time had come to experience Hawaii again, so he decided to take it!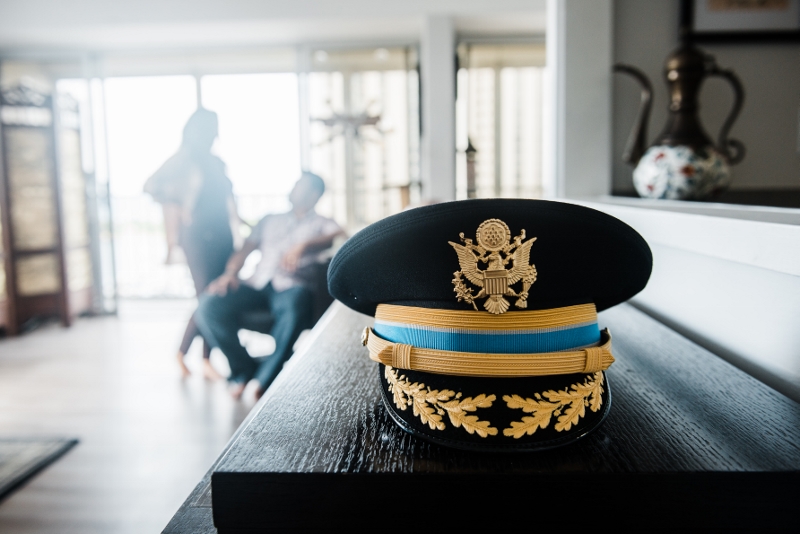 Then came the task of finding a place to live. Robert and Pilar looked at multiple properties before deciding to use his VA home loan towards a condominium in Honolulu. Their real estate agent recommended VA Loan Specialist Brenda Carr to help with the financing of their VA approved condo. In preparation for our meeting, Robert wrote to us about their experience and what they love about their purchase:
"Brenda has been fantastic. We are absolutely happy with the condo's location, centrally based alongside Ala Moana Shopping Center with McCully, Kapahulu, and Waikiki just around the corner. We were also pleased with the renovated and move-in ready state of the unit upon purchase."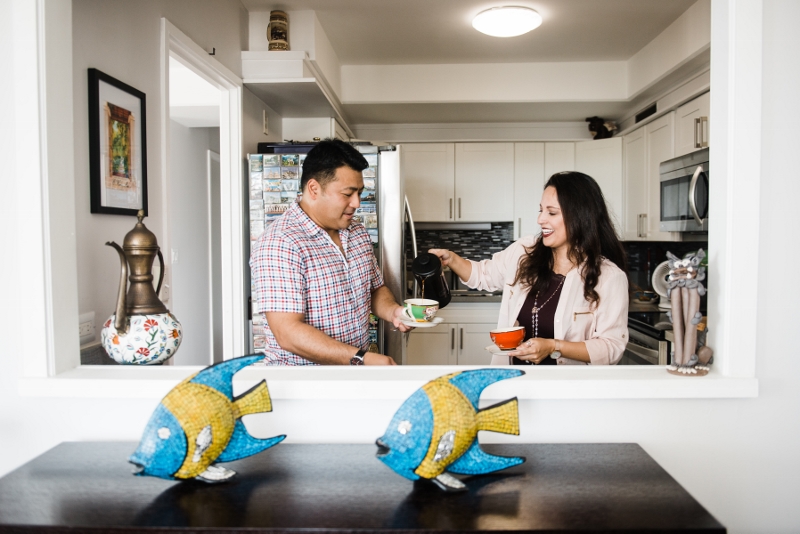 A kind and engaging couple, Robert and Pilar tell us that they've lived and/or visited approximately 60 countries together. Take a look at the collection of magnets on their fridge!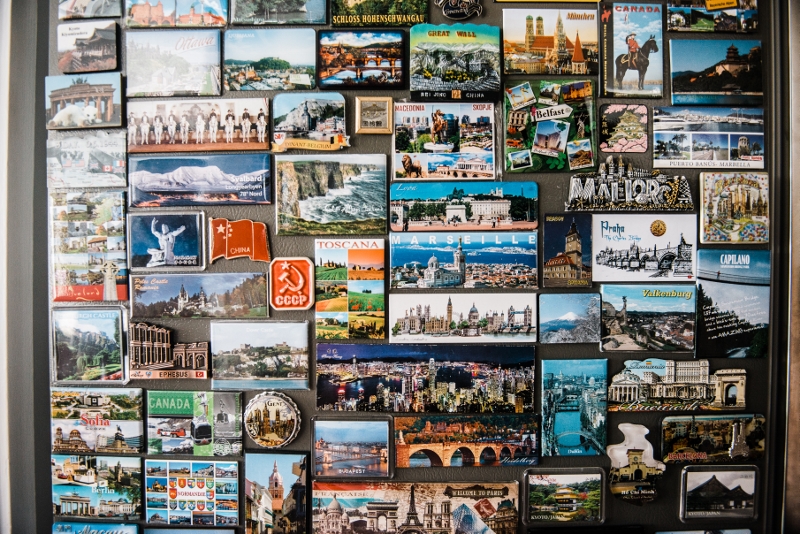 Pilar, originally from Colombia, has a sweet, vibrant accent and an aura about her that makes you certain that she has made every place she has lived special. That's why it's not surprising when she encourages Robert to turn on some salsa music, takes his hand, and turns the middle of their condo into a dance floor.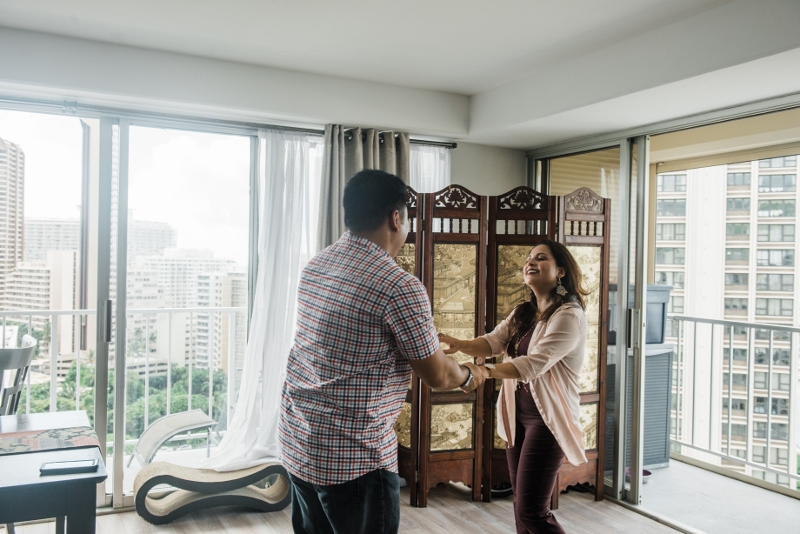 Pilar turns and pivots barefoot with a calm, uninhibited joy. It's truly a sight to admire (especially if you can't dance)!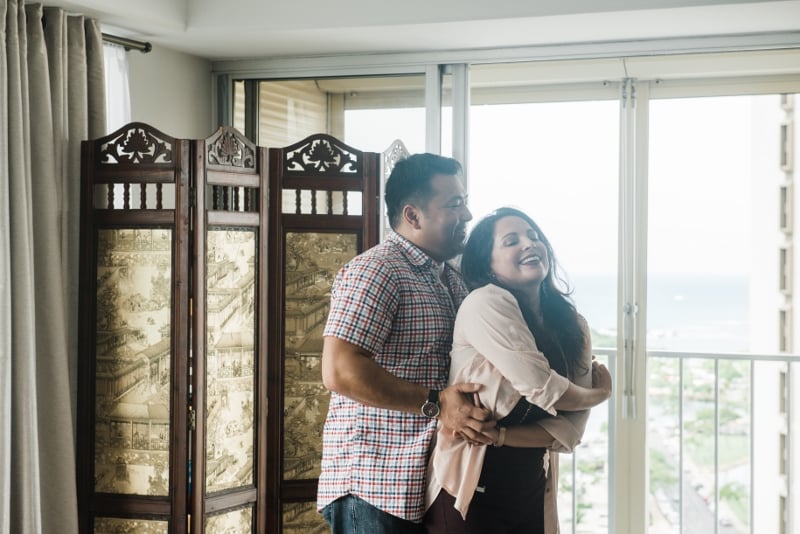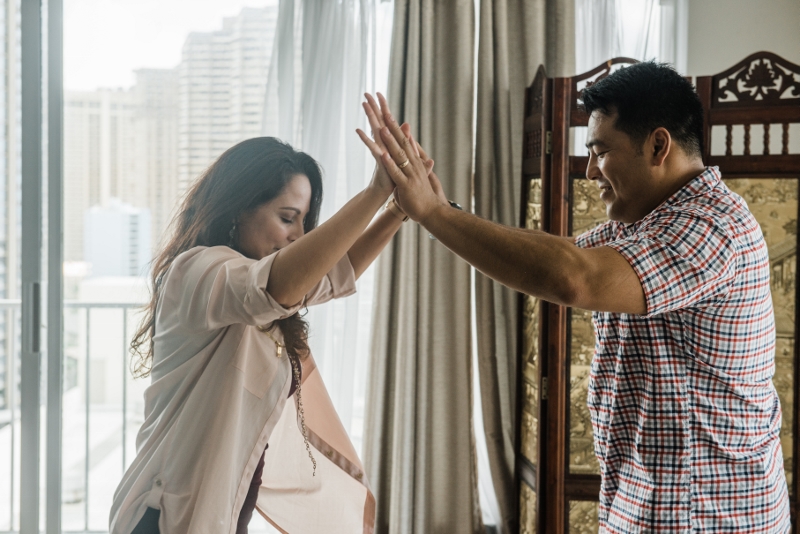 When's the last time you kicked off your shoes and moved to the beat of the music in the middle of your own living room?
We can't thank Pilar and Robert enough for inspiring us to do so, for trusting Hawaii VA Loans with their Hawaii home purchase, for welcoming us into their home, and sharing their experience. We wish them many more years of enjoyment in their Honolulu condo with its stunning views. Yet, it has to be said that equally amazing to the views is the couple who calls it home.
Photos by Heather Marshman, 37Sight | All Rights Reserved
Buyer's VA Loans Specialist: Brenda Carr
Buyer's Agent: Bonnie Tam-Hoy
Read about the new NO LIMIT VA Loan Limit for Hawaii in 2020!