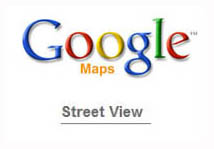 Remember a few years back when Google Maps launched their ambitious new satellite tool that allowed you to see what your home looks like from space? If you thought that was impressive, wait until you see what Google just released for the Hawaii market; a tool called Street View. Street View allows you to see what a property looks like at street level, right from your computer screen. In addition, with the click of a few arrows, Street View allows you to move up and down that street as if you were taking a stroll in the neighborhood.
As you can imagine, this new feature, which which has been available in other mainland and foreign markets but only available in Hawaii as of last Monday, has major implications for home buyers scouting out their upcoming home purchase. There are already great web services that provide online MLS listings for Hawaii, but the pictures used in these applications are images provided by the listing agent as well as an aerial view supplied by online map provider such as Google or Microsoft. Now the aerial views are great, but it doesn't give you the "curb appeal" of a particular property and you can bet the seller's agent will only show images that display the property in the best possible angles which could be deceiving.
This is where Street View adds a whole new dimension to real estate search. Simply type in a specific address in Google Maps and when Google Maps pinpoints the address with the aerial view, click the "more" link located under the address on the left side of your screen. You'll notice that the "Street View" link will appear. Once you click this, the aerial image will then be converted to the street view image. You can also enable the Street View feature by dragging the orange peg-man icon to anywhere on the map and instantly it will open up the Street View image.
View Larger Map
Of course Street View will raise red flags for those who have Big Brother phobia. To alleviate privacy concerns, Google has blurred faces and license plates and even allows for homeowners to report a problem by clicking a link on the bottom right corner of the image.
If you're like me, you must be curious how Google was able to compile such a huge database of Street Views? Well, as I found out, they enlisted the help of very smart people with sophisticated technology. Have fun with Street View. It is a game changer in the Real Estate market.