Ono is a Hawaiian word meaning "good to eat." It's impossible to name all the amazing places to grab some ono grindz (good food or meal out) in the areas surrounding Schofield Barracks. So we'll just name a few that have proven to broke da mout! As you can probably assume, that's the Hawaiian scale for delicious!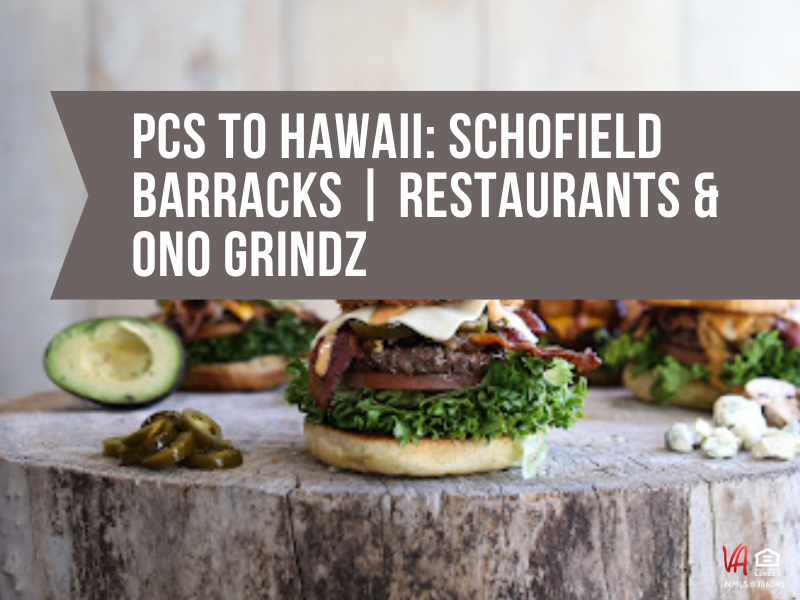 Mililani Area Restaurants
Fried Chicken
Town Center of Mililani
95-1249 Meheula Pkwy
Mililani, HI 96789
"This place literally made my night from how sweet and energetic the staff was. I got out of the gym after a pretty mid day and found out that the three chicken fingers have approximately 47g of protein, so I was super excited to go out to eat. When I pull up to order, the guy on the mic starts with "Yo yo yo – what can I get for ya?" and that made me laugh and smile for the first time today. When I got home, I found that the employees gave me one extra chicken finger. This made my day. I definitely will be back at this location soon."

Raising Cane's Mililani Google Review
Bar/Pub Food
95-221Kipapa Dr
Mililani, HI 96789
(808) 627-1561
"Bustling sports bar atmosphere with quick and friendly service and decent not-too-expensive food."

The Shack Mililani Google Review
Food Truck/Seafood
200 Akamainui St
Mililani, HI 96789
(808) 291-4633
"The food is delicious and is out so fast! Our group of 9 was served within 15-20 minutes. Everyone but one got the kalbi fries and the other plate was the ahi plate. All amazing!"

Flyin' Ahi Google Review
Vietnamese
95-221 Kipapa Dr
Mililani, HI 96789
(808) 623-4447
"Ba Le Bakery is one of our favorite restaurants. We love their handmade sandwiches – tuna sandwich, teriyaki chicken sandwich – summer rolls with a vegetable wrap, shrimp fried rice. Try them when you have a chance."

Ba Le Google Review
Breakfast/Sandwiches/Coffee
95-1057 Ainamakua Dr
Mililani, HI 96789
(808) 260-9312
"I need an option with 10 stars. The banana macadamia nut pancakes with house made coconut syrup are the best and biggest pancakes I've ever had, and I've had a lot. The French toast was like 2.5″ thick and absolutely delicious. This place is top notch and the service was excellent. Thank you for being amazing!"

Rise and Shine Cafe Google Review
Wahiawa Area Restaurants
Chicken/BBQ
Maui Mike's Fire Roasted Chicken
96 S Kamehameha Hwy
Wahiawa, HI 96786
(808) 622-5900
"Absolutely love the cute little restaurant. The fire roasted chicken is yummy. You have lots of sauces to choose from. They are super accommodating. I had just moved here and they gave me extra plates and utensils. The staff was super nice. The portions are pretty big. Definitely will be back to try one of their sandwiches."

Maui Mike's Wahiawa Google Review
Deli/Sandwiches
55 S Kamehameha Hwy
Wahiawā, HI 96786
(808) 799-5799
"By far the best sandwich on the island. Huge size to."

Ohana Sub & Deli Google Review
Italian
935 California Ave
Wahiawa, HI 96786
(808) 621-7238
"Whenever I get the craving for some really good lasagna, chicken saltimbocca, or eggplant parmigiano, I have to come here. Always get extra bread! You won't regret it."

JP Spaghetti Google Review
Coffee/Smoothies/Waffles
63 S Kamehameha Hwy
Wahiawa, HI 96786
(808) 439-3644
"Delicious coffee! The tasty açaí bowls were a nice bonus. From the outside, I expected a small coffee shop, but inside, it's a spacious and inviting place with plenty of seating and a cozy atmosphere. The team at Surfers is very friendly, too."

Surfers Coffee Google Review
Waialua & Haleiwa Area Restaurants
Coffee/Tea/Light Bites
Poke Bowls
66-935 Kaukoanahua Rd
Waialua, HI. 96791
"Says it in the name, 'for the people.' Everything is so fresh and the variety keeps me coming back. They're so friendly and they know what they're doing. For example when the line starts to back up someone else will randomly appear from the back and help people to make sure everyone's happy. Love this place."

Poke for the People Google Review
Quick Bites
66-470 Kamehameha Hwy
Haleiwa, HI 96712
(808) 238-7206
"This place was fantastic! We had the Banana Mac! It was mactastic!"

North Shore Crepes Google Review
54-296 Kamehameha Hwy
Hauula, HI 96717
(808) 293-4440
"Great place to eat on the way to the North Shore beaches or Polynesian Cultural Center. Chips and salsa were great – especially the pineapple salsa – as well as the fish tacos!"

North Shore Tacos Google Review
Burgers
(more locations near North Shore as well)
59-712 Kamehameha Hwy
Haleiwa, HI 96712
"Great burger! The patty was seasoned nicely and was super juicy. Nice setting directly across from the Pupukea Beach Park. Staff were very friendly and service was quick. Great experience all around and we will definitely visit again."

Seven Brothers Shark's Cove Google Review
Vegetarian
66-437 Kamehameha Hwy
Haleiwa, HI 96712
(808) 637-3000
"Couldn't recommend this place more! Tons of options when it comes to vegetarian food. The employees were very friendly and welcoming as well!"

Beet Box North Shore Google Review
Breakfast Burritos/Pulled Pork/Milkshakes
66-250 Kamehameha Hwy Ste G110
Haleiwa, HI 96712
"Staff was extremely friendly and helpful. Stopped in for breakfast and their burritos are massive!! You definitely get your moneys worth. The pulled pork had a ton of flavor and their homemade hot sauces are delicious. HIGHLY recommend this place."

Kono's North Shore Google Review
Smoothies/Bowls/Sandwiches
66-200 Kamehameha Hwy
Haleiwa, HI 96712
(808) 341-2838
"Loved the sandwiches, smoothies and treats. I don't think you can go wrong with anything you order!"

Waialua Bakery & Juice Bar Google Review
66-030 Kamehameha Hwy
Haleiwa, HI 96712
"Great bowls. You can find a lot of options from bowls to smoothies. They also have different sizes, the large one is great to share. All the flavors are amazing, fresh and natural."

Haleiwa Bowls Google Review
Eat up!
Take a look at other nearby restaurants and ono grindz near Oahu's main military bases here. Why? Because you're not just PCSing to Schofield Barracks, you're PCSing to all of Hawaii!