Ono is a Hawaiian word meaning "good to eat." It's impossible to name all the amazing places to grab some ono grindz (good food or meal out) in the areas surrounding Marine Corps Base Hawaii. So we'll just name a few that have proven to broke da mout! As you can probably assume, that's the Hawaiian scale for delicious!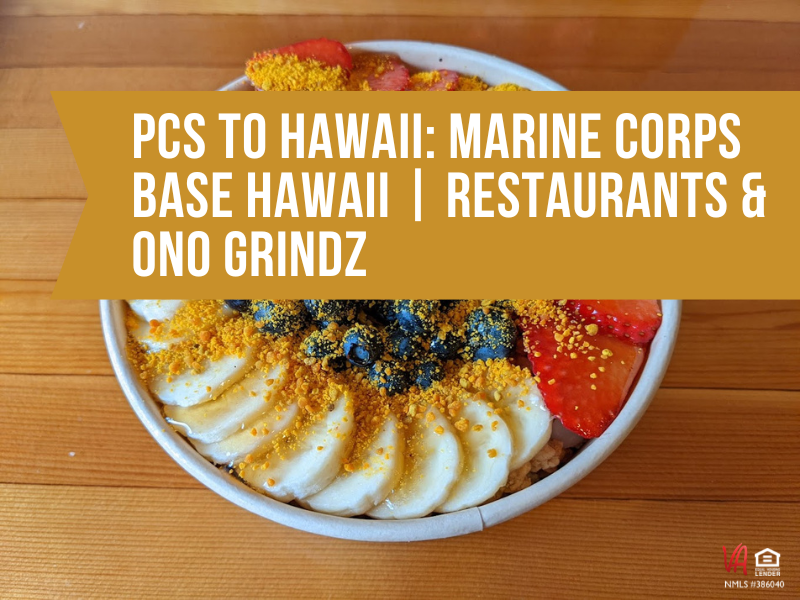 Kaneohe Area Restaurants
Seafood/Hawaiian
451118 Kamehameha Hwy
Kaneohe, HI 96744
(808) 235-7653
"I am so glad we pulled into the parking lot of this place for a nice lunch on our way out to the north shore. The Poke was the bomb, they had lots of different marinades and flavors and everything we tried was awesome. They have rice that can go along with your poke But it's not like a poke bar where they have a bunch of toppings and stuff. There are canning bottled beverages for sale. This was a really big surprise and one of our favorite spots that we ate at Oahu. Apparently Guy Fieri has eaten there and given it his thumbs up but it was still a very local joint with no long wait and a well seated dining room."

Fresh Catch Google Review
46336 Haiku Rd
Kaneohe, HI 96744
(808) 247-6671
"Amazing service, food, drinks and atmosphere. Fair prices for delicious food. You truly can't beat the view and wonderful service. Not once did we feel rushed. The little things like extra guava butter and water is always filled. We arrived a little before sunset, had time to walk the gardens and then take our seat. Truly magical place among the mountains. We ordered the calamari fries, grilled fish with pesto and lobster sauce over mashed potatoes and the macadamia nut chicken salad. Drinks were delicious and good price! Wish we could dine here every night!"

Haleiwa Joe's Haiku Gardens Google Review
Chinese
45-588 Kamehameha Hwy
Kaneohe, HI 96744
(808) 247-4812
"People are very nice and the food is delicious! We drive from Pearl City Palisades to Kaneohe to eat at Kin Wah."

Kin Wah Google Review
Sushi
46-026 Kamehameha Hwy
Kaneohe, HI 96744
(808) 398-9366
"A close local friend picked this up and brought it over to our house for dinner. The food is sincerely good, it's clean, healthy & so satisfying. The portions served are perfect. I'm a big eater & I felt perfectly full after the meal. The coconut cream dessert, Haupia is out of this world, definitely a crowd favorite. I look forward to visiting the store & eating again."
Kailua Area Restaurants
Deli/Wine/Cafe
750 Kailua Rd
Kailua, HI 96734
(808) 262-3354
"Food is always a hit. Whether it's the dinner menu or a toasted muffin with a morning coffee, service is amazing and the food is drool worthy."

Kalapawai Cafe & Deli Google Review
Sandwiches/Acai Bowls
131 Hekili St Ste 109
Kailua, HI 96734
(808) 263-6258
"The best acai bowl I've ever had! I got the large Nalu acai bowl with coconut flakes and it was so delicious with tons of toppings and the acai so refreshing and tasty. The staff were also so nice! Highly recommended."

Nalu Health Bar Google Review
Breakfast/Brunch
315 Uluniu St
Kailua, HI 96734
(808) 261-8724
"Amazing food, one of a kind service and lovely atmosphere. The food is so comforting on another level that will keep me returning again and again."

Cinnamon's Restaurant Google Review
27 Hoolai St
Kailua, HI 96734
(808) 261-5565
"Imagine going to a restaurant that has a good selection of food, nice size portions, isn't overall expensive, and tastes amazing! Oh, and has a secret menu. But you didn't hear that from me (shhh) just ask for "The Jeff" it won't disappoint, trust. Also, don't park in the lot across the street or else you'll be picking your car up at the nearest impound lot. Just find some street parking near or around the block. You'll need to walk a little anyways to make room for their delicious food. Enjoy!"

Moke's Google Review
Seafood Takeout
515 Kailua Rd
Kailua, HI 96734
(808) 263-7980
"Hands down the best poke I have ever had in my life. This market serves well marinated and seasoned poke. They have several flavors to choose from but I would recommend ahi poke over rice and a spicy or wasabi mayo flavor. The way it's marinated and with onions is simply amazing. There's no other place in Hawaii that could beat this price for the standard of quality."

The Hibachi Google Review
Family Dining
573 Kailua Rd Suite 105
Kailua, HI 96734
(808) 518-2739
"The vibe here is amazing and one of my favorites on island. Plenty of outdoor seating and also very spacious on the inside. Food is pretty delicious as well. Come by and have a drink at this spot, you'll love Kailua and Maui Brewing."

Maui Brewing Kailua Google Review
Italian
354 Uluniu St
Kailua, HI 96734
(808) 261-2772
"Fast and friendly Services. Food portions are huge. Food was tasty and delicious. Homemade Caesar Salad in a bowl, mixed by our waitress was enough for two people."

Assagio's Kailua Google Review
Pizza
130 Kailua Rd #112
Kailua, HI 96734
(808) 263-7757
"Stopped here for lunch after exploring the beach. Cute little place with very friendly staff! We got a slice of pepperoni pizza to split and it was huge and great! They have an outdoor covered seating area to eat. Would definitely recommend if looking for a quick, good place to eat!"

Bob"s Pizzeria Google Review
Sandwiches
60 Kihapai St
Kailua, HI 96734
(808) 263-3333
"Walked in to Timmy T's and had the #9 Italian. This has to be the best sandwich shop in Kailua for sure. Great people making a great sandwich. Wasn't cheap, but two people could have enjoyed this heavy weight winner. I highly recommend this establishment and hope you will check them out soon and support a locally owned small business."

Timmy T's Google Review
Farmers Market
Kailua – SUNDAYS 8:00AM-12NOON
1090 Keolu Dr.
Kailua, HI 96734
(in front of Kailua Cinemas)
Eat up!
Take a look at other nearby restaurants and ono grindz near Oahu's main military bases here. Why? Because you're not just PCSing to Marine Corps Base Hawaii, you're PCSing to all of Hawaii!