Ono is a Hawaiian word meaning "good to eat." It's impossible to name all the amazing places to grab some ono grindz (good food or meal out) in the areas surrounding Joint Base Pearl Harbor-Hickam. So we'll just name a few that have proven to broke da mout! As you can probably assume, that's the Hawaiian scale for delicious!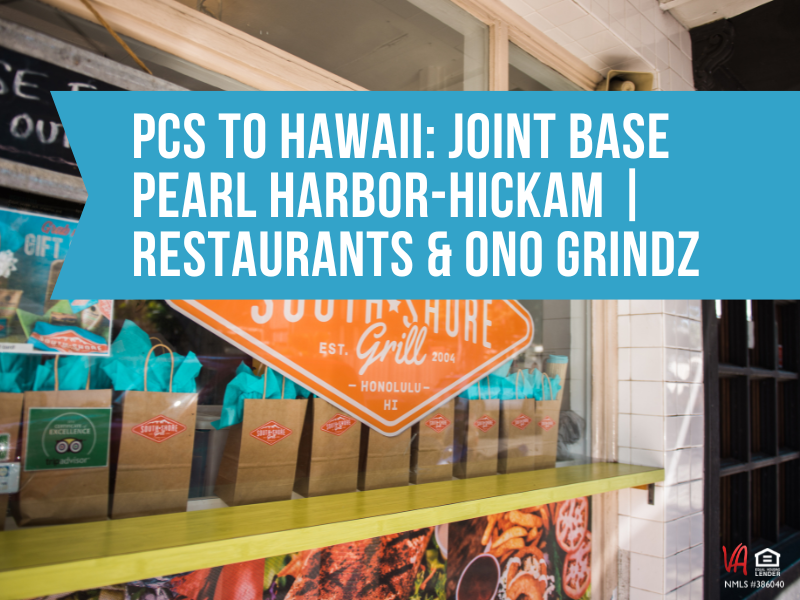 Aiea Area Restaurants
Hawaiian
98-150 Kaonohi St.
Aiea, HI 96701
(808) 487-2220
"Our group of 11 landed in Honolulu, were hungry, and wanted some local food. This restaurant that popped up on my search as small and unassuming did not disappoint! The food was fresh and delicious!!!! We tried a variety of foods including poke bowl, smoked meats, street tacos, quesadillas, burrito, rice, beans. The green sauce is to die for. Highly recommend this diamond in the rough!"

Kehau's Kitchen Google Review
Japanese/Sushi Bar
99-205 Moanalua Rd
Aiea, HI 96701
(808) 485-2255
"Sushi is sooo good; fresh and good size. It's a small restaurant and they can get really busy which means it may take up to an hour to get your take-out order if they are slammed so call ahead. They have 6 or 7 tables if you want to dine in. Friendly staff."

Sushi Spot Google Review
Pizza/Italian
98-302 Kamehameha Hwy
Aiea, HI 96701
(808) 487-4055
"Lovely pizza place near to the airport and the stadium, staff were super friendly and courteous, delicious pizzas that are served hot and fresh. Staff were able to customize pizza according to our requirements, enough parking on site."

Boston's Pizza Aiea Google Review
Ewa Beach Area Restaurants
Coffee
Mobile coffee truck – check locations
(808) 636-8971
"All I need in the morning is a good cup of coffee with cream. Simple. Yet so difficult to find. In all our years visiting, I've never been able to find a good cup of coffee to start my day that isn't the typical chain or tourist trap. Until this morning – we finally made it to Aloha Brew Coffee Bar. Best cup of coffee with cream I've ever had when in Oahu! We'll be back tomorrow morning."

Aloha Brew Coffee Bar Yelp Review
Thai
91-896 Makule Rd Ste 106
Ewa Beach, HI 96706
(808) 689-5808
"Been to many Thai restaurants and the food here is my favorite. Staff and servers are very accommodating. I recommend trying their fried chicken or the beef curry noodle."

Ono Thai Google Review
Honolulu Area Restaurants
Cheap(er) Eats
South Shore Grill (Diamond Head Neighborhood)
3114 Monsarrat Ave
Honolulu, HI 96815
(808) 734-0229
"The absolute best place to eat near Waikiki. Great staff, delicious food, nice chill surfer ambiance. Great spot for kids."

South Shore Grille Google Review
Bakeries/Malasadas
Leonard's Bakery (multiple locations)
933 Kapahulu Ave
Honolulu, HI 96816
(808) 737-5591
"A little bit away from the downtown beach area but worth the effort to try their legendary Portuguese malsadas. Get there early and you can avoid a line and order more than you think you need, you'll be wanting to try all the flavors!"

Leonard's Bakery Google Review
Boutique Hotel & Dining Experience
Mahina & Sun's at The Surfjack Hotel
412 Lewers Street
Honolulu, HI 96815
(808) 923-8882
"In the beautiful setting of the Surfjack Hotel, the food here is wonderful. The staff was friendly and helpful, and the live music was a great touch."

Mahina & Sun's Google Review
Kapolei/Makakilo Area Restaurants
Family Dining
92-1048 Olani St
Kapolei, HI 96707
(808) 380-4086
"Amazing food! Best food I tried while in Hawaii with great live music and good drinks. Definitely a must go to while in Oahu."

Monkeypod Kitchen Google Review
Ko Olina Golf Club
92-1220 Aliinui Dr
Kapolei, HI 96707
(808) 676-7697
"Wonderful food, atmosphere. Great experience very experienced and knowledgeable."

Roy's Ko Olina Google Review
Kalapawai Cafe & Deli – Kapolei
711 Kamokila Blvd #105
Kapolei, HI 96707
(808) 674-1700
"I stopped in for dinner and had a very enjoyable meal. We ate at 6PM on a weekday evening. No problem finding parking. We were also able to secure a table outside for five which created an incredible atmosphere. The staff was incredible, when you requested anything it arrived very fast and magically appeared in front of you."

Kalapawai Cafe & Deli – Kapolei Google Review
Eat up!
Take a look at other nearby restaurants and ono grindz near Oahu's main military bases here. Why? Because you're not just PCSing to Joint Base Pearl Harbor-Hickam, you're PCSing to all of Hawaii!