The first thing to know about recreation activities near Joint Base Pearl Harbor-Hickam in the areas of Aiea, Ewa Beach, Honolulu, Kapolei/Makakilo is that there is so much to do that it's impossible to cover them all. Therefore, we'll give you a launching point for beginning your island experience after you PCS to Hawaii. Get ready, let's go!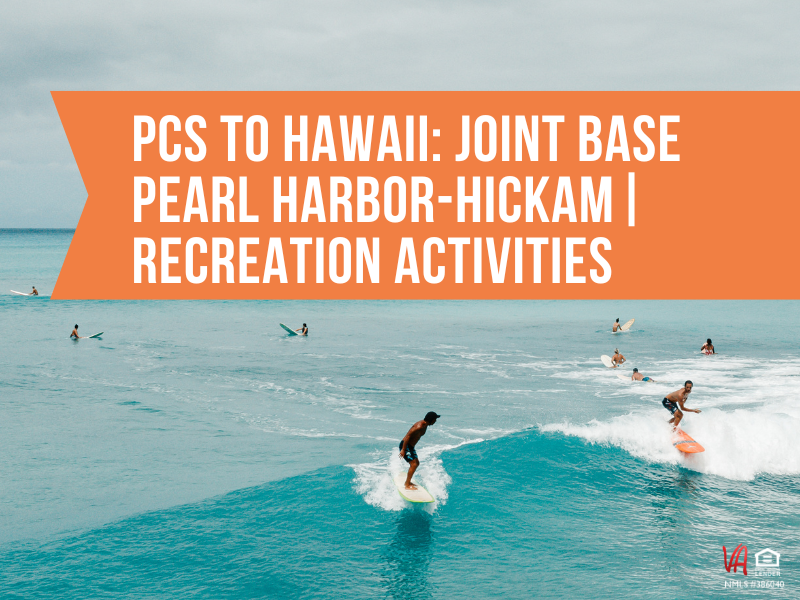 Aiea Recreation Activities
TRIPADVISOR REVIEW: "Great beginner hike or fun to run! This is actually one of my favorite hikes as a local. It is close to me, easy to find, easy to do and doesn't take all day. I can either bring friends along, or I don't mind going alone as I feel safe,and the hike itself is pretty safe as well. Even walking it with friends, it has never taken over 2 hours and you can start at the bottom or the top of the loop if you want a change."
Aiea Shopping
98-1005 Moanalua Rd. #231
Aiea, HI 96701
(808) 488-0981
Pearlridge Uptown was opened in 1972, with an expansion in 1976 to include Pearlridge Downtown. Between the two, separate shopping centers lies Sumida Farm, the largest supplier of watercress in the State of Hawaii. Home to the island's only monorail, customers can enjoy a scenic ride between the two centers while enjoying views of historic Pearl Harbor and the Arizona Memorial. Pearlridge Center is the largest enclosed shopping center in the State of Hawaii and is also home to more than 170 stores, restaurants and services. In addition to the monorail, Pearlridge boasts 2 food courts, 12 full-service restaurants, a miniature golf course, 2 arcades, 16 theaters, an emergency clinic, and an 8-story office complex. In 2017, construction began on a $33 million renovation.
Ewa Beach Recreation Activities
Barber's Point Beach Cottages on White Plains Beach
White Plains Beach Bldg. 1797
Barbers Point, Hawaii, 96707
Reservations: 808-682-3085 | get.dodlodging.net/propertys/Barbers-Point-Beach-Cottages
TRIPADVISOR REVIEW: "Had a wonderful time. Stayed in a two bedroom cottage on the beach. The view from our porch was amazing overlooking the ocean. The kids loved the beach, playing and swimming. The water was great. A wonderful three days. Great place for the whole family…"
Ewa Beach Shopping
94-790 Lumiaina St.
Waipahu, HI 96797
(808) 676-5656
https://www.premiumoutlets.com/outlet/waikele
TRIPADVISOR REVIEW: "Awesome prices! Went to grab a few things and ended up with many things! Too many sales to pass up. Everyone was so friendly and helpful."
Honolulu Recreation Activities
1 Arizona Memorial Pl
Honolulu, HI 96818
(808) 422-3300
The USS Arizona is the final resting place for many of the ship's 1,177 crewmen who lost their lives on December 7, 1941. The 184-foot-long Memorial structure spans the mid-portion of the sunken battleship and consists of three main sections: the entry room; the assembly room, a central area designed for ceremonies and general observation; and the shrine room, where the names of those killed on the Arizona are engraved on the marble wall. – National Park Service, History & Culture at nps.gov
520 Makapuu Ave
Honolulu, HI 96816
(808) 733-0274
The third oldest continuously running community theatre in the nation operating since 1915. Calling itself the Broadway of the Pacific, it is located on the slopes of Diamond Head in Honolulu, Hawaii. Go enjoy a show!
1525 Bernice Street
Honolulu, HI
808-847-3511 | http://www.bishopmuseum.org/
From the website: "Bishop Museum is the premier place to experience the history, arts and culture of the Hawaiian people.We are recognized throughout the world for our scientific research, educational programs, and extensive collections which give voice to the stories of Hawai'i and the broader Pacific.
Hawaii Glass Bottom Boats
1109 Ala Moana Blvd
Honolulu, HI 96814
(808) 729-6720
www.hawaiiglassbottomboats.com
From the website: "Welcome aboard the Haleiwa Queen, a 50-foot power catamaran. Through the on-deck ports of our glass-bottom boat, we explore the vibrant, lively ocean floor below. Keep an eye out for sea turtles, dolphins, and shipwrecks as we tour Oahu's South Shore."
Honolulu Shopping
1450 Ala Moana Blvd Honolulu, HI 96814
(808) 955-9517 | http://www.alamoanacenter.com/
Ala Moana Center is the world's largest outdoor shopping center and Hawaii's premier shopping, entertainment, and dining destination with 290 stores, including nearly 70 dining options. Ala Moana Center features a diverse collection of stores including locally owned boutiques and national retailers.
4211 Waialae Ave Honolulu, HI 96816
(808) 732-7736 | http://www.kahalamallcenter.com/
Shop fun, one-of-a-kind boutiques, specialty food shops and restaurants at Kahala Mall. Enjoy a movie or take the time to browse at some of your favorite stores. Located near Diamond Head, just minutes from Waikiki.
Kapolei/Makakilo Recreation Activities
92-1480 Aliinui Drive
Kapolei, Hawaii 96707
TripAdvisor review: "Pretty beach – great sunset viewing – man made coves – nice place to relax, see the sun – get a drink at one of the hotels and watch the sunset."
Surf Lessons at White Plains Beach
Beginners welcome! Monday through Friday by appointment only. $35/person for a 1-hour lesson. Parties of six or more can schedule a group lesson.
www.greatlifehawaii.com | Search: White Plains Beach
Call the Surf Shack for more info: 808-682-4925
From the website: "Waikiki is great, but when you want to get away from the frenzy, come experience the serene beaches on the Leeward side of Oahu. Located at Kalaeloa (former Barbers Point Naval Air Station), White Plains is a great spot to learn how to surf."
Kapolei Shopping
KA MAKANA ALI'I – THE CENTER FOR WEST OAHU
91-5431 Kapolei Pkwy
Kapolei, HI 96707
(808) 628-4800
Ka Makana Ali'i – The Center for West O'ahu offers residents and visitors a family-friendly, mixed-use center in the heart of Hawaii's fastest growing community. The 1.4 million-square-foot regional mall is DeBartolo Development's first such project in Hawaii and features more than 100 exciting shopping, dining and entertainment offerings.
You'll create lasting memories…
…by your experiences taking in the recreation activities surrounding Joint Base Pearl Harbor-Hickam. Take a look at other nearby recreation activities via Oahu's main military bases here. Why? Because you're not just PCSing to JBPHH, you're PCSing to Hawaii!