The first thing to know about recreation activities near Schofield Barracks in the areas of Mililani, Wahiawa, and the North Shore is that there is so much to do that it's impossible to cover them all. Therefore, we'll give you a launching point for beginning your island experience after you PCS to Hawaii. Get ready! Let's go!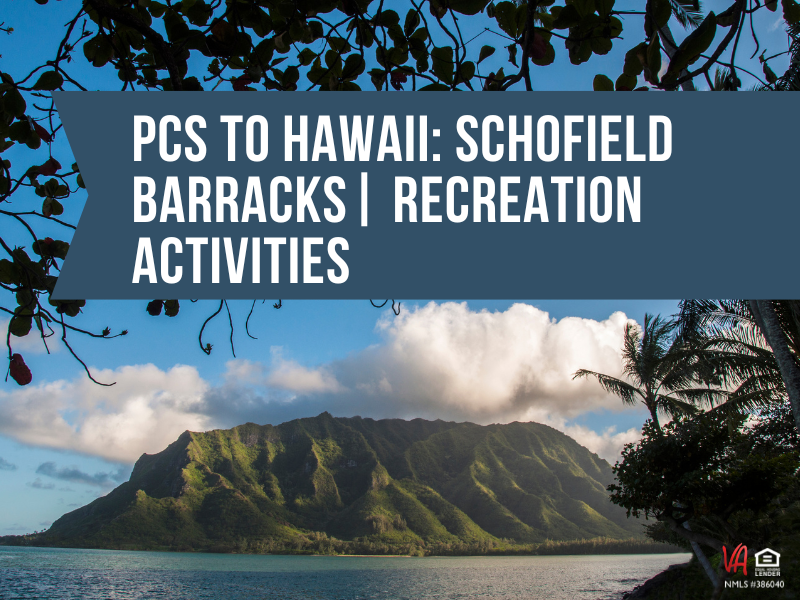 Mililani Recreation Activities
Established in 1989, Family and MWR Hawaii at Schofield Barracks is a valuable resource guide to Special Events, Entertainment, Dining, Recreation, On-going Programs and Support Services for the Soldiers, Family Members, Retirees and DoD Civilians stationed with the Army in Hawaii. Check out their website for valuable information on all things active, fun, and family oriented to do across the island.
95-1100 Kaapeha St., Mililani, HI 96789
Google Review: "Quiet, safe and well used! Very clean and manicured by the city. It's great to kick the soccer ball around, practice some baseball or even get a good workout in. We even go sometimes just to blow bubbles and take some pretty good pictures of the sunset."
Pililaau Army Recreation Center (PARC)
85-010 Army St Bldg 4070
Waianae, HI 96792
Reservations (up to 365 days in advance): (808) 696-4158 8 a.m. to 5 p.m.
Pililaau Army Recreation Center (PARC), located on Pokai Bay on the west side of Oahu, is one of the best beach facilities on the island. It captures the essence of old Hawaii and is a delight for families to enjoy.
Mililani Shopping
Town Center of Mililani
95-1249 Meheula Pkwy #193
Mililani, HI 96789
808-625-0108
"Located in the heart of Mililani, Town Center of Mililani is a roughly 450,000 square footregional and community shopping, dining and entertainment destination. It is home tomore than 90 stores and businesses, including national retailers, local specialty stores,restaurants, a 14-plex theater and health care and professional offices."
Wahiawa Recreation Activities
65-1550 Kamehameha Hwy Wahiawa, HI 96786
808-621-8408 | Open daily 9:30am to 5:30pm
"Originally operated as a fruit stand in 1950, Dole Plantation opened to the public as Hawaii's "Pineapple Experience" in 1989. Today, it is one of Oahu's most popular visitor attractions and welcomes more than one million visitors a year. Dole Plantation provides enjoyable activities for the entire family, including the Pineapple Express, the Plantation Garden Tour, and the Pineapple Garden Maze."
1396 California Ave
Wahiawa, HI 96786
808-621-7321 | Open daily 9am to 4pm
www.honolulu.gov/parks/hbg.html
"Cradled between the Wai`anae and Ko`olau mountain ranges in central O`ahu lies Wahiawa Botanical Garden – the 'tropical jewel' of the Honolulu Botanical Gardens. This 27-acre garden and forested ravine dates back to the 1930s when this land was used by sugar planters as an experimental arboretum. Your tour will take you among plants that thrive in the cooler upland environment and shady humid habitat of this tropical rainforest."
North Shore Recreation Activities
Beaches, surfing, swimming, hiking, and the endless nooks and crannies of the North Shore will have your weekends filled with exploration. Here are a few places to get you started.
59-178 Ke Nui Rd, Haleiwa, HI 96712
Short but steep hike passing several WWII "pillbox" bunkers, with summit views of the North Shore. The trail head starts in the parking lot of Sunset Elementary School. Look for the orange sign posted by the Pupukea and North Shore organizations. If it is raining or has just rained, the mud will make this trail difficult. Bring bug repellent.
59-864 Kamehameha Hwy
Haleiwa, HI 96712
(808) 638-7766
Open daily from 9am to 5pm
"One of last partially intact ahupuaa (an old Hawaiʻi term for a large traditional socioeconomic/geologic/ climatic subdivision of land) on O`ahu, Waimea Valley consists of 1,875 acres and has been a sacred place for more than 700 years of Native Hawaiian history. Waimea, "The Valley of the Priests," gained its title around 1090 when the ruler of Oahu awarded the land to the kähuna nui. Descendants of the high priests lived and cared for much of the Valley until 1886."
59-104 Kamehameha Hwy
Haleiwa, HI 96712
A fantastic spot to end your day on the North Shore by watching the sunset from this famous beach park known for its big waves during the winter months.In fact, cruise Kamehameha Highway and stop at any beach that catches your eye. You won't be disappointed.
Anahulu River on the North Shore
Standup Paddle Boarding or Kayak
Contact MWR for classes and rental prices: https://hawaii.armymwr.com/ -> Recreation ->Outdoor Recreation Center
From the website: "Mornings are an ideal time to paddle because the winds are generally light, and it's the best time to spot turtles!"
You'll create lasting memories…
…by your experiences taking in the recreation activities surrounding Schofield Barracks. Take a look at other nearby recreation activities via Oahu's main military bases here. Why? Because you're not just PCSing to Schofield, you're PCSing to Hawaii!