UPDATED 8.3.17: As of July 10, 2017, appraisals with permit issues (as long as they meet the VA's Minimum Property Requirements) will be issued "As is." This means that the lack of an existing permit for an addition or improvement will not prevent a home from obtaining VA financing, and it will no longer be necessary to obtain a VA waiver for homes that were not properly permitted. However, the appraiser will not give value to the non-permitted area. Read more HERE.
Therefore, the information in the post below does not reflect the new guidelines for non-permitted additions. Instead, go here: https://hawaiivaloans.com/new-non-permitted/.
______________________________________________________________
Imagine that you have found your dream home here in Hawaii and you are ready to take advantage of your VA home loan benefits. You have been pre-qualified and you submit an offer. Congratulations! The seller accepts it! Everything is going smoothly until you get a call from your real estate agent about the VA appraisal. The VA appraiser discovers that your soon-to-be home in paradise has a backyard deck addition that was not permitted!
This non-permitted addition is taking your home buying journey on a slight detour. But alas, you're working with our Hawaii VA Loans experts, and they have the solutions that will set your purchase transaction back on the right track.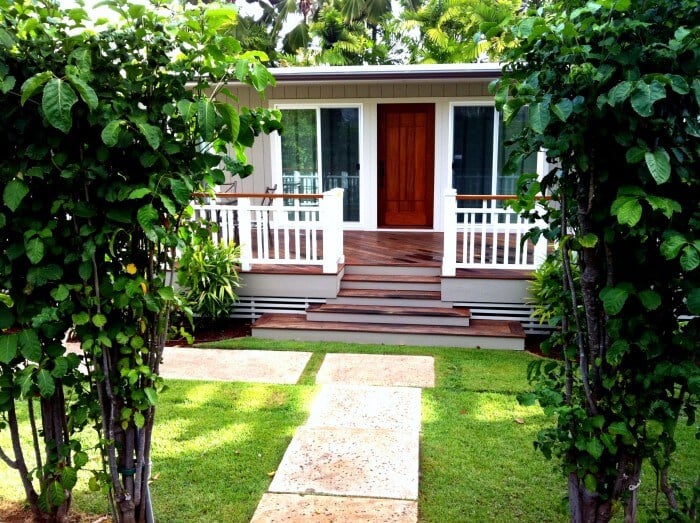 In the face of a non-permitted addition, you need to know how to overcome one and get your VA loan! We outline the possible steps for you below. It's really quite a good read if you have your favorite snack next to you. We'll wait for you to get that…
Before we begin, let's answer the obvious question.
Q:  Can you get VA financing on a property with non-permitted addition?
A: Yes. Ideally, it's a speedier process if all of the improvements done on a property were permitted and properly closed. However, if it's discovered that improvements to the home were not permitted, onward we go to find a solution!
The Solutions: Three Ways To Get VA Financing On A Property With A Non-Permitted Addition
Obtain a retroactive permit.
Teardown and remove the non-permitted addition. Maybe that backyard deck doesn't compare to how much you love the rest of the house, and perhaps you have another vision for the backyard space!
Obtain a VA waiver.
How to Obtain a Retroactive Permit
Hire an architect or draftsperson to draw up new plans in accordance with the existing structure (fingers-crossed that the work was done within code – if not, a retroactive permit is not an option).
Open a permit with the Department of Planning & Permitting (DPP).
A building inspector comes to inspect and approve the work in accordance with the permit.
Close the permit with the DPP. This process of obtaining a retroactive permit can take 4-8 weeks.
If a Permit Was Opened, but Not Closed on an Addition…
In an "opened but not closed" situation, the work was probably not completed according to its plans and thus, the DPP inspector did not approve the job.
In this type of permit-opened-but-not-closed situation, a draftsperson may be hired to come in and draft plans that reflect the existing structure that was done, amend the permit, and then have the inspector re-visit the site to close out the permit properly. Phew!
How Can a VA Waiver Be Obtained?
The following guidelines must be met in order to apply for a VA waiver:
If the property is located in a jurisdiction that enforces State, county or local building code, then VA Minimum Property Requirements (MPRs) require that the construction/addition comply with the applicable building code.
MPR variations and exemptions may be waived for existing structures with the following documentation:
Veteran is under contract to purchase the property, and
The veteran and lender request the exemption in writing, and
The property is habitable from the standpoint of safety, structural soundness and sanitation, and
VA is satisfied that the noncomformity has been fully taken into account by way of depreciation in the VA valuation.
The VA will also require:
A hold harmless letter from both the veteran and the lender stating and showing the unpermitted areas.
Acknowledgement from the veteran that the unpermitted areas are the veteran's responsibility to cure before refinance/sale of the property, and
Official letter from the current licensed contractor, electrician, plumber, or engineer that the work was completed in compliance with City and/or County building codes.
How can you avoid the non-permitted additions pitfall and ensure a smoother VA financing experience (as well as less nightmares of permits dressed in scary costumes)?
Ask the seller's agent and request them to provide a "permit package."
Check the property's MLS fact sheet interior square footage and reference it with the county tax records square footage (http://www.honolulupropertytax.com). If it doesn't match, that's a red flag.
Don't put in an offer on a home if you discover they have non-permitted additions!
Here at Hawaii VA Loans, we've had experience with a variety of non-permitted additions situations and have successfully found solutions for our home buyers. From a home in Mililani with a property wall where the original draftsman had to come in and update the drawing in order to file a new retroactive permit, to a property with an open permit on a retaining wall that had to be amended, inspected, and closed properly, we worked with our local contacts to see that our clients' VA financing could go through. Score!
To see how you qualify for a VA home loan, fill out this online application and feel free to contact us with any questions you may have.
You can also visit the Honolulu Department of Planning and Permitting to check on the status of a permit.