All of your hard work, long hours, and months of separation from family while serving our nation is about to pay off: you have decided to contact a VA Loan Specialist about buying your first home! Once your specialist has guided you through the pre-approval process and you've received pre-qualification for a VA home loan, your house hunting journey can begin.
Full steam ahead! Right? Sure, but there's one key factor that will be essential to your journey, and that's finding the right Realtor for you.
Check out the top five things you should know before hiring a realtor below. They will help you in the selection of an agent who will work hard to deliver you the most successful outcome: the keys to your new Hawaiian home!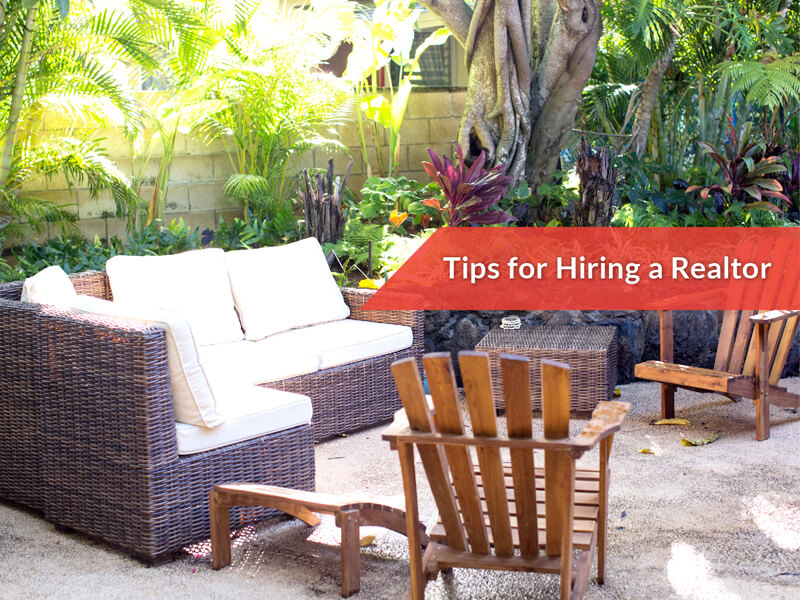 1. A buyer's realtor is free, but you should still interview prospective agents.
Cathy Possedi, Realtor at Hawaii Life Real Estate Brokers gives you three crucial questions to ask: "It's important for a buyer to ask how many years of experience the agent has in this profession, are they doing this full or part time, and what their strategy is for a buyer in this competitive market," says Possedi.
2. Choose an expert.
Andrea Kia, Broker-in-Charge and Co-Owner at HomeQuest, Realtors LLC, says that it is imperative that an agent is an expert in the neighborhoods you are searching.
"As a buyer you want a real estate agent who will work hard to find you the right property and use their skills to make it happen with the best deal. In this current market, a desirable home is going to move quickly, so you need an agent who stays on top of the market and is a savvy negotiator," asserts Kia.
3. Ask for referrals.
Andrea Kia advises, "When choosing your real estate agent, always ask family and friends for referrals of agents who have recently helped them with a purchase and had an excellent experience in the process. Even if the agent is recommended, ask for a list of client referrals that you can call or email."
4. Pick one agent. It's bad practice to have many different realtors working for you at once. In fact, some will request that you sign an exclusive agreement.
Sherrie Au, Realtor at Locations Hawaii discusses the important matter of "Agency" in the real estate business:
"An 'Agent' has a fiduciary duty to his or her clients, which entails legal obligations that a real estate professional should take seriously. It's in the home buyer's best interest to understand the agency relationship. I always make it a point to discuss this early in the initial consultation meeting. I explain that if I am their agent and they are my client, I owe them a duty of obedience, loyalty, disclosure, confidentiality, accounting and care. At the end of the consultation I ask the home buyers if they feel comfortable with me and if they want to work with me. I explain that I only work with clients who want to work with me exclusively. If they say yes, I ask them to ratify that with a Buyer Representation Agreement, which authorizes me to represent them in their home purchase," says Au.
5. Choose a Realtor who is considerate of your home buying desires and your budget.
"When I see a happy buyer, I often ask why they chose their agent. If most things are equal during the interviews, buyers usually choose someone they feel comfortable with and relate to, along with listening to their needs. After all, you are going to be spending a lot of time with this person and you should feel at ease. Good agents don't pressure you into making a purchase that isn't right for you or over your budget. They do guide you in the right direction and are assertive when necessary. They should put your needs first and "have your back". A professional, ethical and knowledgeable agent can be your greatest asset in the home buying process… choose well!" says Andrea Kia.
What makes for a good client/realtor working relationship? Sherrie Au believes that setting proper expectations and communication are the most important.
"Every step of the way, from the initial consultation to handing over the keys, setting proper expectations helps the client know what's going to happen, and helps them make better decisions by knowing the possible outcomes of each of their choices.  It helps them anticipate pitfalls in the process and prepare for them to minimize impact. After all, who likes surprises in a real estate transaction?" concludes Au.
If you're interested in learning more about your VA home loan benefits and working with one of our Hawaii VA Loans Specialists who will assist you through one of life's greatest accomplishments – homeownership – fill out our online application. We look forward to hearing from you!