So you want to win some great prizes right? Well, we want to give them to you! To tell you the truth, we're tired of paying newspapers and magazines a whole bunch of money in order to leverage their user base to get the word out about Hawaii VA Loans and the benefits of the VA Loans. Instead of giving them all this money, we figured, why don't we give our loyal fans a whole bunch of great prizes every month instead?
Introducing: The Hawaii VA Loans Veterans' Club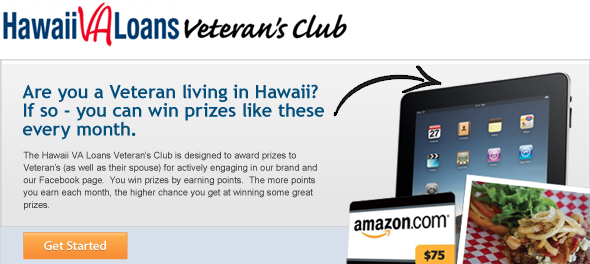 The Hawaii VA Loans (HVL) Veterans' Club is a group of Hawaii based residents who either currently serve or have served one of our nation's Armed Forces. Through the Veterans' Club, each member can earn points which are redeemable for some great prizes.
We just have 4 main requirements:
You have a Facebook account and become a fan of our Facebook Page.
You sign up for the Veterans' Club FB app (so you can keep track of your points, see the Leaderboard, earn badges & invite your friends).
Are a resident of Hawaii or will be moving to Hawaii in the next 6 months.
You're either serving or have served (or spouse) in one of our Armed Forces (including Reserves / National Guard).
As long as you meet those 4 requirements – you can start winning prizes as a member of the HVL Veterans' Club.

Questions you may have:
Is there a cost to join?
Absolutely not.
What kind of prizes can I win?

Every week we'll have trivia questions on our fan page. The first person to correctly answer the question will win a gift certificate for a local business (usually one of Hawaii's top restaurants).
In addition, every member has an opportunity to win two big prizes: A random drawing Grand Prize (first one is an iPad which will be given away on April 1st) as well as a prize to the Total Points winner (a $75 Amazon gift card) for the member who earned the most points for that month.
How does the Grand Prize random drawing work?
The more points you earn that month, the more ballots you get for the Grand Prize drawing. If you earn 10 points that month and there are only 100 points outstanding for the entire Veteran?s Club, you now have a 10% chance of getting your name drawn and winning the Grand Prize.
If I sign up for the Veterans' Club app, what type of information do I have to give?

We only can only see the same information that anyone else (who is not a friend of yours on Facebook) can see. ?If you win one of our weekly prizes (usually a gift certificate of some sort), we will have to request an email address so we can send you the gift certificate.
Sign Up Now

When you first register to become a member, you automatically earn 1 Point towards your VC account for that month. Well, we decided give a big incentive to our loyal fans who sign up first.
The first 50 people who sign up and register for the Veterans' Club, will earn extra points to increase their chances of winning the iPad and the $75 Amazon gift card. The first 25 people will earn 10 points, and the next 25 people will earn 5 points once they join.
Hope to see you as a member of the Hawaii VA Loans Veterans' Club!