Victoria West, three-time Olympic Trials qualifier, former world-ranked swimmer, Northwestern University graduate, Red Circle Foundation (RCF) volunteer and open water swimmer is our Hawaii VA Loans November Ambassador.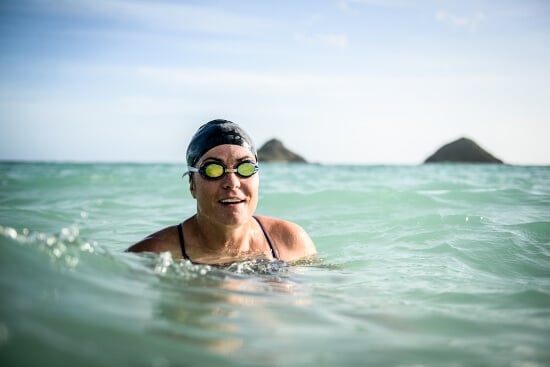 Why Victoria?
In our search for an ambassador this month, we came across Victoria's story: a woman who is using her athletic gifts here in Hawaii to help Special Operations veterans and their families by way of the Red Circle Foundation, a non-profit organization for our military's SpecOps community established in 2012 by former Navy Seal and author Brandon Webb.
We were impressed. Victoria literally gets in the water for our veterans. We decided to highlight her dedication to show the love that everyday Americans have for our nation's military. Here at Hawaii VA Loans, we strive to make a similar imprint within the military community, and we are honored to call Victoria West our November 2013 Ambassador.
Swimming for SpecOps
Victoria joined the Red Circle Foundation in March 2013 immediately after seeing their Facebook post asking for volunteers to take part in their Stay the Course challenge. To date, she has swum in ten open water races totalling 11.15 miles. By December 15th, Victoria will complete two more races, swimming a total of 16.7 miles in support of the Special Operations community. She also recently began a new job with MWR Special Events at Schofield Barracks, giving her yet another opportunity to make a positive impact within the larger military community.
Q&A with Victoria West
We sat down with Victoria at Lanikai beach, looking out at the Mokulua Islands (the Mokes), one of her "go-to" swim spots, to find out about her career in the water and where her drive to swim for the military comes from.
Tell us how your swimming career began.
I've been swimming since I was five. I started with a summer league team in Georgia, then we moved to California when I was seven. I started year round with Redlands Swim Team and that was my club team for my entire career. Then I swam in college at Northwestern University.
How did you get into open water swimming?
I've always loved open water swimming. I got into it when I was twelve in Southern California. I've been able to represent the US in open water and pool competition. I was on the US Junior National team in 1996 and we swam in Paris, France. I've been on the US Open Water team on and off a few times and we had the Pre-World Open Water Championships here in Hawaii when I was eighteen years old.  I was the miler in college and as I got older, the longer I could swim, the better.
What are some accomplishments that stand out to you in your career?
I qualified for the Olympic Trials three times, the first time when I was 13 years old. I'm super proud of my open water accomplishments. I don't have any medals to show for them, but I placed 5th in the world in the 10k and 6th in the world in the 5k. I coach at night and I tell the kids, the hardware really doesn't matter. Some of my proudest accomplishments, I have no medals from.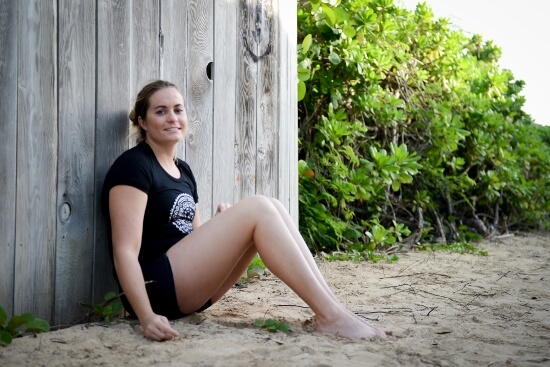 What was your pull towards joining the Red Circle Foundation?
Since I moved here to Hawaii, I've met a lot of great military families and people who serve. They are some of the people I swim and train with. Many of them are going through the most, and they complain the least. I wanted to do something, and I found that through Red Circle, I could help raise funds through my swimming. RCF does great work from providing academic and enrichment scholarships for kids of injured or deployed members, to helping a veteran with Lou Gehrig's disease get his house wheelchair accessible. My goal has also been to work in a field where I could serve military families. I've applied for two years, and finally got a job with Schofield's Morale, Welfare, and Recreation in their Special Events department.
Why do you feel it's important to go the extra mile when showing support for the military like you do?
I think it's all about perspective. Everything we have is because somebody fought for it, and if you aren't fighting for it, you should be grateful. I was raised with the values to always thank the people that serve. No matter what. And through swimming, that's how I've been able to meet people in their community. I've been nothing but impressed with military kids, military spouses, and those who serve. I just think the people I've met have been the cream of the crop, and I have the utmost respect for them.
What's your mental state out there in the water?
Whenever I think, "Oh my gosh, this is cold," I tell myself to suck it up, it's really not that cold in the grand scheme of things. To be an open water swimmer, and to probably also be in the military, you need fortitude and the willingness to not to give up. I think any athlete who represents their country in competition has a lot of respect for the people in the military who go out and represent their country every day.
Have you ever seen sharks while swimming?
I've definitely seen sharks, turtles, and rays. Sharks don't worry me for whatever reason. [laughs] I don't know why, I know they're there. They don't worry me. I just respect that I'm in their home.
What events are you getting ready for now?
On December 15th, I'll be swimming 4.3 miles in the Hawaiian Christmas Looong Distance Invitational. We call it the Double Rough Water.
How can others get involved in supporting the Special Operations community through Red Circle?
We have our Stay the Course challenges where whatever your passion is or whatever your goals are, you can set that goal and keep military families in mind. For example, if you're hiking 200 miles over the course of a year, you hike with the perspective that someone in the military is "staying the course" too. We'll soon have a new format on the webpage where everyone can set up their own event page and raise funds, so look forward to that.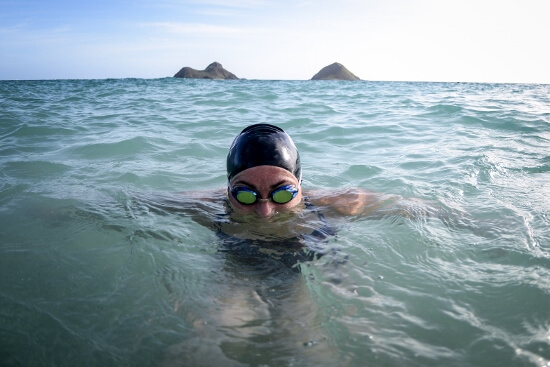 Hawaii VA Loans would like to thank Victoria for her hard work and dedication in support of Special Operations veterans and families, and for all the men, women, spouses, and children that make up our military community. Victoria represents the values that we hold dear and we wish her a great race on December 15th. We'll be cheering her on!
To learn more about getting involved with the Red Circle Foundation visit their website.
Follow Victoria's swim life on Twitter @Swim4SpecOps.