It's apparent upon first meeting LTJG Kyle Millerd, that he must be involved in some type of athletic pursuit suitable for a man of his 6'5" stature. Is it basketball? No. Football? No. Baseball? Not anymore. Rugby? Score!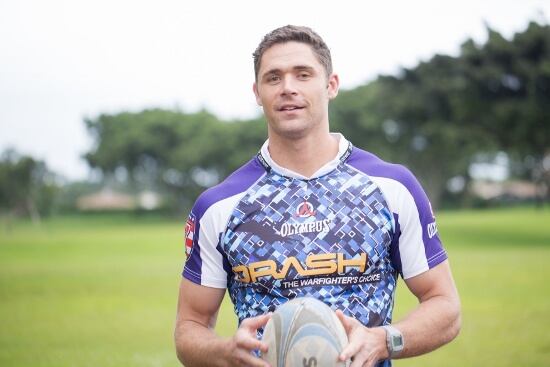 A 2010 graduate of the U.S. Naval Academy in Annapolis, Maryland, Kyle began playing rugby after three years as a pitcher for the Midshipmen baseball team. He immediately discovered success in the full contact, high speed sport, and a dedication to the game that would take him from starting on the Naval Academy team to now being a member of the All-Navy Rugby team. The 2016 Summer Olympics in Rio De Janeiro will see the addition of Rugby to the Games, and Kyle is working toward a spot on the U.S. National Team.
As a Navy P-3 Pilot stationed at Kaneohe Marine Corps Base, Kyle's commitment to his country is at the forefront of his goals as well. These two devotions are why we are proud to name LTJG Kyle Millerd as our Hawaii VA Loans March 2014 Ambassador, and share his Navy Rugby story with you.
Q&A with Kyle Millerd
Where are you from originally?
I'm originally from San Clemente, California.
What kind of sports were you involved in growing up?
I was big into baseball. My goal was to play professionally. My dad was a football player, but I ended up branching off into baseball and basketball. Then I was recruited by the Naval Academy to play baseball.
Who were your athletic influences?
My dad for sure. He was a top prospect in football as a quarterback and then in baseball as a pitcher. He's a phenomenal athlete all around. His devotion, energy, and time spent coaching me growing up has translated over to me.
What was your baseball experience like at the Naval Academy?
I played for three years as a pitcher. I had success my freshman year. Towards my sophomore year, they tried to make me a starter, but mentally, I wasn't there. I didn't have the greatest season. Junior year came around, and I didn't have that great of a season then either. That's when I decided to switch it up. Initially, I was going to box and started training for that. My roommate was playing rugby and mentioned it to me, and then the rugby coach came up to me and asked, "Are you done hitting baseballs? Do you want to start hitting bodies?" I started laughing and said, "I might actually take you up on that."
So I went out on a limb, because I had no experience with contact – with running and proper hitting – outside of backyard contact sports with my friends. I put on some weight and next thing I know, I'm starting for the Naval Academy team. I kind of realized I should have played more contact sports growing up.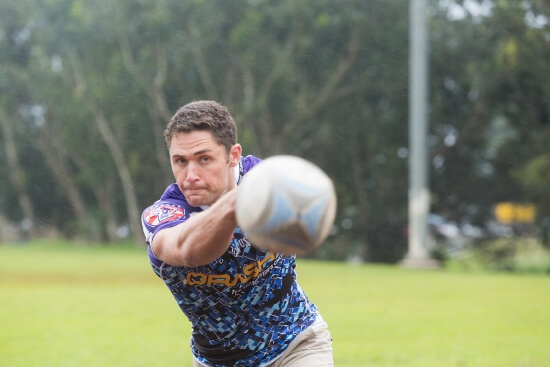 What was it like being an athlete and also managing the academic rigors of the Academy?
The Academy has a high expectation for standards with academics, so I when I got there, I really had to learn how to study and time manage. On top of that, I would be at baseball into the evening, then go eat dinner, and the last thing you would want to do was homework – it was all about having that extra push. It was definitely a unique dynamic and you have to make sure you're on top of your game when you're there.
Explain to me how the sport of Rugby has progressed for you since the Academy.
I started playing fifteens and they just kind of threw me out there against Ohio State in the first match of the season. I didn't know half the rules, but ended up doing well, and each match I played, I just kept progressing.
In 2010, they had the Collegiate Rugby Sevens tournament where the top colleges play, and they had just announced the implementation of Rugby 7s into the 2016 Olympics in Rio De Jeneiro. That tournament was a whole recruiting process to get top notch players from college into the U.S. National program. I was a forward and I remember we lined up and we were doing sprints, and I was beating the fastest guys on the team. I started on the sevens team for that, but I ended up partially tearing my hamstring the day before we left for the tournament. At the time, the head coach for USA was looking to recruit me and I couldn't play. It was very unfortunate, but everyone said, "Get back on your hamstring and keep playing. If you progress, you could eventually get in the U.S. National program." That's where I'm at now; I'm on the radar screen for Team USA and I'm in the process of potentially being picked up for the WCAP (World-Class Athlete Program).
What teams are you currently playing for?
I play for All-Navy Rugby and we play against the All-Army, All-Air Force, etc. I also play with Combined Service Rugby. Right now, they just formed All-Military Sevens. I just played with them and those are the top players out of the entire military getting looked at by USA. I'll also probably play for a local club called the Hawaii Harlequins to prepare for tournaments coming up.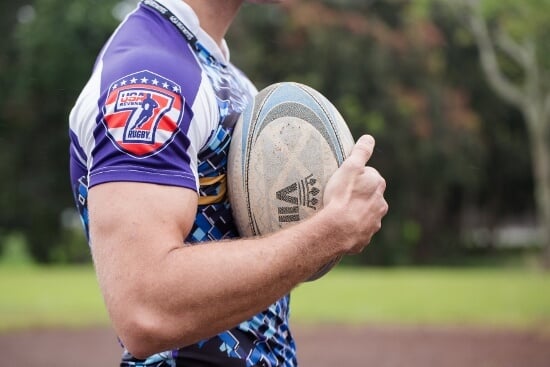 What are some similarities between rugby and serving in the military?
It translates right over. It's a feeling of brotherhood. You go through situations where you don't know if you're going to come out on top, but if you keep a strong mindset through it, you end up succeeding together. That's the whole point of rugby entirely, communication is the most imperative thing, especially in sevens. That communication translates over to being a leader in the squadron and in the cockpit – effective communication and just making sure everyone is on the same page.
What's your physical training like to keep up with such a fast paced game?
In sevens rugby, you don't have a lot of rest rate, and you're at such a high intensity level that your body has to get used to that, so I have to taper my workouts for that. High intensity training, sprinting, lifting heavier weights, and intervals – that's where I focus my efforts on.
What are your short term and long term goals with rugby?
Ultimately my goal is to get in the program for the USA on the military side, developing, and making a run for the National team and the Olympic team. Beyond that, continuing to play in the military in major tournaments. We're traveling to New Zealand soon. There are really cool, unique opportunities to play. I'd like to play as much as I can now while I'm young and healthy. Eventually, I'd like to start coaching.
How do you see rugby developing as a sport here in the U.S.?
It's definitely growing. There are youth programs all over the country. I think after the Olympics, that will open America's eyes to how cool the sport is. It already has though, they televise rugby matches all the time. It has a great potential to become one of the top sports here. I just think it needs a pushing power behind it.
What should a young person know about getting into the sport?
The earlier the better. The younger you are and the earlier you learn something, the better you're going to be at it skill wise later on. It's the one sport that raw athletes from all other sports can pick up pretty quick, but the skills and the field vision are the things that people lack. The athlete who has been playing since a little kid is going to see more, because he knows where to place the ball, he knows exactly where the ball needs to go, he knows where the defense is, he just has that much more experience. I started late and I picked it up, and it was dedication and yearning to learn. It's such a unique sport and I wanted to keep understanding and picking up more and more things.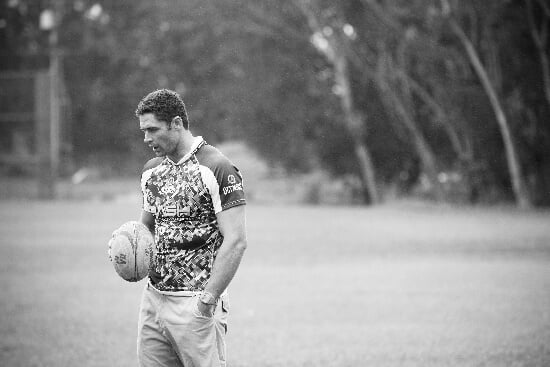 What are some things about the game that you love?
The brotherhood and camaraderie. Going out and giving 150% and leaving it all on the field. Then, after the tournament, having a couple of beers with your best friends. Rugby in general is such a family oriented sport. You go out and hit each other, but at the end of the day, everybody's friends, especially in the military rugby community.
What sport wins if you have the choice to watch either baseball, rugby, or football?
Honestly, I would say sevens rugby – if you watch an international level tournament, it's action packed. It's tough though, it's a coin toss. I love all sports equally.
How do you like being stationed in Hawaii?
It's unreal. It's like a dream. I love being in the ocean and being outdoors. You can't beat it.
What are some of your favorite things to do here?
Surf, swim, dive, and just being on the beach and hanging out. It's so cool being a pilot and cruising around Hawaii and seeing how beautiful everything is. I love surfing, and just being out in the elements…I would have loved to have been a pro-surfer, but I'm too damn big.
Mahalo to Kyle Millerd for taking the time to sit down with us. Best of luck in flying, rugby, and surfing! We believe that the dedication, devotion, and determination that Kyle demonstrates are values that are found throughout the military and veteran community, and are what make our service members the best. We look forward to bringing you news on his future rugby tournaments!
Photos by Keao Sunaoka