As many of our readers know, the 2014 Hawaii VA Games took place on Labor Day at the Blaisdell Arena in Honolulu. This year, the event raised over $35,000 for two local Hawaii charities while simultaneously putting on an action-packed competition among Hawaii's fittest CrossFit teams, and between renowned, individual CrossFit athletes from around the globe.
While going through media pictures of the Games, I came across a photo of Ian Ajimine competing in a Team Event. In the photo, he is sporting every Army Ranger's favorite item of clothing, the Ranger black PT shorts (AKA Ranger Panties). How do I know this? My father and my brother are both former Rangers, and the love of the shorts does not go unnoticed if you're a friend or family member. I had to find out if Ian was a Ranger. Of course he was. What was he doing now? He is Co-Owner and Head Coach of CrossFit HTF / Hi Town Fitness in Honolulu. I was intrigued. Has his time with the Rangers contributed to his success as a coach, trainer, and business owner? Without a doubt.
As you will discover from our interview, Ian Ajimine exemplifies the type of drive and work ethic that is a motivating force in the lives of the individuals he works with, and in the local community. Simply, it is why we have chosen him as our Hawaii VA Loans October 2014 Ambassador.
What is truly unique about Ian's path is that it was not the path he intended to take at all, and that has made all the difference.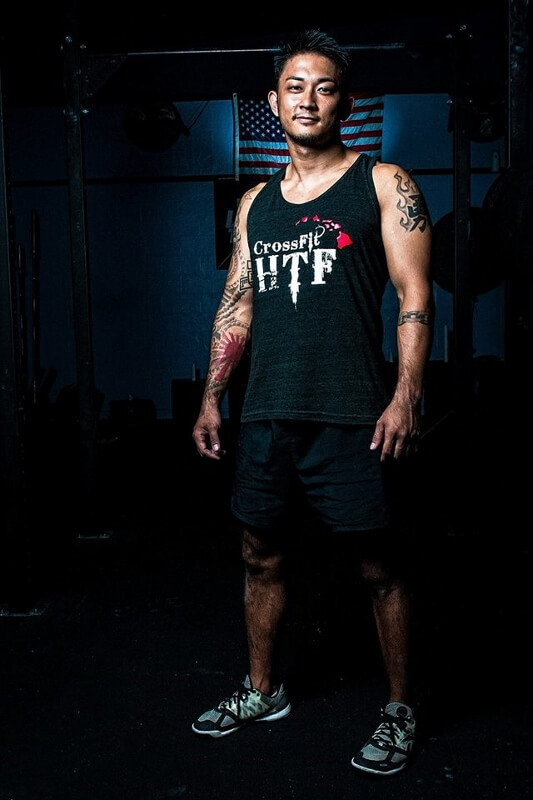 Q&A with Ian Ajimine
Where did you grow up?
I was born and raised here in Honolulu and went to McKinley High School.
How did you join the Army?
I think I was 20 when I enlisted. I picked up a friend from the airport who had just joined the Air Force. I asked him how it was, and he said, "I love it." I said, "You know what? I'm going to join the Army." The next day, I didn't tell anybody, I went into the recruiting office and took a mock ASVAB, and I did pretty well. I didn't want anyone to talk me out of it, so I made sure that I swore in, signed my contract, and had a ship date, and then I told everyone, "I joined the Army, and this is when I leave."
How did your parents react?
My mom started bawling. Instant tears. My dad had a sad look on his face, but he was like "I'm so proud of you." My mom was crying and hugging me. Then, I remember, the look on her face as the recruiter came to pick me up at 5am. It was just heartbreaking. My dad was holding my mom and she was just crying, and I was waving, and they took me to the airport. It was a pretty sad moment for my parents, and for me, seeing the look on my mom's face. I remember it today.
My mom actually comes into the gym to work out here now. I think they are pretty proud of what I've accomplished in a short amount of time.
Tell me about your path to becoming an Army Ranger.
Growing up, I said that I would never join the military because I could never stand someone yelling at me. My senior year, I was working at Zippy's, and when I was around 19, I was doing their management program and I thought, "When I have kids someday, I want them to think that I did something with my life. I want them to have something they can be proud of." Plus, I was going to KCC (Kapiolani Community College), and I had no discipline.
When I joined the Army, I didn't have Rangers in my contract, the only thing I had was Airborne School. I was a Chemical Specialist, and during my Advanced Individual Training, they came to see us and said, "We need your jobs in the Ranger Battalion. If you'd like to try out, we'll sign you up." So I thought about it. Everybody was all about Rangers, and I had no clue. In the back of my head, I thought it would never happen. I'm just some skinny, pretty boy from Hawaii, it's not gonna happen. But I tried out in their month long selection program, and I made it through, passed everything, and went to the 1st Ranger Battalion.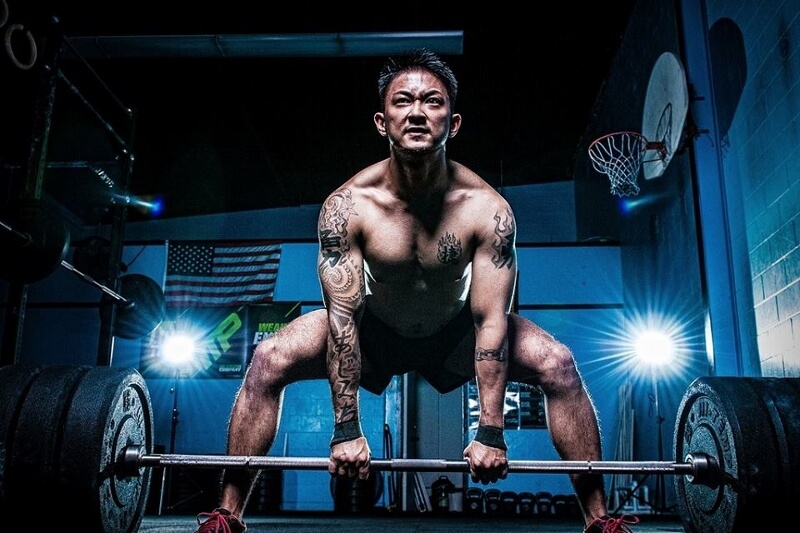 You didn't know about the history of the Army Rangers?
I honestly didn't know anything about the Army when I joined. I just signed up. I knew nothing about Airborne School, I thought they were joking when they said I'd be jumping out of airplanes. I was good though, I just kept my mouth shut and did whatever they said, and I made it straight through. I didn't have to repeat anything in Airborne or Ranger Indoctrination Program.
What was your mindset going through the Ranger training?
I think what kept me going the most was that the regular Army was deploying for a year or year and a half, and the Rangers were deploying for three months. I knew my family didn't want me to deploy, but if I'm going to deploy, then three months sounded pretty good. All the higher guys that were always talking to you before becoming a Ranger were like "If you're going to deploy, deploy with the highly trained guys who are going to keep you safe." Those things kept me going.
How many deployments did you do?
I got to 1st Ranger Battalion in April of 2006 and I deployed to Afghanistan around August, and it was every six months for three months that we would deploy. I went to Iraq around March or April 2007, and when I came back, they sent me to Ranger School and I graduated the end of October 2007. I deployed to Iraq for my last time with the Rangers for 6 months. I reenlisted to come back to Hawaii, so that I could get the ball rolling with my next career when I got out. Overall I did three deployments with the Rangers, and then I did one long deployment with the big Army here in Hawaii, and got back in 2010.
What was the transition like coming out of the Army and back into civilian life?
I was pretty lucky, when I was in Ranger School, my Ranger buddy was a Major and gave me good advice – I was planning on getting out straight from Ranger Battalion in 2008. He was like, "Don't do it, reenlist, go to Hawaii, and when you're a year out, get your next career plan moving." Best advice I ever got. So I did just that. I had a year left in the Army at Schofield, and I had been joking that I was going to open a gym. It started becoming more of a possibility when I got into CrossFit. The 84th Engineer Battalion paid for my Level I CrossFit certification. At the time, I was studying for my National Academy of Sports Medicine Certified Personal Trainer exam. By January of 2012, I had three more certifications completed. My official date out of the Army was in March, and by then, I was already doing boot camps at the beach. Within seven months of being out of the Army, we opened CrossFit HTF. I didn't waste any time.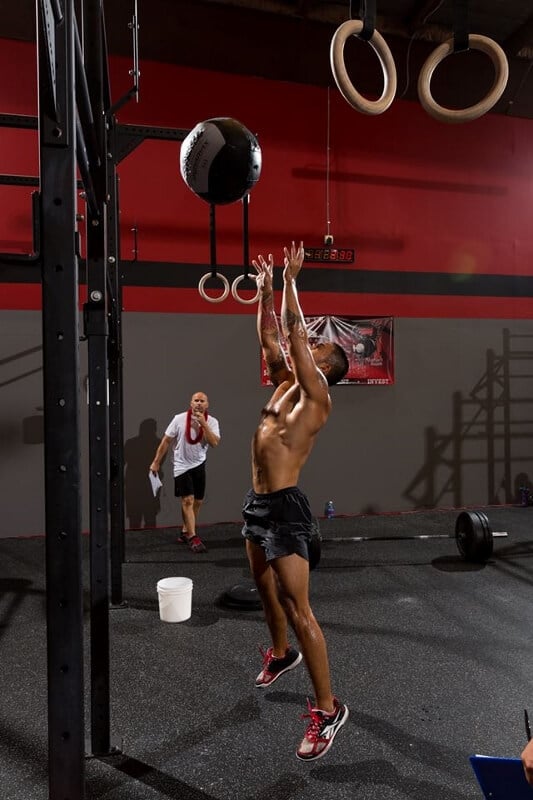 How did your aspirations to work in fitness grow?
I don't know why it took me so long to realize this was what I should do with my life. I started weight lifting in seventh grade. It was the only thing I ever liked to do. It was the only thing I really liked to sit down and read about. Anything fitness related or muscle related, I enjoy it. Even in the Ranger Battalion, I always had people ask me if I could help them out in the gym.
I love to train people and make a difference in their lives. It's hard work. In the very beginning, I didn't have as much money going into it as I would have liked, and as with any personal training, you have no credentials. Who wants to hire someone who has nothing online about them? I had no testimonials or anything like that. It took a little bit to build up my clientele. Today, I have about seven or eight one-on-one clients, and they've all been with me for a year or more.
I've earned five to six additional specialty certifications and everything has really come together. I'm pretty strict on the coaches here. I prefer that they have national certification or a degree in addition to CrossFit Level 1 certification.
Do you think your clients know what the Ranger tab means that's hanging up here on the wall of your gym?
There are some people that will look it up, and of course, the Discovery Channel has the shows about Rangers now. People will say, "You did that?" And I'll say, "Yeah, but on the TV, it's a little calmer." When the cameras aren't there, it's rougher. When you add up all the things, the sleep deprivation…you're starving…and all they put you through, it takes its toll, and you're like, "Why I am I even doing this? I don't need to do this. I volunteered to get put through this."
I really am the man that I am today because of the Ranger Battalion. Coming from having no discipline and no self-control at 20, to accomplishing what I did in the Rangers, to opening the gym, the Rangers made me hard-charging and driven. I've accomplished every goal I've set out for so far in life because of the Ranger Battalion.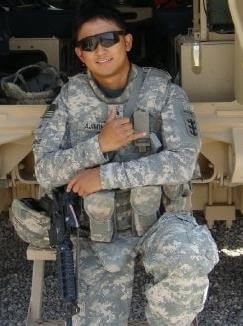 How does your military training influence the everyday operation of CrossFit HTF?
I can definitely say that because of my military experience, I talk a certain way. My members know. I'm loud and I'm energetic. It might seem harsh, but everyone knows it's motivating. I don't degrade anybody. In here, it's "You can do it. Stop saying you can't. Get up and you can do this." When I came out of the Army, I was just hard charging and lacked empathy. I was like if I can do it, everybody should be able to. If I can survive, everybody should be able to survive. I had to change. I think I'm at a point where I'm at a good place, right in between.
How are the Rangers a part of your life today?
I'm reminded every day, that I am who I am today because of the Rangers. They taught me not to give up, not to back down, and to keep going. There are going to be some really hard days, but pain is temporary and it will pass.
You know, in the beginning with the gym, I was running mostly all the classes and I had a bar job at night so I could try to pay the bills, and to eat. I worked from 8pm-2am at the bar, rushed home, showered, rushed back to the gym, slept 30 minutes, opened it up, taught a 5am, taught a 6am, had a client, slept a half an hour, ate a Snickers bar, taught another class, slept an hour, taught a couple classes, rushed home, showered, went to the bar, worked, rushed home, showered, and restarted my day. It was like that for about a year into it. I literally was living off of energy drinks and coffee. And it wasn't because I didn't want to be healthy, but I put everything I had into the company, and I was going to make sacrifices for it.
Which is more challenging? CrossFit workouts or Ranger training?
The Ranger Battalion was doing it before, I think, it was CrossFit. CrossFit combined some things, put some principles and definitions behind things, and put a name on it.
That was kind of like my joke question that I wanted to throw in there…
I'd take a CrossFit workout any day!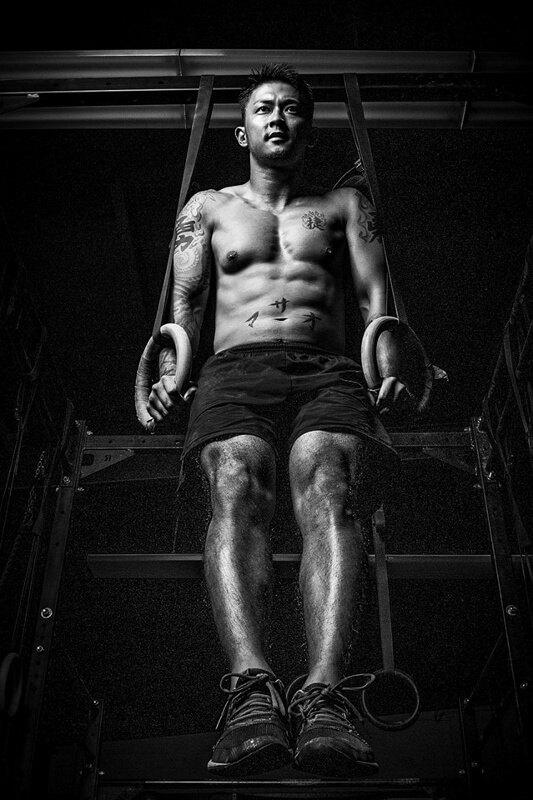 Is there more to CrossFit than just a great workout?
What makes CrossFit gyms so successful is the community aspect of it. You don't just come in here, workout, and go home. You come in here, you get motivation, encouragement, and you make lifelong friends that have the same goals that you do. You have people in here that have started at the same place at some point. You have people in here to look up to. Not to mention the types of charitable events that are put together – the VA Games, and we do a lot of charity work in here as a gym with the Humane Society, autism, raising money for the Philippines, and we raised $2,000 to help a friend who was paralyzed try to walk again; that's what makes the CrossFit community so much more.
The family aspect that we bring – all the CrossFit gyms bring that. CrossFit does so much more than help someone lose a couple pounds; you may come in wanting that, but you stay for more than that.
Final question before I let you go. What do you enjoy about life in Hawaii?
I like to hike and I like to go to beaches. I don't have too much time for that now, but I'm down for anything. Having grown up here, I take Hawaii for granted all the time. You definitely miss it when you're gone.
A big mahalo to Ian Ajimine for sitting down for this interview and sharing his experiences with us. We are proud to share the values of hard work, dedication, and just "going for it" that Ian represents as our Ambassador, for they are the same values that our team at Hawaii VA Loans holds in high regard.
Oh, and just in case you aren't familiar with the infamous Ranger shorts that started it all, here's a photo of Ian on Hawaii VA Games day! RLTW!