Edda Hernandez, U.S. Navy wife, mother, volunteer, worker, and Hawaii Navy League 2013 Key Navy Spouse of the Year is our Hawaii VA Loans January Ambassador.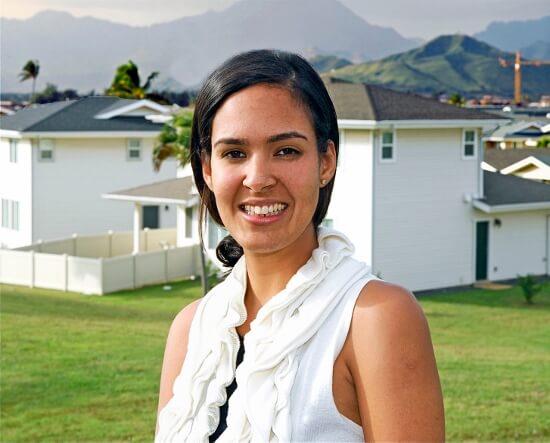 After sitting down with Edda in her comfortable home on Marine Corps Base Hawaii in Kaneohe, I quickly discovered why she is so successful in all the endeavors she takes on. Friendly, energetic, driven, and passionate, Edda has all the qualities that make her many roles as a Navy wife, volunteer, mother to John (8 yrs) and Angela (4 yrs), as well as holding a part-time job, seem easy to juggle.
Simply put, Edda knows how to work hard. Long before she moved from the Dominican Republic to New York City when she was fourteen, Edda was preparing for her family's transition to the U.S. by taking bilingual classes. She has embraced military life much like she embraced that move fifteen years ago, with determination and optimism. Yet, as busy as Edda is, she still finds time to relax and enjoy the activities that being stationed in Hawaii has to offer.
On November 27, 2013 Edda was awarded the Hawaii Navy League's 2013 Key Navy Spouse of the Year award at Honolulu City Hall by Mayor Kirk Caldwell for her volunteer work as the Patrol Squadron 47 (VP-47) Family Readiness Group Ombudsman. Her husband, LT Adam Hernandez, is a Naval Flight Officer with the squadron. The Navy League, founded in 1902, describes the award recipients as "the glue that holds the deployed families together." Edda was further honored on November 30th at halftime of the University of Hawaii vs. Army Black Knights football game at Aloha Stadium.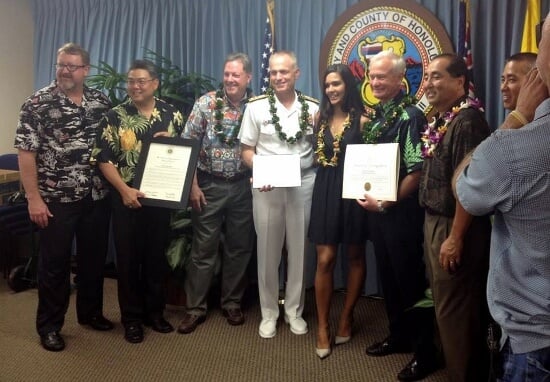 Here at Hawaii VA Loans, we feel fortunate to have Edda as our January Ambassador. She is a strong representative of the backbone of the military – the Military Spouse. Let's find out more about Edda Hernandez and her military life.
Q&A with Edda Hernandez
Where are you from?
I grew up in the Dominican Republic. We moved to New York City when I was fourteen. It was total culture shock…not to mention the weather change! My mom knew at some point that we would move to the United States, so I took bilingual classes. My first day in school, I was told that I was very proper, because I spoke proper English.
How was that transition for you as a teenager?
It was easier for me than for my older siblings because I was still in school, so I could really experience the American culture every day and learn about it. I would go up to the library and get a book in Spanish and English. I'd read the one in English, and if I didn't understand it, I would read the one in Spanish to cross-reference and see if I was making sense of the book. It was a challenge, but then it wasn't. I would do it all over again.
Where did you go after New York City?
From New York, we moved to Providence, Rhode Island. We lived there throughout my high school years. I went to Gulf Coast University, and then we moved to Jacksonville, Florida, and I went to Florida State College and studied Business Administration. That's where I met my husband, Adam.
Tell me about your involvement as a military spouse that earned you the 2013 Hawaii Navy League Key Navy Spouse of the Year.
I'm the volunteer Ombudsman, and basically I'm the link between the families and the Command. I'm there to support the spouses and families, especially during deployment – whether it's getting letters to spouses who need them or unfortunately, helping to notify loved ones of a death in the family. It's a great feeling to be able to help out other spouses when we don't have our better halves here. It's truly rewarding.
How did you learn that you would receive the award?
I was at work and I wasn't even aware that I was nominated! I got a phone call from someone and they said, "Edda, you've won the Key Spouse of the Year award!" I thought it was a prank. And they said "No, seriously, you have to go to city hall on this date and meet the mayor." I was in shock and I still am. It was an amazing feeling, it really was.
What has been the most challenging thing about being a Navy Spouse?
I think deployment is one of the most challenging times, especially if you have little kids and are temporarily becoming a single parent.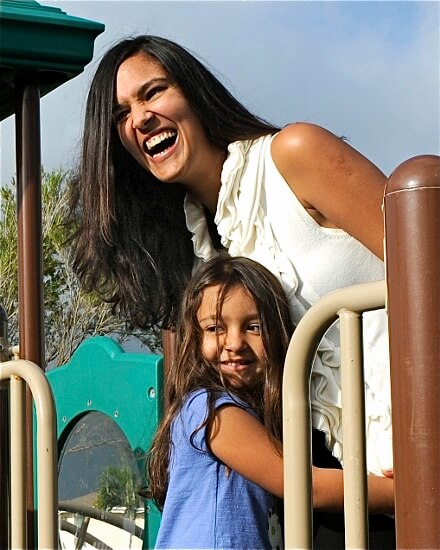 What helps you get through those challenging times?
We have a great spouse network, and I really rely on my family. Neighbors and friends. My kids. Yoga! I do lots of yoga on deployment! I run a lot on deployment. Having time for yourself, and remembering that you need to take care of yourself, because when you throw yourself into kids and being busy, you can forget about you.
What has been the best thing about being a Navy spouse?
How many people you meet. The different cultures. How much you learn from the other military spouses. I've learned so much. Military spouses look out for one another.  If you go online to certain message boards, you can get so much information about where you're being stationed next and things like that from other spouses. We have a bond like no other.
What inspires you to take on bigger responsibilities within the military community?
I'm a busy body. I like to go, go, go – but I just love the military and I think that everything these men and women do is amazing.
Do you work outside of the home as well?
I do. I work in Human Resources. Sometimes I work 40 hours a week, and sometimes I work three – which I love for being able to spend more time with the kids.
How do you manage to handle all of your responsibilities?
It's all about balance and being able to juggle your schedule. I'm a planner, but not on paper, it's all mental. I used to work for a payroll company a couple years ago, and every client that would come in would have a client number to pick up their pay. I knew every single client number that would come in. I have a good memory!
What do you love about being stationed in Hawaii?
I love everything about it. What's not to love? We're in Hawaii! I love that I can get up on a Saturday morning and say, "We're going to the beach!" I love that there is so much history here and I can teach my kids about it.  I love that you can just take a walk and revive yourself.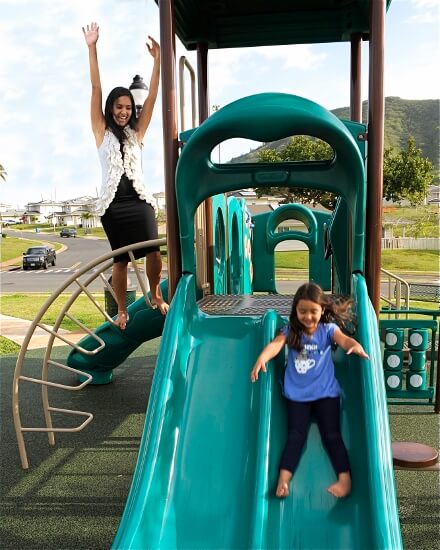 What is your favorite thing to do here on a day with your family or by yourself?
Hiking. I love Mariner's Ridge. It's so peaceful.
What advice do you have for other military spouses who may feel overwhelmed or are struggling with a deployment?
The one thing I would say is that it doesn't get easier, you just get stronger. Every deployment is different, every duty station is different, but it's worth it. I love that my kids get to experience different cultures. I knew about a couple cultures growing up, but for my kids to learn about the Hawaiian culture is just so great, and they're really into it. It's so fun to watch.
Mahalo to Edda Hernandez for hanging out and giving us a peek inside her life. Edda represents the values of strength, optimism, and helping others that Hawaii VA Loans holds dear. We wish her and her family continued success here in Hawaii! Thank you for your service!
Photos by Ricardo A. Finney, Hawaii Commercial Photography. Photo of Hawaii Navy League award ceremony courtesy of VP-47 FRG Facebook.