Great news for the start of 2023! The VA announces a funding fee reduction for VA loans! This means a lower monthly payment for VA buyers. First, let's go over what the VA funding fee is. In order to cover some of the VA home loan program's guaranty and administrative costs, nearly all VA borrowers pay a one-time VA Funding Fee that ranges from 0.5%-3.3%. The funding fee can be paid up-front or financed into the loan. Now, for the good stuff!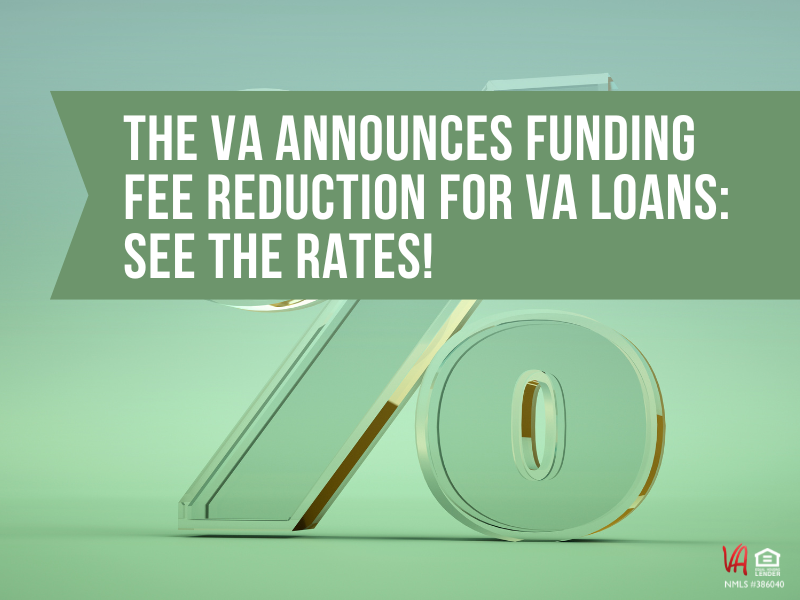 The VA Funding Fee Reduction: A Return to the Previous Rates
In 2020 after an increase in the VA funding fee as a result of the Blue Water Navy Vietnam Veterans Act, the Veterans Administration announced a new reduction in funding fees starting in 2023. Essentially, they are reverting to their previous percentages before the increase.
Thus, the reduced funding fee rates apply to loans made to purchase a dwelling closing on or after April 7, 2023 and prior to November 14, 2031. See the chart below for all funding fee amounts.

Did Any Rates Not Change in the VA Funding Fee Reduction?
Here is a summary of recent changes to the VA Funding Fee rates:
The VA decreases the VA funding fee by .15% for all first-use VA purchase loans and cash-out refinance transactions.
For example, if a first-time VA home loan borrower is a military Veteran applying for a zero down payment loan, there will be a 2.15% funding fee. On a $500,000 loan, the amount would be $10,750. If they finance it into the loan, the total amount would be $510,750.
Subsequent use funding fees have also been reduced.
However, there is no reduction for Interest Rate Reduction Refinance Loans (IRRRLs); it remains at 0.5%.
Are Any VA Buyers Exempt from Paying the Fee?
Yes! The VA Funding Fee may be waived for the VA borrower in four situations:
The borrower receives VA compensation for a service-connected disability.
The borrower would receive VA compensation if they didn't receive retirement pay.
The borrower is a surviving spouse of a Veteran who either died in service or from service-related disabilities.
There is a funding fee exemption for active duty servicemembers who have received a Purple Heart.
We love the sound of money-saving, and that's exactly what this VA funding fee reduction does for you. Contact us to take advantage of your no down payment VA home loan benefits. Call us at 808-792-4251 or fill out our online loan application.