E komo mai! Welcome to Hawaii! If you've recently arrived or are moving to Oahu soon, you may feel a bit daunted by the task of learning about the local schools and education opportunities on the island, especially amidst all of the unpacking you have to do!
Therefore, we'd like to provide you with some resources and information to assist in your research. From public elementary schools to online college degree opportunities, we've compiled some valuable information and brief school profiles below, so let's get started.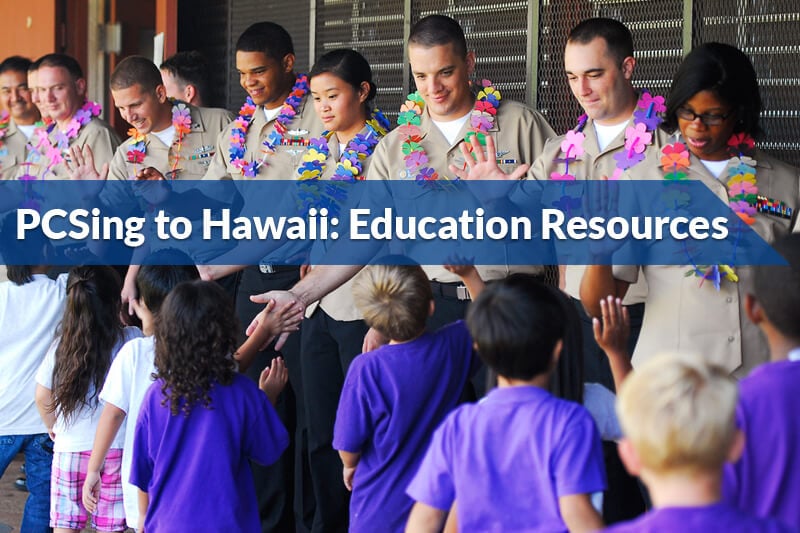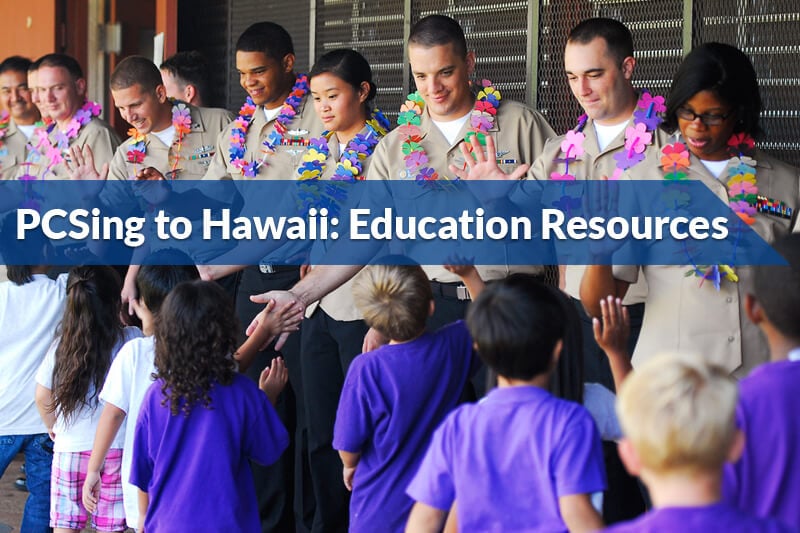 First, for families moving to Hawaii as part of a PCS (Permanent Change of Station), there are many resources to assist in the transition for their school-aged children:
Now, let's talk schools…
Marine Corps Base Hawaii Area
Kaneohe
Ahuimanu Elementary is popular for its language programs and beautiful campus. He'eia Elementary brings digital education to its students with Promethean boards in the classrooms. Kaneohe Elementary has an updated library and offers a large variety of extracurricular activities. Pū'ōhala Elementary has a well-regarded teaching staff that are consistently up for statewide awards. Across the street from the large Kaneohe Public Library is Ben Parker Elementary with its strong citizenship programs. Kapunahala Elementary shines in Kaneohe as well with strong achievement records and ongoing parent support.
Governor Samuel Wilder King Intermediate School has a strong Visual and Performing Arts programs that includes hula. Hula, a traditional dance form accompanied by a chant or song, was developed by the first Polynesian settlers in the Hawaiian islands.
James B. Castle High School boasts four departments within the school focusing on Arts & Media, Health Sciences, Electronic Technology, and Business/Agriculture/ Culinary.
Kailua
Kailua has many public elementary school options that are popular with military families and local residents alike. Keolu Elementary and Ka'elepulu Elementary are enjoyed for their small school feel. Larger-sized Enchanted Lake Elementary is a popular draw with the adjacent park hosting soccer and basketball in the after school hours. Kailua Elementary is convenient and centrally located, situated right next door to the Kailua Public Library. Lanikai Elementary is a charter school near Kailua Beach and has many students attempting Geographic Exemptions to enter. Kainalu Elementary has a winning robotics team and strong parental involvement. `Aikahi Elementary has a town-renowned playground on campus that was built by the community.
In Kailua, all public middle school students attend Kailua Intermediate School. A new Boys & Girls Club building nearby benefits the large community.
Kailua High School is known for its award-winning band and football programs. Their competitor in football, Kalaheo High School, is known for its strong digital media programs.
The Windward side offers many private school options for families. Trinity Christian School, Kailua Christian Academy, Saint John Vianney Parish School, Windward Nazarene Academy, St. Mark Lutheran School, Windward Adventist School and Saint Anthony School are available for parents interested in a Christian education.
Huakalani is a small school for girls located in the heart of Kailua. The largest private K-12th grade school in the area is Le Jardin Academy with their renowned sports programs and an International Baccalaureate Education from primary school through graduation on their Kailua campus.
Schofield Barracks Area
Mililani
Families with elementary aged children have many options in the North and Central areas. Four of the five elementary schools in Mililani have names in common, beginning with the name of the town "Mililani".
The schools are:
Mililani Waena Elementary meaning "center" of Mililani,
Mililani Mauka Elementary meaning "towards the mountains,"
and Mililani Uka Elementary meaning "inland" of the others.
The newest school in the area, Mililani Ike Elementary, means "vision" in Hawaiian.
Kipaa Elementary is named after the valley in which it sits at the southeastern edge of Mililani.
At Mililani Uka Elementary, students enjoy strong academics, parental involvement, and a farm-to-table initiative called Aina in the Schools ("aina" means "land" in Hawaiian). Mililani Waena Elementary utilizes the open classroom program with 32 classrooms grouped four to a "pod." Mililani Mauka teaches common core and focuses on character education including trustworthiness, respect, responsibility, fairness, caring and citizenship. At Mililani Ike Elementary, technology is integrated and parents appreciate the popular choir and orchestra programs in addition to robotics and sports.
Mililani Middle School is run on a track system with nine weeks on and three weeks off year-round and is popular for its sports and music programs.
Mililani High School is known for its expansive accelerated studies program, high college readiness index, and relatively low student/teacher ratio.
Wahiawa
Iliahi Elementary is the smallest school in Wahiawa and gets rave reviews for established teachers and the popular music programs. Ka'ala Elementary is praised for its reading and tutoring programs while Hale Kula Elementary is undergoing a fifty million dollar construction project and upgrade. On base at Schofield Barracks is Solomon Elementary, serving over 1000 students, 95% of whom are military dependents. It has programs designed to help families experiencing deployment.
Wheeler Middle School is well-prepared for military dependents with a transition center where new students take placement tests and become settled before jumping into classes. Wahiawa Middle School has a uniform policy and the popular Lancer Academy tutoring program.
Leileihua High School is praised for it's Honors and Gifted/Talented program including Advanced Placement classes and small class sizes.
Waialua & Haleiwa
On the North Shore there are two elementary options: Waialua Elementary and Hale'iwa Elementary. Waialua is known for it's rural setting and strong reading programs, having achieved Blue Ribbon status. Hale'iwa's Hawaiian Studies and computer programs are well liked, along with their small class sizes and very involved teachers.
Middle School & High School
In Waialua, middle school and high school are combined at Waialua High and Intermediate. Waialua students achieve high scores in statewide robotics competitions and were awarded US News & World Report's Silver Medal for "Best High Schools" in 2014. It was ranked 4th among the 49 public Hawaii high schools.
Parents wishing to send their child to private schools have many to choose from in the Central and North areas of Oahu. St. Michael School in Waialua is a Pre-K through 8th grade Catholic school with small class sizes and required community service at all grade levels. For private Protestant education, Trinity Lutheran in Wahiawa serves Pre-K through 8th grade as well. For Pre-K through 12th grade in Mililani, Hanalani Schools offers another Christian education option and is popular for its well-established teaching staff.
Joint Base Pearl Harbor-Hickam Area
Aiea
Aiea has three elementary schools: Scott, Webling, and Aiea. Webling Elementary, for example, offers a Junior Police Officer leadership program for its 5th and 6th grades, a Robotics club, Student Council, Peer Mediation, and a Webling Broadcast club. In addition, close ties between military members and Webling Elementary families are a hallmark of this school's environment.
Middle School/High School
Aiea Intermediate School is proud of its active drama club and Aiea High School offers over 30 sports and club activities for students including Peer Education, Paddling, Graphics Club, Hawaiian Culture, and Water Polo.
Ewa Beach
In Ewa Beach, Holomua Elementary School requires uniforms and runs on a year-round schedule with four color-coded tracks of nine weeks in school and three weeks intersession breaks. Popular programs include robotics and performing arts. Many parents are drawn to Iroquois Point Elementary as a prestigious International Baccalaureate (IB) World School since 2007, one of only two public schools offering the IB Primary Years program in Hawaii. Another candidate for the program in Hawaii is Keone'ula Elementary School who are already practicing transdisciplinary themed learning goals and hope to be certified soon. Grouped nearby to one another are Kaimiloa Elementary, Ewa Beach Elementary and Poheka Elementary. The popular Ewa Elementary School is a digitally engaged school that publishes student podcasts as well as regular updates and photographs.
In Ewa Beach there are two middle school options; Ilima Intermediate and Ewa Makai Middle School. Ewa Makai Middle School is the only Green-Ribbon School and LEED Gold Certified school building in Hawaii while Ilima Intermediate has many popular education-focused clubs.
Last but not least, Campbell High School hosts the International Baccalaureate Diploma, Academy of International Studies, Arts & Communication, Engineering & Industrial Technology, Sophomore Academy and Talent Development Freshman Academy programs.
Honolulu
Elementary School/Middle School
The Hawaii Department of Education operates several elementary schools in the Honolulu area. Visit www.greatschools.org to locate the elementary schools closest to where you will be residing.
Public high schools within the Honolulu area include Wallace Rider Farrington, Kaiser, Kaimuki, Kalani, Moanalua, William McKinley, and Theodore Roosevelt.
Private schools include Academy of the Pacific, Damien Memorial School, Hawaii Baptist Academy, Iolani School, Lutheran High School of Hawaii, Kamehameha Schools, Maryknoll School, Mid-Pacific Institute, La Pietra, Punahou School, Sacred Hearts Academy, St. Andrew's Priory School, Saint Francis School, Saint Louis School, the Education Laboratory School, Saint Patrick School, Trinity Christian School, and Varsity International School.
Kapolei
Families with elementary aged children in Kapolei enjoy Barbers Point Elementary for its small class sizes and on-site NASA Challenger Center Hawaii that is visited by students from all over Oahu to learn about Science, Technology, Engineering and Math through programs like Rendezvous with Comet Halley.
Utilizing the multi-track schedule is Kapolei Elementary with four color-coded tracks on a nine weeks on and three weeks off, year-round schedule for students. Mauka Lani Elementary is popular for parental involvement, school uniforms, and academics.
For middle school, grades 6, 7 and 8, Kapolei students have the opportunity to attend Kapolei Middle School – with its track system, newer campus and uniforms. It is so popular that it had to expand to accommodate enrollment numbers with portable classrooms.
Once military dependent children hit high school age in Kapolei, it is time to choose an Academy if they attend Kapolei High School. These sub-schools within a school specialize in Business, Culinary Arts, Fine Arts, Graphics, Health Careers, Leadership, Human Services, Industrial Technology and LCAT (Learning Center for Applied Technology).
Many on the Leeward Coast also choose private education options for their children. Island Pacific Academy is in IB World School that serves students K-12 in Kapolei with extracurricular activities including orchestra, soccer, hula, and extensive sport programs. American Renaissance Academy, also a K-12 in Kapolei, is one of the newest schools with full WASC accreditation. Students there enjoy small class sizes, school-wide technology integration in addition to academics, performing arts and sports programs.
For families that choose to Homeschool while stationed in Hawaii, the Department of Education outlines the state requirements here.
Homeschooling was even profiled in local magazine Honolulu in an article, Meet the Homeschoolers.
There is a popular resource center in Kailua offering individual classes in Art, Science, and Spanish among other subjects.
Military homeschoolers on Oahu use a Yahoo Group to keep in touch throughout the year. Even teenagers 12 and older have their own Yahoo Group to schedule activities together!
Some homeschooling families in Hawaii choose to homeschool K-12 as part of a public charter school, Myron B. Thompson Academy.
Higher Education: College & Universities
Hawaii offers multiple community college, public and private universities, and specialty school options for college-aged children, spouses, veterans, and active duty military seeking to advance their degrees. Check out some of your options for higher education in the state of Hawaii here: Hawaii Colleges & Universities.
Most colleges and universities in Hawaii are incorporating online degree programs, with 6 that offer at least one Bachelor's degree online. For a broader look, Bestcolleges.com has focused their site and resources to rank and review the online education landscape across the nation.
There you have it! We hope our blog post helps you discover more about the schools and educational opportunities here in Hawaii during your military assignment. Look for our PCS Guides, available for download soon!
Contributor credit: Kulia Petzoldt