As you PCS to Hawaii with your school-aged children, you may be a bit daunted by the task of finding out about the local schools and education opportunities. Thus, to lighten the load, here are school and education resources around Marine Corps Base Hawaii (MCBH) in the areas of Kaneohe and Kailua, Oahu.
First, for families moving to Hawaii as part of a PCS (Permanent Change of Station), there are resources to assist in the transition to Hawaii Public Schools for their children:
Hawaii's Department of Education hosts a website specifically for Military Families with a great list of contacts for more information.
Now, let's talk schools. From public to private and homeschool opportunities, we've compiled all the information below.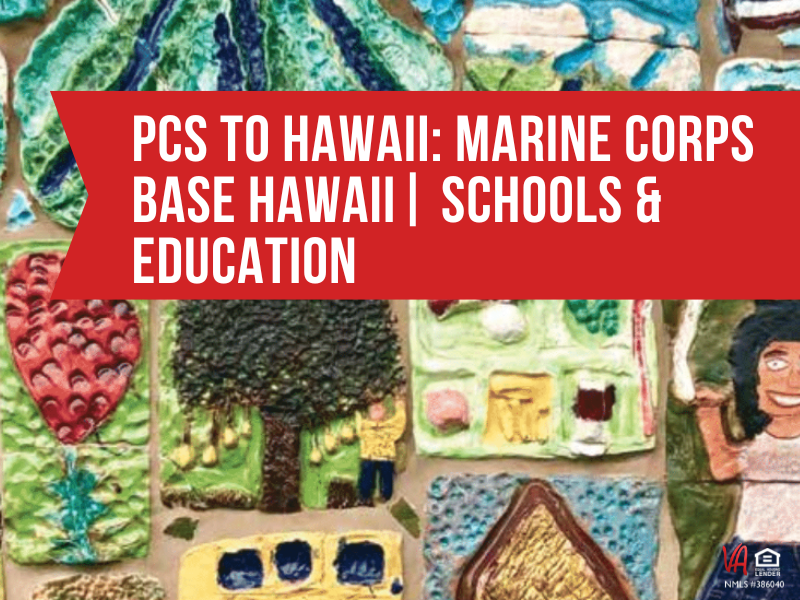 Public Schools Near Marine Corps Base Hawaii (MCBH)
Note: In order to attend a public school outside of your home's zoning or district, one must complete the Geographic Exception process beginning in January of the school year before you wish for your student
Kaneohe
To begin, MCBH has its own elementary school located on-base called Mokapu Elementary which serves approximately 900 students of active duty families. Off-base in Kaneohe, there's Ahuimanu Elementary which is popular for its language programs and beautiful campus. He'eia Elementary has a beautiful campus setting and brings digital education to its students with Promethean boards in the classrooms. Kaneohe Elementary has an updated library and offers a large variety of extracurricular activities. Next, Pū'ōhala Elementary has a well-regarded teaching staff that are consistently up for statewide awards. Across the street from the large Kaneohe Public Library is Ben Parker Elementary with its strong citizenship programs. Finally, Kapunahala Elementary also shines in Kaneohe with passionate teachers and ongoing parent support.
The lone middle school, Governor Samuel Wilder King Intermediate School has a strong Visual and Performing Arts programs that includes hula.
Rounding out the public schools is James B. Castle High School – the largest of the four Windward district high schools and boasts their College and Career Academies: Innovations, Arts and Business, Freshman Academy, Medical Services and Culinary Arts, and Navigators.
Kailua
Kailua has many public elementary school options that are popular with military families and local residents alike. Off Keolu Drive, Keolu Elementary and Ka'elepulu Elementary are enjoyed for their small school feel. Larger-sized Enchanted Lake Elementary is a popular draw with the adjacent park complete with basketball courts, baseball fields, and a playground. Next, Kailua Elementary is centrally located in the heart of Kailua next door to the Kailua Public Library. Well-known Kaohao Elementary is a charter school near Kailua Beach. It has many students attempting Geographic Exemptions to enter. Kainalu Elementary has strong parental and community involvement. Finally, `Aikahi Elementary has a town-renowned playground on campus that was built by the community.
In Kailua, all public middle school students attend Kailua Intermediate School. KIS has a strong Honors Program and a substantial military community of students.
There are two public high schools in Kailua. First, Kailua High School is known for its successful sports programs, a new Science wing, as well as extracurricular choices. Kailua HS also offers a financial literacy class for students. Lastly, Kalaheo High School has a substantial military student community and resources for military families. They have an excellent cross country team, swim team, and other sports programs.
Private Schools
The Windward side offers many private school options for families. Trinity Christian School, Saint John Vianney Parish School, Windward Nazarene Academy, St. Mark Lutheran School, Hawaiian Mission Academy and Saint Anthony School are available for parents interested in a Christian or Catholic education.
Huakailani is a small school for girls located in the heart of Kailua. The largest private K-12th grade school in the area is Le Jardin Academy with their renowned sports programs and an International Baccalaureate Education on their Kailua campus.
Homeschooling and Virtual Schooling
For families that choose to Homeschool while stationed in Hawaii, the Department of Education outlines the state requirements here. According to homeschooling parents, the DOE makes it easy to transition to homeschooling. Here are some additional options:
Higher Education: College & Universities
Hawaii offers multiple community college, public and private universities, and specialty school options for college-aged children, spouses, veterans, and active duty military seeking to advance their degrees. Check out the higher education options in the state of Hawaii.
Now that you've learned more about the schools and education options for your PCS to Hawaii via Marine Corps Base Hawaii, find out more information about the local area at www.hawaiivaloans.com/pcs-hawaii.
Contact Hawaii VA Loans at 808-792-4251 or go to our secure online loan application to get pre-approved for your no down payment VA home loan and become a Hawaii homeowner, too!