To everything, there is a season. Pre-coronavirus, the peak Permanent Change of Station (PCS) season for active duty military was mid-May through the end of August. However, with the stop-movement order issued by Secretary Esper back in March, military orders and household moves have been backlogged, and there are labor shortages within moving companies (source: Military Times).
As military moves pick back up, the U.S. Transportation Command has extended its "peak season" rates to November 15th.
Peak season rates offer moving companies more money for taking on Department of Defense moves.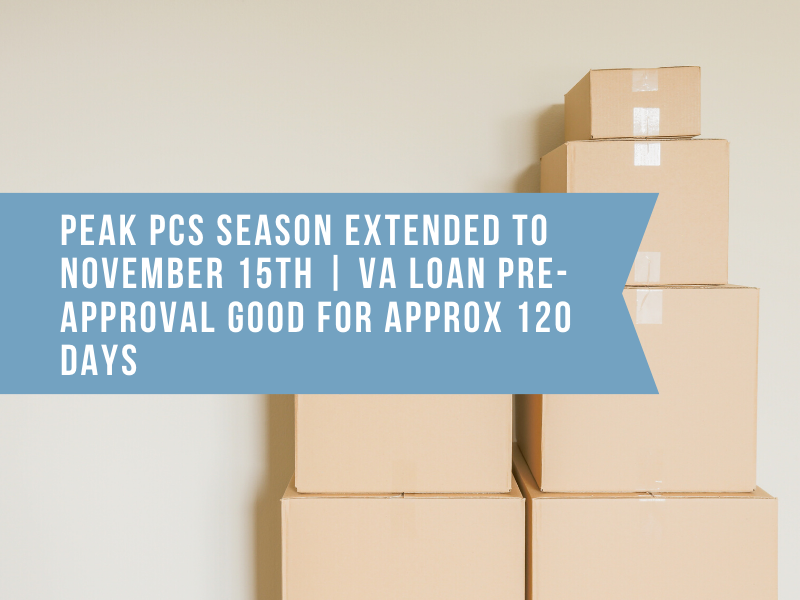 Statistically speaking, from May 15 to mid-June, military movers picked up 15,302 household goods as compared to the 86,843 household goods done in the same time period in 2019 – an 82% decrease (source: The Military Times).
Hawaii is currently one of the 39 states that had travel restrictions lifted by the DoD in early June.
However, even as moves pick back up, 100% timely PCS moves for military members are not guaranteed as conditions for their move must also be assessed at their designated military installation. Moreover, service members PCSing to Hawaii or any location are subject to the changing state conditions with COVID-19 and its affect on moving company crews. Simply put, a quick summer move is not in the cards for military families this year.
Yet, one way to make PCSing to Hawaii easier is to GET PRE-APPROVED for a VA home loan prior to arriving to the islands.
Pre-approval for a VA loan is a green light to shop for a Hawaii home knowing the offer price you make is secure for financing. Hawaii VA Loans makes the pre-approval process simple and clear regarding the documents and financial information we need to get you ready to buy. Many times, home buyers work with real estate agents and make an offer to buy a home BEFORE getting pre-approved for a VA home loan. Once pre-approval is granted, at least two outcomes could occur:
The buyer discovers through the VA loan pre-approval process that the price he or she thought they could offer is too high to receive financing OR
The buyer discovers that he or she could, in fact, shop for a home in a higher price range!
How long is a VA loan pre-approval good for?
As long as your financial situation does not change, a VA home buyer has 120 days to close the transaction.
Therefore, if your desire is Hawaii homeownership, get pre-approved FIRST! Contact Hawaii VA Loans to get started or fill out our secure online loan application here. We can't wait to welcome you to the islands. Aloha!