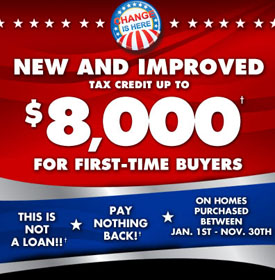 The credit for first-time purchasers is scheduled to expire November 30.  Meanwhile, housing lobbyists are busy at work gearing up a major campaign to extend the $8,000 home buyer tax credit.
Home builders, Realtors and the Mortgage industry mounted an aggressive campaign during the recent congressional recess.
The expansion — or, at a minimum, extension — of the $8,000 first-time-home-buyer tax credit is at the top of the legislative agenda for the Mortgage Bankers Association, with one of the MBA's leaders saying the trade group is "very close" to winning that battle in Congress.
The Effects of the Tax Credit So Far
Nationwide, pending home sales have been on the rise for seven months in a row, according to the National Association of Realtors.  But just as auto sales dropped sharply once the government's Cash for Clunkers program ended, real estate pros are bracing for a letdown if this tax credit disappears.
The IRS estimates that 1.4 million taxpayers have utilized the program.  At these numbers, the total cost of the tax credit is slightly over $11 billion or less than 4% of the overall stimulus package (didn't AIG get about fifteen times that???).
What's Next?
Who knows at this point? At least 20 bills have been drafted in Congress regarding the credit. Some proposals would not only extend the first-time-buyer credit into next year but would expand it to include all buyers, remove income restrictions and raise the maximum value of the credit as high as $15,000.
The House of Representatives unanimously passed a bill that calls for a one-year extension of the first time homebuyer tax credit for service members serving overseas.
I think the credit will be extended one way or another.  Houses are about the last thing we build in this country, so we gotta keep that going, right?  Of course, you never know Washington.  It's about as consistent as our UH Football team.  Go Bows…um, Warriors!  The only way to be sure you can capture that credit is to put in your offer today, time is running out!  Just kidding, despite the deadline, buying in a rush is probably not the best decision you could make.