When it comes to bringing you information on using your VA home loan in Hawaii, we feel it's important to share our advice based on our experiences as a Hawaii VA lender since 2007. Therefore, we put together FOUR "To Do's" and FIVE "Not to Do's" to follow while going through the steps of the VA loan process.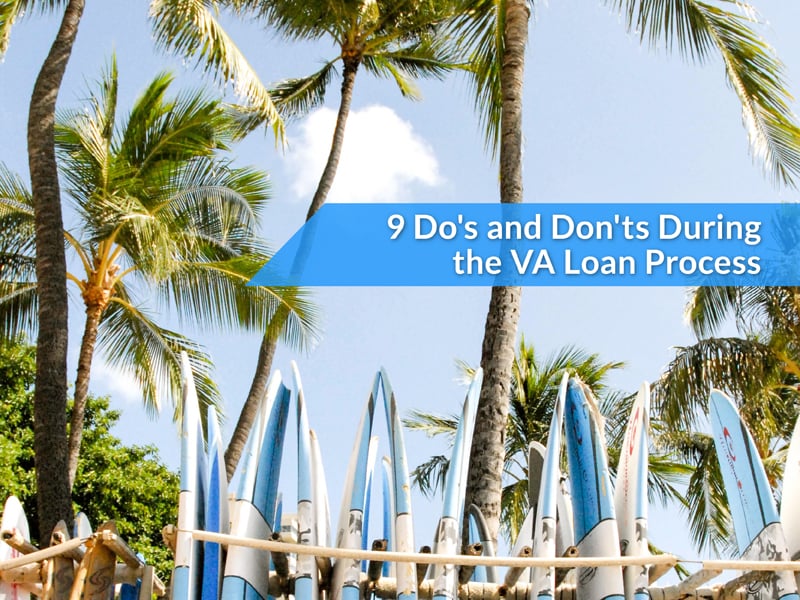 Why Should You Know the Do's & Don'ts During the VA Loan Process?
The advice below ensures that you have the smoothest closing process possible on your home buying transaction.
To Do:
RESPOND PROMPTLY. As we near closing, timelines often become tight. Questions may arise that require additional documentation or clarification. The sooner you respond, the better!
KEEP TRACK OF ALL FINANCIAL TRANSACTION DOCUMENTATION. We need to document the source of funds for closing and any large deposits (to ensure the funds aren't from a loan that we haven't accounted for). Keep your mortgage statements. Keep your pay stubs. Keep a record of any deposits into your account.
BE PATIENT & FLEXIBLE. Things may get a little hectic near closing. We've never had a loan not close, but there are unexpected things that can come up and cause delays.
CONSOLIDATE FUNDS. Transfer all your "cash to close" funds into one account early in the VA loan process. Funds may be wired or via cashier's check (if done by cashier's check, it must be done from an in-state bank or branch).
Not To Do:
APPLY FOR OR TAKE OUT ANY NEW CREDIT.
CHARGE UP YOUR CREDIT CARD BALANCES. If we need to pull a new report before closing, increased credit balances can hurt your credit score. It could also possibly hurt loan pricing (which could increase your closing costs by thousands of dollars).
MAKE ANY LARGE CASH OR UNDOCUMENTABLE DEPOSITS INTO YOUR ACCOUNT. 
SET ANY HARD SCHEDULES AROUND CLOSING DATES (movers, painters, etc). We will put every effort into closing by the contract date. However, the process involves many pieces of documentation, many people within and outside of our organization, and involves contact requirements with multiple parties at very specific points in the transaction. The closing process also involves the reverification of many items. If any details are off or incomplete, they can cause delay.
MISS ANY LOAN, CREDIT CARD OR OTHER PAYMENTS.
Keep these essential tips in mind as you apply for a VA loan, get approved, and then wait for VA loan funding on your home purchase.
To find out how you can qualify for a VA loan, contact us at 808-792-4251 or simply fill out our secured online loan application and a member of our team will get back to you.