A home in Hawaii can be one of life's greatest enjoyments. For homeowners living in extra close proximity to the beach, waking up to the smell of the Pacific ocean at their nose and the sound of waves outside of their windows is a daily, welcome reality. However, what also comes with buying a home in such a locale is the reality of flood zones and floodplain management regulations. If you're in the market for a Hawaii home that needs renovation, there is an important rule regarding making repairs and improvements on structures located in Special Flood Hazard Areas (A and V zones) that you need to know about.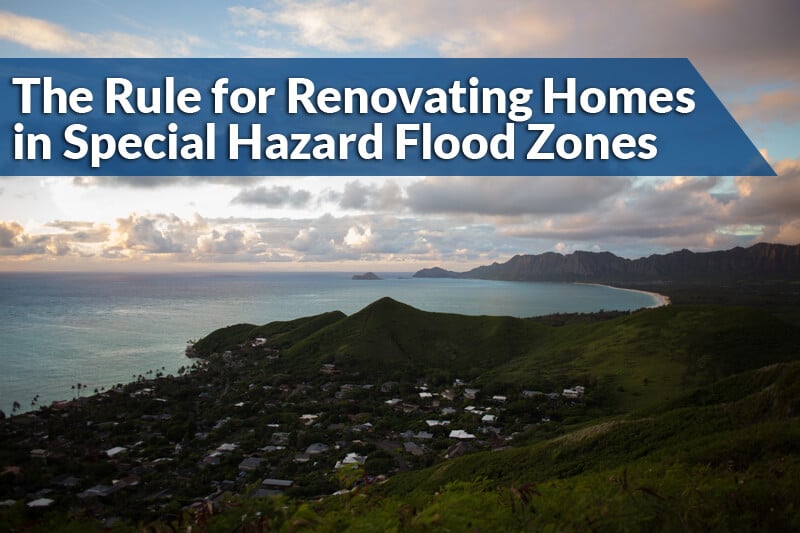 What do you need to know about making improvements on homes in a Special Flood Hazard Area (A and V zones)?
First, if the structure existed prior to the 1980s, then it was built before the counties of Hawaii, Maui, Kauai, and Honolulu joined the National Flood Insurance Program, and before local floodplain management regulations and Federal Insurance Rate Maps (FIRMs); they are called Pre-FIRM structures.
Pre-FIRM structures are allowed to remain non-conforming to floodplain management requirements until the building undergoes repairs and/or improvements that exceed 50% of the structure's market value prior to improvements.
An improvement cost that exceeds 50% of the market value is called a "Substantial Improvement" and requires that the ENTIRE structure complies with current floodplain management regulations of the county it exists in, regardless of the flood insurance requirement.
Each improvement will be tracked individually. Furthermore, the four Hawaii counties have added a cumulative substantial improvement rule into their floodplain management regulations.
What is the cumulative substantial improvement rule for Hawaii, Honolulu, Maui, and Kauai?
The cumulative substantial improvement rule means that improvements will be tracked over a period of time (varies with each county);
Therefore, when the CUMULATIVE cost of a pre-FIRM structure's improvements exceeds 50%, the entire structure will need to be brought up to current floodplain management regulations.
"Okay, thanks for the bullet points," you may be thinking, "Can I have an example?"
Sure! Here's a scenario provided by the Department of Land and Natural Resources Engineering Division:
"In January 2015, Mr. Kealoha purchased a small, two bedroom 1960's plantation style home in a VE zone in Lahai- na, Maui. Although the non-conforming structure was advertised to have been recently remodeled, he has plans to add additional bedrooms and completely renovate the kitchen and bathrooms for his family of five.
Maui County's Real Property Tax office established a 2015 market value for the structure at $250,000. Mr. Kealoha assumed that he could proceed with his renovation plans without having to bring the entire existing structure to present day flood code if he kept his improvement cost below $125,000 (50% of the 2015 Market Value).
However, Maui County has a ten year cumulative substantial improvement rule. When Mr. Kealoha applied for his building permit, he was informed by Maui County Planning Department that $50,000 worth of improvements occurred two years prior to him owning the home, thus initiating the County's cumulative substantial improvement tracking on the structure. At the time of the first improvement in 2013, the structure's market value was $225,000, and already depleted 22% of the 50% allowance. Mr. Kealoha was further informed by the County that his proposed improvements, estimated to cost $100,000, would be considered a substantial improvement since the cumulative improvement cost would exceed 50% of the 2013 market value ($225,000).
The substantial improvement determination requires Mr. Kealoha to elevate the entire existing 1960's plantation style structure above the current BFE (Base Flood Elevation) identified on the effective FEMA FIRM. The structure is located in the VE flood zone, therefore, the lowest horizontal structural member must be elevated at or above the BFE."
Let's take a look at the numbers in Mr. Keahola's scenario: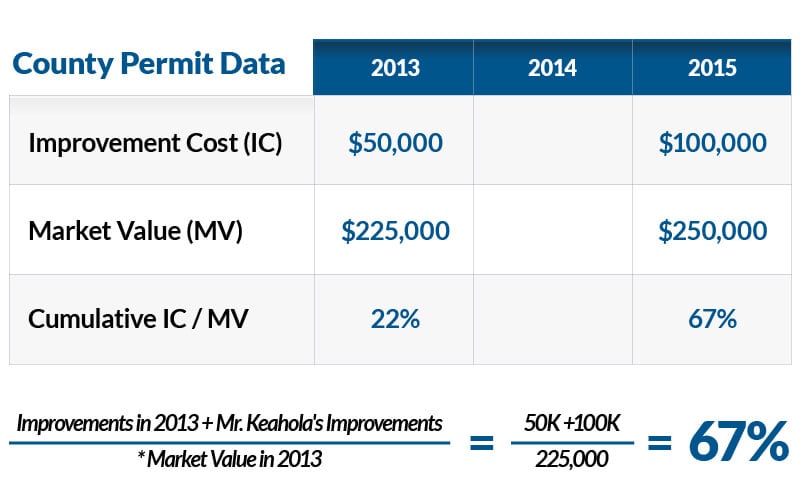 67% > 50% and is therefore considered a Substantial Improvement
* Based at Time of 1st Improvement in Tracking Period
What three things should homebuyers do when looking at a pre-FIRM structure in a Special Hazard Zone (A or V zone) prior to purchasing?
Call your local county floodplain manager to discuss the community's substantial improvement rules (see contact chart below).
Look at any proposed FIRM updates to see if the property may be mapped into a Special Hazard Zone in the future -change in flood zone could impact building compliance and insurance requirements.
What should Realtors do to educate homebuyers on the cumulative substantial improvement rule in Hawaii?
If your clients would like to make an offer to buy a pre-FIRM structure in a Special Hazard zone and they express plans to renovate, provide them with the history of the home, help them to access its permit history, and provide the contact information for their local county floodplain manager: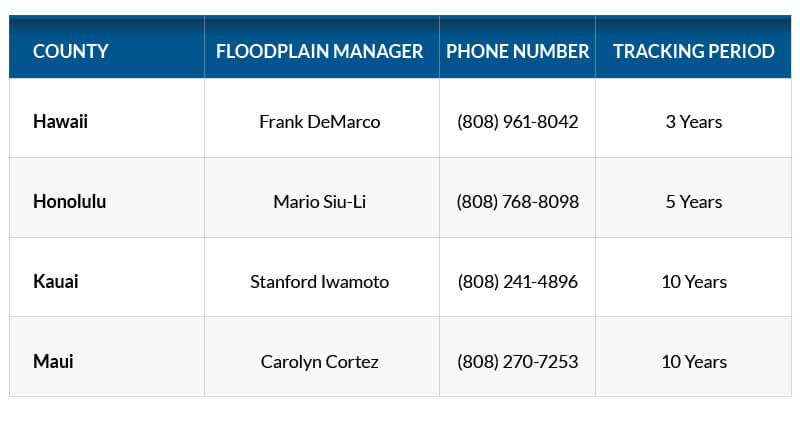 Stay up to date on the FIRM flood zones and future zone proposals – as their improvement plans could be affected by a change in flood zone.
Feel free to print and share this blog post with them!
So that's the skinny on Hawaii's cumulative substantial improvement rule. If you have any questions regarding our knowledge of permit rules and regulations, visit our recent blog post here. To learn more about your VA home loan benefits, contact us at 808-792-4251.