Congratulations!
You just closed on your new home using your VA loan! Given your experience in the military, you know that timing of orders, schools, deployments, retirement plans and other life events can cause delays with when you will and can physically occupy your new home. Find out the different ways that the VA's rules on occupancy can be satisfied and if necessary, waived.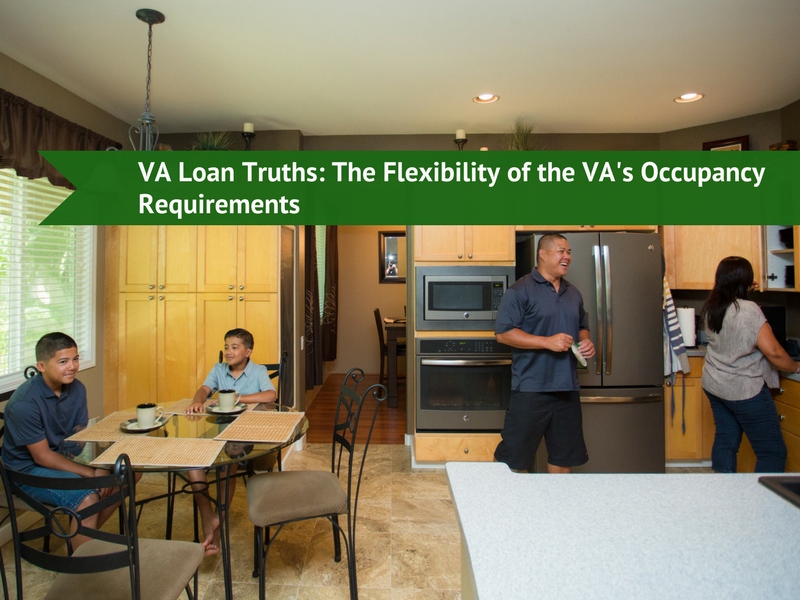 The VA Occupancy Requirement
VA Loan rules state (see Chapter 3-12) that a VA purchased home must be occupied by the buyer within "a reasonable time." Per VA, that time has been deemed to be within 60 days of closing. However, active duty and veteran homebuyers may need more time to transition to a new job and location.
Don't worry!
There are ways to satisfy the occupancy requirement if the VA homebuyer cannot make the move at that time. Most often, the spouse of a service member or veteran can move into the home within the VA's time-frame and there are no issues. Yet, what happens when neither the VA buyer, nor the spouse or a dependent can occupy the home within 60 days? Find out below!
Waiving the 60 Day Requirement
If the service member or veteran cannot move due to either military commitments or civilian job, then the 60 day requirement can be waived if you meet these two requirements:
You certify that you will occupy your home by a specific date after you close on your VA loan, and
A future event will allow you to occupy the home on that date, such as PCS orders or a new job start date.
Meeting both requirements will make it possible for you to occupy past the 60 day mark, but usually no more than 12 months after.
Spouse Occupancy Within 60 Days
Occupancy (or intent to occupy) by the SPOUSE can satisfy the occupancy requirement for:
A veteran who is on active duty and cannot personally occupy the dwelling within a reasonable time or
A veteran who cannot personally occupy the dwelling within a reasonable time due to distant employment other than military service
*Consult your lender to determine if this type of occupancy meets VA requirements.
Dependent Occupancy Within 60 Days
Another situation that may apply is the DEPENDENT child of a service member occupying the home within the time-frame to satisfy the 60 day requirement. In order for this to occur, the dependent child's legal guardian or sponsor's attorney-in-fact must make the certification and sign VA Form 26-1820.
An example of this may be an older college-age dependent, occupying the VA purchased home prior to their sponsor (the VA buyer) who may be on an overseas military deployment.
*Again, please be sure to check with your lender if this occupancy option applies to your specific situation.
We hope you found it valuable to learn about these occupancy details! As your local VA lender, we're here to make all aspects of your VA home purchase simple and smooth. Give us a call at 808-792-4251 to find out more about using your VA home loan benefits in Hawaii or fill out our short, online application.