Island living is unique and as you search for your Hawai'i hale, there are things to know about what makes it so! Many of these things may not be glamorous, but they certainly aren't a deal breaker when it comes to calling Hawai'i home. In fact, you may learn to love them! So let's reveal the 5 Must-Knows For Living in a Hawai'i Hale (House).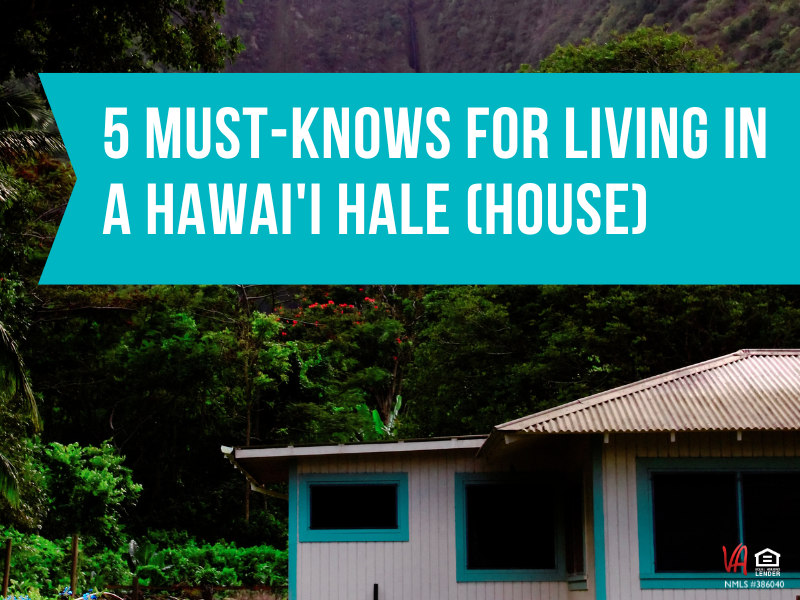 1. Auntie and Uncle Gecko
The first time you see a gecko in your hale, you might film it, post it to social media, or send it to your friends and family. It's that exciting! However, as the days and years pass, these small lizard creatures become a normal part of everyday life.
For example, you may be sitting in your home writing a blog post for Hawai'i VA Loans and something out of your peripheral vision catches your eye. You look up, and it's Auntie or Uncle Gecko on the wall making their way to the next room. You don't think anything of it and look back down at your laptop to continue your work.
Now, you may be a little more deterred by their poop. Yes, you'll occasionally see small, dark brown marks around baseboards, windows, or walls. Take a Lysol wipe (not sponsored lol) or any other wipe to clean it up. Geckos never learn to do it themselves!
2. Outdoor space > Indoor space
Traditionally, the square footage of a home is calculated by the indoor space. Yet, in Hawai'i, the outdoor space matters just as much (if not more) considering the average temperature throughout the year is 78-85 degrees Fahrenheit. Yes, you'll be living and entertaining outdoors frequently while inhabiting an island hale. Doors and windows will be kept open daily to let the tradewinds in, and you'll use the entirety of your indoor and outdoor space all year long.
3. Fans are essential workers
Although Hawai'i has beautiful tradewinds that can often cool a home naturally, it's not enough for the hot summer months. You'll find that many homes have split AC, but not always in every room of the house, and maybe not at all in the older homes. Good quality ceiling fans or standing fans are essential. Our family invested in two swamp coolers a couple of summers ago, and we find them to cool and circulate the air very well. Like the geckos, you'll become accustomed to the hotter seasons and what cooling options work best for you.
4. Simply simplify
Truth be told, many island homes lack storage closets and garages. Storage is limited to carports or closets inside carports. So before you PCS, it's imperative that you lighten your load. Also, Hawai'i is among the top three states with the smallest average square footage, so simplifying is a must for making the most use out of your space here in Hawai'i.
5. Stress less, it's only sand
The overall vibe of Hawai'i homeownership is a relaxed atmosphere with less stress than homeowners may be experiencing on the mainland. We don't have mounds of snow to shovel, freezing temperatures to stay in from (or even extremely hot temperatures to stay in from), tornadoes to fret over – you name it. Although, you will have to worry about sand getting in your shower or washing machine! So be vigilant. 😉
For certain, we are lucky we live Hawai'i and it's meant to be cared for (Mālama ʻĀina) and enjoyed. Especially when you're working hard as an active duty servicemember, spouse, Veteran, National Guardsman or Reservist – your Hawai'i hale should be the place you return from a surf session, beach day, or any other activity around the island to kick off your slippers and stress less!
We hope you've enjoyed reading these must-knows for living in a Hawai'i hale. Discover more about living on Oahu specifically, at our Hawai'i PCS Center. To become a Hawai'i homeowner, contact us at 808-792-4251 or fill out our online loan application at www.hawaiivaloans.com/loanapp.