In a VA purchase, a buyer has "gotta have faith, faith, faith" (cue George Michael's song from 1987). That faith is represented by the Earnest Money Deposit (EMD)! It's a deposit made to the seller showing the buyer's good faith in the transaction. It says "I'm serious about the purchase of your home. Here's money to secure the purchase!" By lender definition, an earnest money deposit is a dollar amount, specified in the purchase contract, that is given to escrow once your purchase offer is accepted. The dollar amount is between 1-3% of the purchase amount.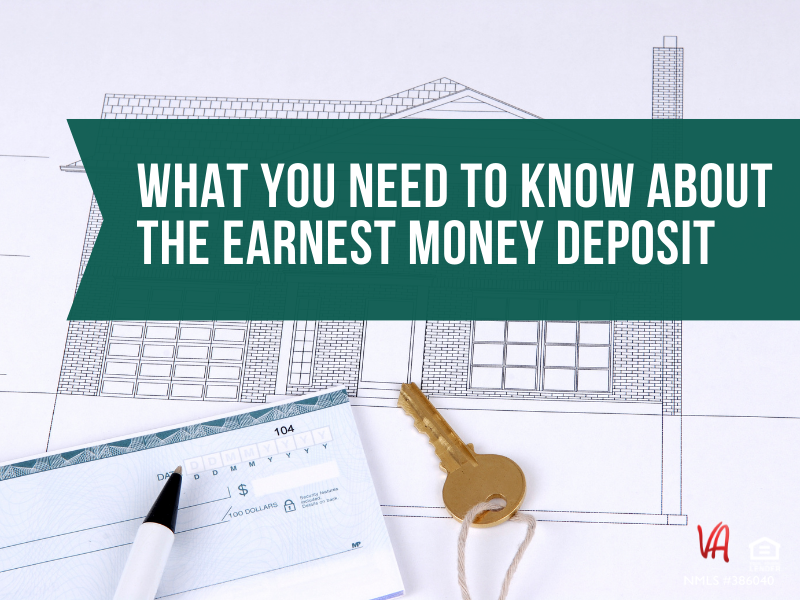 Funds That Can & Cannot Be Used For the EMD
Typically, acceptable funds for an earnest money deposit are a personal check, certified check or wire transfer. A buyer cannot use borrowed funds from an unsecured debt for an earnest money deposit (EMD) and even a down payment. Some examples of unsecured debt are a credit card or cash advance from credit card.
However, borrowed funds can come from a loan that is secured by an asset the borrower owns – such as a HELOC (Home Equity Line of Credit). Then, the lender must count the debt in the Debt-to-Income (DTI) ratios. DTI is how much the buyer makes versus how much the buyer pays out in monthly expenses each month.
The Earnest Money Deposit and Cash-to-Close
So what are some good outcomes for making the earnest money deposit early? When it comes time to close, the EMD can go toward any down payment a VA buyer makes. It can also cover closing costs. Closing costs are fees that need to be paid to the parties involved in closing the purchase transaction. 
A great benefit of the VA home loan program is that there are reduced closing costs for VA buyers. Closing costs that are included in a conventional loan program are not allowed to be charged to Veterans with the VA loan program. Thus, they are called VA non-allowables. Therefore, a VA buyer who has enough credits from their lender or other parties (see Escrow & Title Insurance Discounts) can get their full EMD back at closing.
At Hawaii VA Loans, we think of the earnest money deposit as an exchange of good faith. Then, with faith in the VA home loan process, you might see some or all of your EMD returned in the end!
Ask your VA Loan Specialist about the ways you can save money on closing costs. Contact us at 808-792-4251 or start the pre-approval process here.