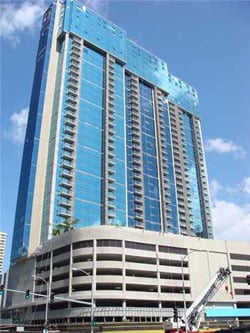 I'm please to announce that recently completed Capitol Place is now approved for VA mortgage financing!  Located in Downtown Honolulu, Capitol Place has really set the bar high when it comes sleek and contemporary urban living here in Hawaii.
One, Two & Three bedroom units are currently available with prices ranging from the high $400K range to over $1 million. Here is a complete list of units currently for sale.
To see if a particular condo is VA approved for financing, visit our Condo Eligibility Check Tool on HawaiiVALoans.com. If a particular condo is not on the list, feel free to contact us for details on how to get that condo VA approved.
Here's more info regarding the building from the developer, PMK Development:
It stands sleek and proud on the corner of Beretania Street and Queen Emma Street, exuding a flair of sophistication. Walk inside and it simply feels chic. The lobby exudes a clean, fresh look that you're proud to call home.

Each one, two, and three-bedroom residence has been meticulously designed to provide a mood that blends the comfortable and the contemporary. No matter which floor plan you choose, your entry welcomes you in, and flawlessly balanced features all flow from there. Well-appointed kitchens with granite counters and designer details seduce you. Viking appliances and high-end kitchen finishes make the kitchen one of the rooms where friends seem to congregate. This "spare no expense" attitude is apparent in every room at Capitol Place. Bathrooms feature marble counters, while living rooms and bedrooms have the little extras that give them a marvelous understated style.

As night falls, the Honolulu city lights across town take over. Every residence is pre-wired and cable-ready for a relaxing evening at home, should you choose. And sleep comes easy, knowing that you wonմ face a long commute in traffic the next morning.