Have you heard people tell you not to buy because interest rates are increasing? Wrong! Or perhaps you think it's best to wait. Before you stick with that decision, consider some points about the advantages of a VA loan purchase even as interest rates increase. It's true, an increasing interest rate market will impact your affordability. That means you'll get pre-approved for a lesser purchase price at a 5% interest rate than at a 3% interest rate. However, it's important to know these two facts:
Rental payments are up nearly 20% compared to last year — homeownership provides housing payment stability that renters don't have the luxury of receiving.
Single Family Home sales are down 2% but Condo sales are up 17% in Hawaii (compared to last year) — demand for home buying is still there. By the looks of it, buyers are flocking to the condo market, and they're having success!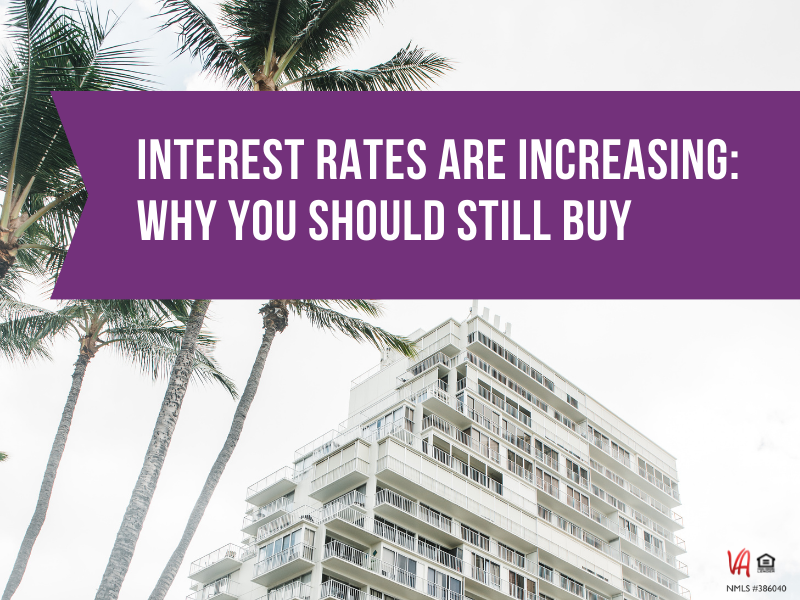 The Advantages of Purchasing an Oahu Condo as Your Starter Home
Yes, you want a single family home, but the reality is you may have to consider a Hawaii condo or townhome in a high priced market with higher interest rates than last year. Furthermore, there's no settling here when it comes to Hawaii VA home buying.
Why? Because your Hawaii real estate purchase is a GOOD, no GREAT investment! Typically, Hawaii real estate appreciates at 4-5% annually.
Therefore, think of your Hawaii condo or townhome purchase as your starting point. A "starter home" as it's called. If the coming years bring lower interest rates, you can refinance and save money. Moreover, a future market may prompt you to sell your appreciated Hawaii property. Then, you can move closer to that single family home goal by selling and using your equity to enter back into the market. How can a smart investment strategy be considered settling?
Honolulu's More Affordable Regions
Keep in mind that there are areas on Oahu where single family homes sell for less than $1,000,000 median sales price (MSP) and condo/townhomes sell for less than $500,000 MSP. In March 2022, those neighborhoods were:
| | |
| --- | --- |
| Single Family | March 2022 MSP |
| Ewa Plain | $935,000 |
| Makaha – Nanakuli | $739,000 |
| Kalihi – Palama | $985,000 |
| Makakilo | $990,000 |
| Wahiawa | $950,000 |
| Waipahu | $950,986 |
| | |
| --- | --- |
| Condos | March 2022 MSP |
| Kalihi – Palama | $415,000 |
| Makaha – Nanakuli | $225,000 |
| Makiki – Moiliili | $426,500 |
| Moanalua – Salt Lake | $470,000 |
| Pearl City – Aiea | $480,000 |
| Wahiawa | $260,000 |
| Waikiki | $442,500 |
| Windward Coast | $150,860 |
The best advice we can give you at Hawaii VA Loans is to get started. You're under no obligation to buy with a prequalification or preapproval. The earlier you take the leap into homeownership, the further ahead you'll be with equity in a home than someone who chose to wait. Contact us with your Hawaii VA home loan questions and we'll be more than happy to answer them.